How To Enter Your Promo Code At tracfone.promo.eprize.com/holiday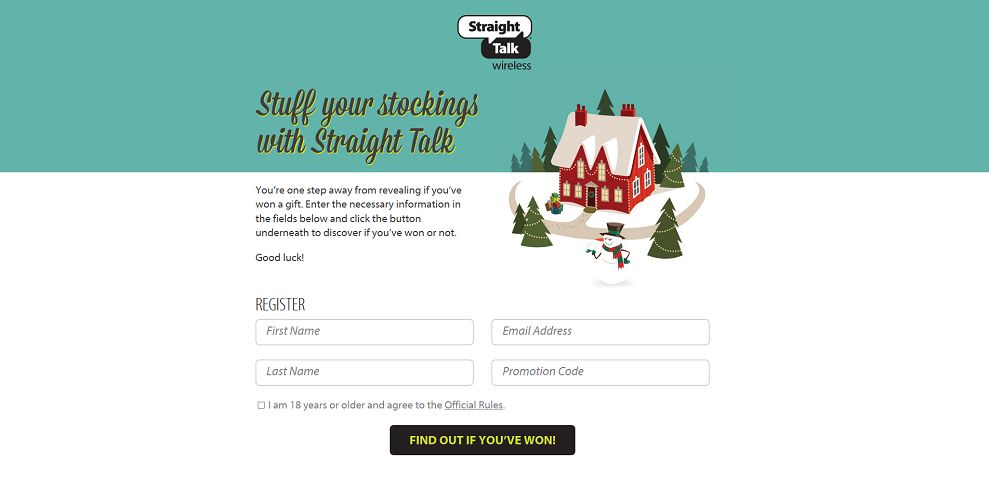 We heard that a lot of users are experiencing issues entering the Stuff your Stocking Giveaway at tracfone.promo.eprize.com/holiday. For this reason, we decided to create a step-by-step guide to help you learn everything you need to know about this giveaway from Straight Talk, a brand of TracFone Wireless.
The first thing you need to know about this promotion is that it's a real giveaway. It's not a scam. Many users called it a scam just because they were unable to enter. This promotion is administrated by HelloWorld, a digital engagement agency specializing in mobile, social media, and web campaigns. It's a safe company, a safe promotion and the prizes are real.
Secondly, only active Straight Talk users may participate because they are the only ones who will receive a promotional code that is needed to enter. In December, all eligible users will receive a scratchcard from TracFone Wireless. If you received one, don't discard it! You might miss the chance to win a great prize. Simply reveal the promotional code by scratching off.
And this is where most of you will start experiencing issues.
The card says to go to "tracfone.promo.eprize.com/holiday." to enter your promo code and email to find out if you've won a gift. The problem is the link. It should have been "http://tracfone.promo.eprize.com/holiday". See the difference? The second link includes the HTTP:// part which is needed to access a website. Also, the second link does not include the period at the end. We've seen this error several times on TracFone Wireless and StraightTalk forums where users were looking for help.
That being said, if you have your code in hands and are now ready to enter, simply click the following correct link to access the website where you'll be able to find out if you're an instant winner : http://tracfone.promo.eprize.com/holiday
Once on the site, enter your information and promo code then hit the button to submit your entry and see if you are winning or not. The result will be displayed instantly.  If you are a winner, you will receive the prize displayed onscreen which might be an iPad Mini tablet, a Straight Talk Airtime Card, an American Express gift card or a Starbucks gift card. You may participate only once now through Tuesday, December 23, 2014, no later than at 11:59 p.m. ET.
We hope this guide helped you. Good luck and if you win, let us know!
Tags: Stuff your Stocking Giveaway, tracfone.promo.eprize.com/holiday
Comments (11 Messages)
Leave a Comment