OREO Sweepstakes (OreoSweeps.com)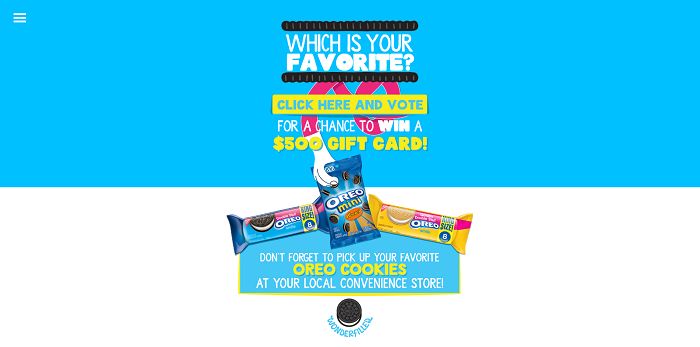 OREO mini, Golden Double Stuf OREO smile, Double Stuf OREO smile or OREO smile? Which is your favorite? Vote for your favorite OREO cookies for a chance to be the winner of a $500 Gift Card in the OREO Sweepstakes!
Vote For Your Favorite OREO Cookies
In order to enter the sweepstakes, you'll be required to vote for your favorite OREO cookies. To do so, visit OREOSweeps.com and select the OREO cookies you like the most. Then, complete and submit the official entry form to receive one (1) entry into the sweepstakes.
Votes will be accepted during the Promotion Period beginning at 11:00 a.m. ET on Tuesday, April 16, 2015 and ending at 10:00 a.m. ET on Monday, May 11, 2015.
Eligibility
You are eligible to enter the OREO Sweepstakes only if you are a legal resident of any of the fifty (50) United States or the District of Columbia, who is at least eighteen (18) years of age at the time of entry.
Tags: OREO Sweepstakes, oreosweeps.com
Leave a Comment