Ann Taylor 12 Days of Wonder Sweepstakes : Win 1 of 12 Holiday Prizes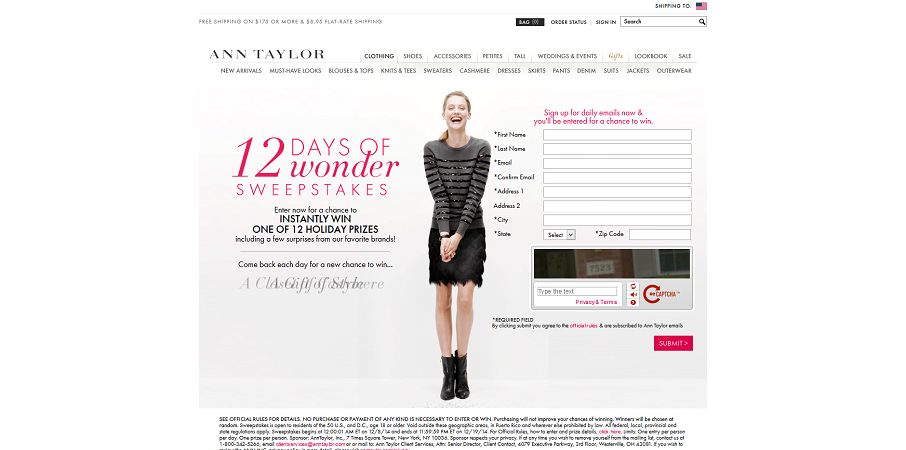 Usually, the "12 days of" sweepstakes are running for the first twelve days in December. However, Ann Taylor decided to start the 12 Days of Wonder Sweepstakes only yesterday. Well, we are still in December and it's still 12 days long so it's all good, isn't it?

Win 1 of 12 Instant Win Prizes
A total of twelve instant win prizes, one per day, will be awarded during the sweepstakes period. Most of the prizes consist of gift cards ranging from $200 to $500 in value but there is also Ann Taylor merchandise and other surprises. Find a complete list of all prizes available to be won below.
Dec. 8 2014: $200 Ticketmaster Gift Card
Dec. 9 2014: $200 iTunes Gift Card
Dec. 10 2014: $200 Sephora Gift Card
Dec. 11 2014: $200 Sur La Table Gift Card
Dec. 12 2014: $500 Four Seasons Gift Card
Dec. 13 2014: One (1) Tablet
Dec. 14 2014: One-year Birchbox Subscription
Dec. 15 2014: $200 Ann Taylor Gift Card
Dec. 16 2014: Ann Taylor Handbag
Dec. 17 2014: $200 Ann Taylor Gift Card
Dec. 18 2014: Ann Taylor Sweater Prize Package
Dec. 19 2014: Two (2) Pairs of Ann Taylor Shoes
Sweepstakes Period
The Sweepstakes started yesterday, on December 8, 2014 and will be ending at 11:59:59 PM ET on December 19, 2014. You still have 11 days to participate for a chance to win a daily prize.
Sign Up To Win
During the sweepstakes period, as detailed above, go to anntaylor.com/WonderSweeps and complete the registration form to be entered into the sweepstakes. Please note that by registering for the sweepstakes, you will also receive daily emails from Ann Taylor. If you don't want to receive these emails, you should consider creating a different email address to use for entering sweepstakes. This way, you will avoid getting all these email communications into your personal email address.
Remember that you may enter one time per day during the sweepstakes period for another daily chance to win.
Eligibility Restrictions
Open only to legal residents of the fifty (50) United States or the District Of Columbia, who are eighteen (18) years of age or older at the time of entry.
Tags: 12 days sweepstakes, Ann Taylor Sweepstakes, anntaylor.com/WonderSweeps
Leave a Comment