Ellen's Dance-Off Contest: Win A Trip To Ellen's Show!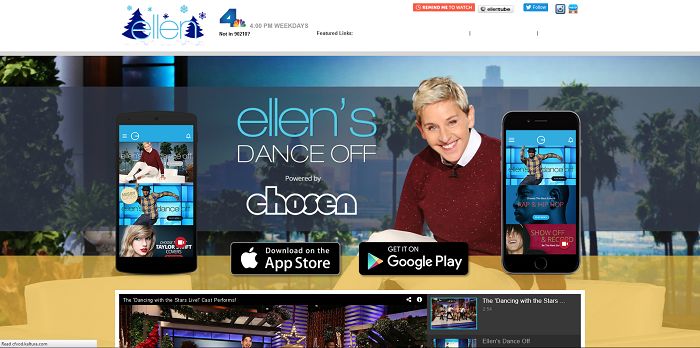 Last week, Ellen introduced a brand new game called "Ellen's Dance-Off" on the "Chosen" app. It's free to download in the App Store (for Apple devices) and Google Play (for Android devices) and it's also free to play. The app let you upload videos of your favorite dance moves and even vote on other dancers.
Now if you download the Chosen app and submit a video of yourself dancing to Missy Elliot's song "WTF", you could win a trip to Los Angeles, California for a taping of The Ellen DeGeneres Show!
Here's the announcement from Chosen on Twitter:
NEWS!! We've partnered w/ @TheEllenShow for Ellen's Dance Off set to @MissyElliott's "WTF!" https://t.co/xAc0wpbwwZ pic.twitter.com/eUbWfhPHYx

— chosen (@chosen) December 4, 2015
Show Off Your Dance Moves
Starting on December 4, download the Chosen App and follow the instruction to register for the Ellen's Dance-Off Contest. Next, record a video of yourself dancing to Missy Elliot's song "WTF". Don't know the song? Check out the official videos below:
Once your video is ready, upload it to the App as instructed and you'll be automatically entered for a chance to win the grand prize trip. The Contest will run for five weeks through January 9, 2016 and you can enter once per day so keep dancing and show off your best dance moves for more chances to win!
The Contest, which consists of five Entry Periods, started on December 4, 2015 and is scheduled to end on January 9, 2016. The five Entry Periods are as follows:
Entry Period #1: 12/4/15 – 12/10/15
Entry Period #2: 12/11/15 – 12/17/15
Entry Period #3: 12/18/15 – 12/24/15
Entry Period #4: 12/25/15 – 12/31/15
Entry Period #5: 1/1/16 – 1/8/15
Each week Chosen and Ellen will be selecting top dancers from Ellen's Dance Off. The video with the most votes will receive a trip for two (2) to Los Angeles, California (airfare and hotel accommodations included) to appear on the Ellen DeGeneres Show!
The Ellen's Dance-Off Contest is open only to legal United States residents who are physically residing in one (1) of the 50 United States/District of Columbia. A Contestant must be at least 13 years old as of the date of entry to enter the Contest on his/her own.
Remember you can show off your dance moves and compete or simply play by watching and voting up your favorite videos so get started today!
Tags: Ellen Contest, Ellen's Dance-Off Contest
Leave a Comment