SweepstakesLovers.com INSTAX Mini 70 Giveaway
Sorry!
The SweepstakesLovers.com INSTAX Mini 70 Giveaway has ended.
Are you a winner?
If so, you'll receive an email on or around December 30, 2015, letting you know the good news.
Good luck!
In December, we are teaming up with FUJIFILM INSTAX to bring you the INSTAX Mini 70 Giveaway! Whether you'd love to snap more selfies or just want to capture your best family moments in an old-fashion way, we want to help by giving you the chance to win a FUJIFILM INSTAX Mini 70 camera!
Starting on December 1st, tell us why you would like to own such a fun camera below for a chance to win your very own INSTAX Mini 70! And be sure to participate every day through December 23rd to improve your chances of winning!
With the FUJIFILM INSTAX Mini 70, you can turn an ordinary day into a special day filled with smiling faces. For fun times, carry the FUJIFILM INSTAX Mini 70 with you whenever and wherever you go.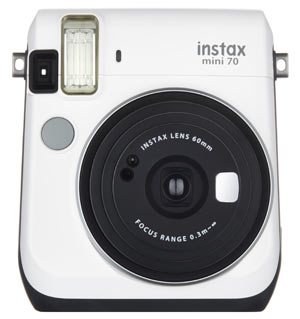 Stylish Design
The modern, simple design of the FUJIFILM INSTAX Mini 70 includes three new colors — "Canary Yellow", "Island Blue", and "Moon White." It's a perfect fashion statement for any occasion, event or everyday outing.
Selfie Mode
Enjoy taking selfies with Selfie Mode and the Self-Portrait Mirror! No more mistakes!
Automatic Exposure Control
The mini 70 captures bright backgrounds as well as bright subjects even in dark scenes.
Other Useful Features
Hi-key mode: Using the Hi-key mode, you can capture bright beautiful skin tones.
Macro mode: 0.3m – 0.6m
Landscape mode: 3m – ?
Self timer mode (1 frame/2 frames continuous shooting)
Fill-in Flash
Tripod socket
FUJIFILM INSTAX Mini 70 Review
Do you remember when we were used to take minutes to plan a single photo just to be sure it was good enough before we pressed the button? Do you miss the good old days of Polaroids? That was the time of photos of films. Well, if you are sentimental about those days, you'll love the new FUJIFILM INSTAX Mini 70!
Packaging
The one we used for this review is "Island Blue" and came in a nice dark gray box that also contained a strap, a strap ring, ring attaching tool, two (2) CR2 batteries (yes, they are included!), user's guide, and warranty. A film pack for 10 instant photos is also included which is great to get started.
Design
At the front of the camera, you'll find a big collapsible 60mm lens that sports a mirror for selfie, which is a nice features for all teenagers out there. You'll also find the shutter button, viewfinder, and the flash lampface.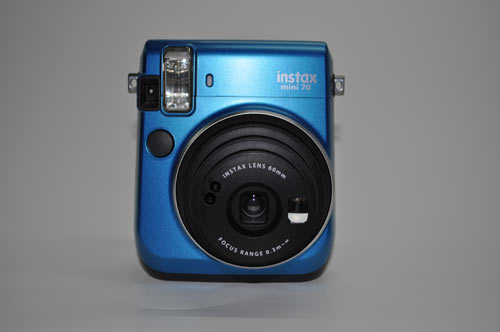 At the back, you'll find a series of control buttons (power, mode, self timer, selfie) as well as a small LCD display. This is also where you'll find the battery lid, back cover, back cover lock, eyepiece, and film pack confirmation window.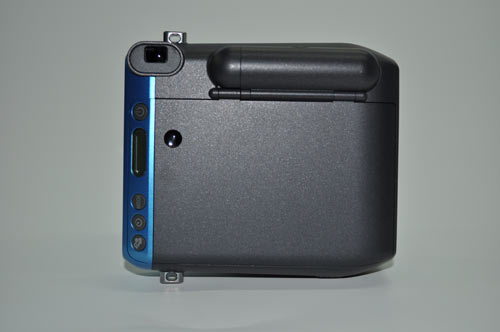 Ease of Use
While the INSTAX Mini 70 may feel bulky for some, its weight is fairly light at 281 grams (without battery, strap, and film pack). In fact, it mostly the same weight as many compact digital cameras even if it's twice as big.
Taking pictures in portrait mode is probably the best and most comfortable way to use the INSTAX Mini 70. If you need to snap pictures in landscape mode, it feels kind of awkward and this is mostly due to the shutter button placement. Just stick to the portrait mode and everything will be alright.
Quality
Picture quality is good. Don't get me wrong, you won't get the picture quality of a DSLR but it's all you can expect from such a simple "point-and-shoot-and-print" camera and each photo has this unique look and feel you won't find anywhere else. This is exactly the kind of camera you can bring at a party to have fun with friends all night long. Plus, you'll be able to immediately print out the photos you take. This is a feature you won't see on any other types of cameras anytime soon!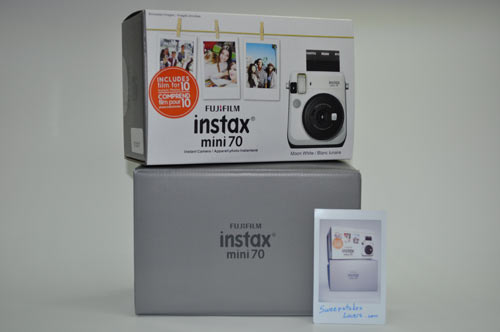 Conclusion
The FUJIFILM INSTAX Mini 70 is an instant camera that is fun and easy to use. It has plenty of great features including a dedicated Selfie Mode (and a mirror for selfie!), automatic exposure control, and automatic flash. Its available in two bright and vivid colors (blue and yellow) and a white version is also available.
If you are a serious photographer, the INSTAX Mini 70 is probably not for you. However, if you are looking for a cool retro-looking camera that you can use to be creative and have fun with your friends and loved ones, there's no need to look further.
Pros
Selfie mode/mirror
Fun and easy to use
Instantly print out photos
Cons
Shutter button placement
INSTAX instant film are pricey (around $10 for a single pack of 10 sheets)
SweepstakesLovers.com INSTAX Mini 70 Giveaway Official Rules
Eligibility: The SweepstakesLovers.com INSTAX Mini 70 Giveaway is open to legal residents of the fifty (50) United States and the District of Columbia who are 18 years of age or older at the time of entry. Void outside the 50 United States and the District of Columbia. Also void where prohibited or restricted by law, rule or regulation. All applicable federal, state and local laws and regulations apply.
Promotion Period: The SweepstakesLovers.com INSTAX Mini 70 Giveaway begins at 12:01:00 AM ET on Tuesday, December 1, 2015 and ends at 11:59:59 PM PT on Wednesday, December 23, 2015.
How To Enter: During the Promotion Period, visit http://www.sweepstakeslovers.com/our-giveaways/sweepstakeslovers-com-instax-mini-70-giveaway-coming-soon and leave a comment by telling us why you would like to win a FUJIFILM INSTAX Mini 70 camera.
Limit: Each participant may enter only one (1) time per day during the Promotion Period.
Prize: One (1) Grand Prize : Winner will receive a FUJIFILM INSTAX Mini 70 camera. Approximate Retail Value of the prize is $139.95.
Winner: We will pick 1 lucky person and announce the winner here on or around Wednesday, December 30, 2015.
This giveaway is sponsored by FUJIFILM INSTAX. Follow FUJIFILM INSTAX on Twitter, Facebook, and Instagram.
Disclosure: FUJIFILM INSTAX provided me with a FUJIFILM INSTAX Mini 70 free of charge for my review. I have not received any monitory compensation in return for the review. All opinions are 100% my own. FUJIFILM INSTAX is providing the prize to the winner.
Tags: FUJIFILM INSTAX Mini 70, SweepstakesLovers.com Giveaway
Comments (210 Messages)