B&M Baked Beans Big Money Game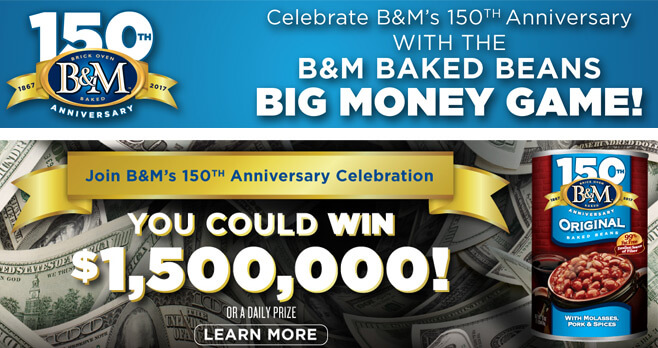 This year marks the B&M's 150th Anniversary! To celebrate, you are invited to play the B&M Baked Beans Big Money Game for a chance to win $1,500,000 or a daily prize.
Snap a photo of your receipt with any B&M Baked Beans product and upload it online at BMBigMoneyGame.com for your chance to win. You may also play without purchase at www.bmbigmoneygameamoe.com so get started today.
How To Enter At BMBigMoneyGame.com

Purchase any qualifying B&M baked beans or brown bread product during the Game Period.
Take a picture of the receipt showing your purchase.
Visit www.BMBigMoneyGame.com.
Click "GET STARTED".
Enter your email address.
Click "UPLOAD" to submit your receipt.
Click "SUBMIT".
Fill out the form to complete the submission process.
Click "SUBMIT" to submit your entry.
Alternatively, you may text BMBEANS to 811811 using your smartphone and follow the text message instructions to reply with a picture message of your Receipt. Then, follow the registration link in the reply text message to submit your information. Or, send a photo of your Receipt via email to submit@BMBigMoneyGame.com. Then, follow the registration link in the reply email to submit your information
You may receive one  entry for each Qualifying Product purchased per Receipt, up to a maximum of 5 entries per Receipt.
Qualifying Products:
B&M Baked Beans with Bacon and Onion
B&M Baked Beans with Maple Flavor
B&M Boston's Best Baked Beans
B&M Brown Bread Plain
B&M Brown Bread with Raisins
B&M Country Style Baked Beans
B&M Home Style Baked Beans
B&M Original Baked Beans
B&M Original Baked Beans Glass Jar
B&M Vegetarian Baked Beans
How To Enter At BMBigMoneyGameAMOE.com
To enter the Sweepstakes without making a purchase, complete the following steps:
Visit www.BMBigMoneyGameAMOE.com during the Game Period.
Fill out the required fields (full name, complete mailing address, phone number, and email address).
Select your preferred store where you would like your $150 gift card to be from if you are a daily prize winner.
Check the box to confirm that you agree to the Official Rules.
Check the box to confirm that you are not a robot.
Click "SUBMIT" to receive one entry into the Sweepstakes.
Each entry will count as one Sweepstakes entry, with a maximum of 5 web entries per day during the Sweepstakes Period.
Win Big Money
Grand Prize (1): The Grand Prize is the opportunity to participate in a special prize determination event conducted via Skype. During the Event, the Grand Prize Winner will have the opportunity to select one envelope/container from among 150 envelopes/containers to reveal a prize notification message. 149 of the 150 envelopes/containers will contain a $5,000 prize notification message and 1 envelope/container will contain a $1,500,000 prize notification message. The message in the envelope/container selected will determine the amount of the Prize to be awarded. The $1,500,000 Prize, if any, will be awarded in the form of an annuity payable as $50,000 per year for 30 years or at Sponsor's sole discretion, the winner may choose to be awarded the $1,500,000 Prize, as a lump sum payment in the amount of $1,021,500.
Daily Prizes (85): A $150 store gift card to the store associated with the winning entry. If such store does not offer gift cards or have gift cards available, the prize will be awarded as a $150 Prepaid Money Card.
More About This B&M Baked Beans Sweepstakes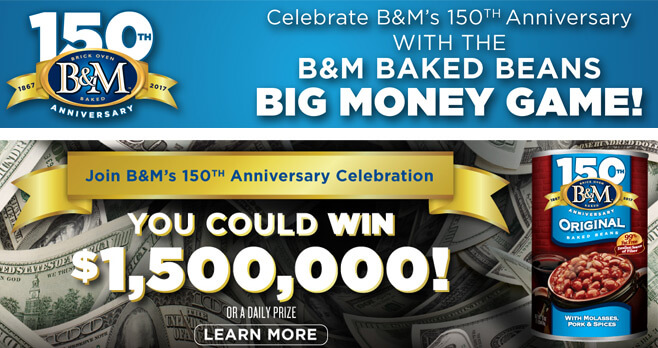 Open to legal residents of ME, MA, RI, NH, NY, CT, NJ, VT and PA who are at least 18 years of age at the time of entry.
Begins on May 8, 2017 at 12:01:01 a.m. EST and ends on July 31, 2017, at 11:59:59 p.m. EST.
Limit one Receipt submission per day.
Limit of 5 total sweepstakes entries per day, regardless of method of entry.
A series of 85 drawings will be held, one for each day of the Sweepstakes Period.
One Grand Prize Winner will be selected from among all eligible entries received by July 31, 2017 11:59:59 PM EST in a random drawing to be held on or about August 10, 2017.
For the names of the winners, send a self-addressed, stamped envelope to: "B&M Baked Beans Big Money Game" P.O. Box 1916, New York, NY 10156. Requests must be received no later than August 31, 2017. Names of Daily Winners will be posted on B&M Baked Beans' Facebook page.
Sponsored by B&G Foods North America, Inc., 4 Gatehall Drive, Parsippany, NJ 07054.
Administrated by The A Team L.L.C., 1441 Broadway, 3rd Floor, New York, NY 10018.
For complete details, including Official Rules, visit bmbigmoneygame.com.
Tags: B&M Baked Beans Sweepstakes 2017, BMBigMoneyGame.com, BMBigMoneyGameAMOE.com
Comments (2 Messages)
Leave a Comment