Channel 13 Who TV Apple A Day Giveaway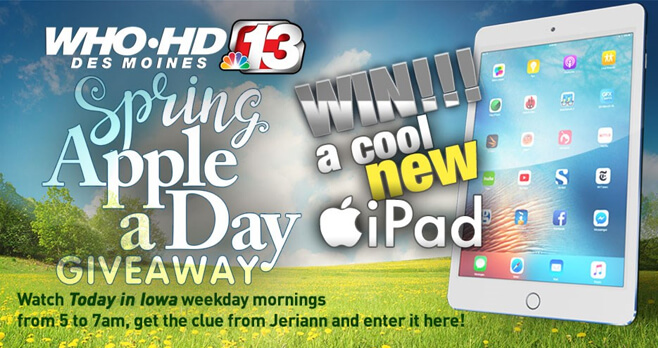 Channel 13 Who TV Apple A Day Giveaway: Watch Today in Iowa on WHO-HD Channel 13 weekday mornings for the Clue Word Of The Day and enter at whotv.com for your chance to win the latest Apple iPad Air 3.
Sweepstakes Entry Form:
whotv.com
Sweepstakes Rules:
Official Rules
The Channel 13 Who TV Apple A Day Giveaway is open to legal US residents, who are at least 18 years old and reside in the Ames/Des Moines Designated Market Area as defined by The Nielsen Company, which includes the following Iowa counties Adair, Adams, Appanoose, Audubon, Boone, Calhoun, Carroll, Clark, Dallas, Decatur, Guthrie, Greene, Hamilton, Hardin, Humboldt, Franklin, Jasper, Kossuth, Lucas, Madison, Mahaska, Marion, Marshall, Monroe, Pocahontas, Polk, Powieshiek, Ringgold, Story, Taylor, Union, Warren, Wayne, Webster, and Wright. Void where prohibited and outside the Ames/Des Moines DMA.. The Sweepstakes begins Thursday, April 25, 2019 at 5:00 AM CT and ends Wednesday, May 22, 2019 at 9:00 PM CT. Only one entry per person per day. The grand prize consists of an Apple 10.5-inch iPad Air 3 Wi-Fi tablet with 64GB of memory, Silver. Visit whotv.com to enter and see Official Rules for details.
Tags: WhoTV Giveaway
Leave a Comment