The Profit $10,000 Sweepstakes (CNBCPrime.com/Sweeps)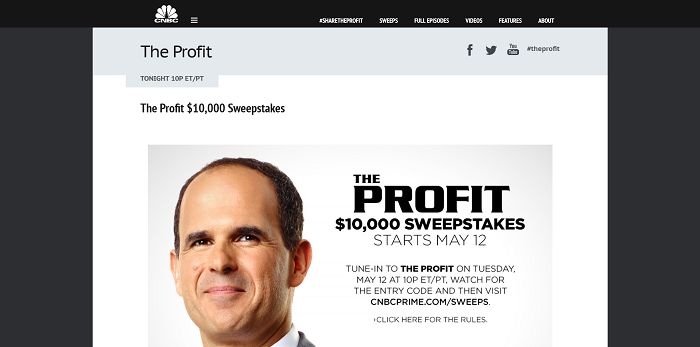 The Profit, with Marcus Lemonis, returns tonight 10P ET/PT and to celebrate, CNBC will be holding a sweepstakes online at cnbcprime.com/sweeps where you could win $10,000!
Profit from #TheProfit! Watch TOMORROW at 10p ET/PT to enter the $10,000 Profit Sweeps! http://t.co/yiulAnR4bq pic.twitter.com/nhtZPmaCD4

— CNBC's The Profit (@TheProfitCNBC) May 12, 2015
Tonight, starting at 10:00 p.m. ET/PT, tune in to CNBC and watch the season premiere of The Profit. A code word will be revealed on screen during the first half of the show and will be aired one more time during the second half of the show.
The Profit $10,000 Sweepstakes Code Word
Think you won't be able to watch the show for the code word? Don't worry, we'll get you cover, just like Marcus Lemonis!
The Profit $10,000 Sweepstakes For May 12, 2015: Drums
Enter The Code To Win
Once you took note of the code word, visit cnbcprime.com/sweeps to enter the code for your chance to win $10,000, awarded in the form of a check! You'll be required to complete and submit a registration form by providing your full name, complete mailing address, phone number, email address, date of birth, and the Code Word.
You have until 11:59 p.m. ET on May 13, 2015 to participate and only one (1) entry per entrant will be accepted during the entire Sweepstakes Period.
The The Profit $10,000 Sweepstakes is open only to legal residents of the forty-eight (48) continental United States and the District of Columbia (excluding Alaska, Hawaii, Puerto Rico, Guam, the U.S. Virgin Islands and other U.S. territories), who are twenty one (21) years of age or older as of May 12, 2015.
More About The Profit
Self-made millionaire and serial entrepreneur Marcus Lemonis fixes failing businesses to save jobs and to make money. He puts his own cash on the line and doesn't mind getting his hands dirty to make things right, but once he makes a deal he's 100% in charge. His millions, his rules, The Profit returns Tuesday May 12th 10p ET/PT.
Tags: CNBCPrime.com/Sweeps, sweepstakes code, The Profit Sweepstakes
Comments (1 Message)
Leave a Comment