Safeway Monopoly 2020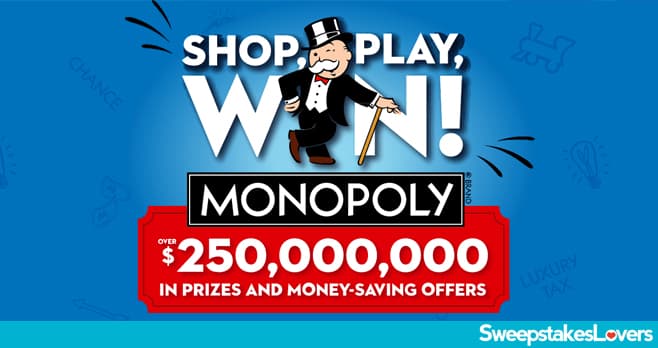 Enter the Safeway Monopoly Game by collecting the rare Monopoly pieces at shopplaywin.com for a chance to win $1,000,000 Cash, a $250,000 Vacation Home, and more.
Eligibility : This Safeway Sweepstakes 2020 is open to legal U.S. residents who are at least 18 years of age and visit a Market Store in one of the following states, Alaska, Arizona, Arkansas, California, Colorado, Connecticut, District of Columbia, Delaware, Hawaii, Idaho, Illinois, Indiana, Iowa, Louisiana, Maine, Maryland, Massachusetts, Montana, Nebraska, Nevada, New Hampshire, New Jersey, New Mexico, New York, North Dakota, Oregon, Pennsylvania, Rhode Island, South Dakota, Texas, Utah, Vermont, Virginia, Washington or Wyoming
Sweepstakes Period : The Game starts on February 5, 2020 and ends on May 5, 2020 or when all game tickets have been distributed. The last day to register for the Digital Game is May 19, 2020.
Enter At : www.shopplaywin.com
Safeway Monopoly Rare Pieces :
| Prize | Safeway Monopoly Rare Pieces 2020 |
| --- | --- |
| $1,000,000 Cash | A601A, A606F |
| $250,000 Vacation Home | B611D, B614G |
| $100,000 Cash or Boat | M656A, M659D |
| $40,000 Vehicle of Choice | J643B, J646E |
| $25,000 Home Theater | F631C, F630D |
| $10,000 Cash | C618B, C615E |
| $5,000 Groceries | P667D |
| $1,000 Grocery Gift Card | N663C |
| $500 Portable Grill & Groceries | L653B |
| $250 Grocery Gift Card | K649B |
| $100 Grocery Gift Card | H641A |
| $50 Grocery Gift Card | G635C |
| $20 Grocery Gift Card | E627C |
| $5 Cash | D623A |
Prizes :
(i) two (2) $1,000,000 Cash
(ii) three (3) $250,000 Vacation Home
(iii )ten (10) $100,000 Cash or Boat
(iv) twenty (20) $40,000 Vehicle of Choice
(v) thirty (30) $25,000 Home Theater
(vi) sixty (60) $10,000 Cash
(vii) fifty (50) $5,000 Groceries
(viii) two hundred-fifty (250) $1,000 Grocery Gift Card
(ix) seven hundred-fifty (750) $500 Portable Grill & Groceries
(x) one thousand (1,000) $250 Grocery Gift Card
(xi) two thousand five hundred (2,500) $100 Grocery Gift Card
(xii) five thousand (5,000) $50 Grocery Gift Card
(xiii) twenty thousand (20,000) $20 Grocery Gift Card
(xiv) one million (1,000,000) $5 Cash
Tags: Rare Pieces 2020, Safeway Monopoly 2020, Safeway Sweepstakes 2020, shopplaywin.com
Comments (36 Messages)
Leave a Comment