Old Navy Overnight Millionaire Sweepstakes: Find Out How To Win $1,000,000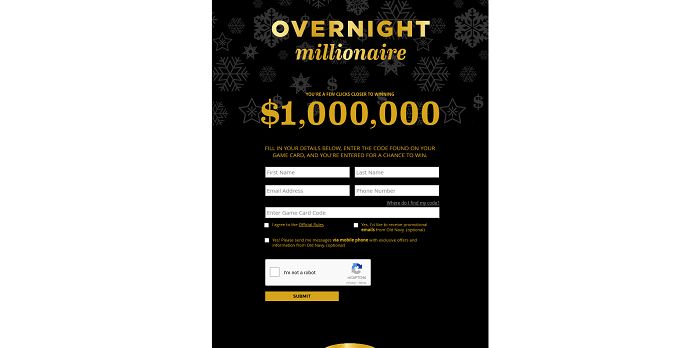 So you want $1,000,000? Why don't you just go to Old Navy? They are giving away a million dollars on Thanksgiving! That's right, you could become the next Overnight Millionaire this Friday just by shopping for Black Friday deals at Old Navy!
Someone in line when doors open on Thanksgiving will win $1,000,000! It's your best chance yet to win!
Get Your Game Card At Old Navy
On November 26, 2015, visit your local Old Navy store starting at 4 p.m. ET and if you are among the first fifty (50) customers in line, you'll be handed out a game card containing a 12-digit code that is needed to enter the Sweepstakes.
If you were lucky enough to receive a game card, go to oldnavy.promo.eprize.com/millionaire2015 and register for the Sweepstakes by providing your personal information including your name, a valid email address, and the code from the game card you received by 7:00 p.m. ET on November 27, 2015. One lucky shopper will be randomly selected the same day, on Black Friday, to receive the $1,000,000 grand prize, awarded in the form of a check!
Your code may be used only once and you may receive only one (1) Sweepstakes Entry during the entire Promotion Period. Old Navy Overnight Millionaire Sweepstakes is open to legal residents of fifty (50) United States (including the District of Columbia and Puerto Rico) and Canada who are at least eighteen (18) years old at the time of entry.
Who Won The Overnight Millionaire From Old Navy
For the third year in a row, Old Navy will make an Overnight Millionaire on Black Friday. Check out who won in the previous years:
2013: Scott Rowe, a 11-year military veteran from Texas
2014: Karen Crider, a mother from Salem, Oregon
2015: The winner list will be posted soon.
Don't miss out on those Black Friday deals as everything is 50% off Thursday and Friday at Old Navy.
Tags: Black Friday Sweepstakes, Old Navy Sweepstakes
Leave a Comment