natgeotv.com/WinAlaska – National Geographic Channel's Ultimate Survival Alaska Sweepstakes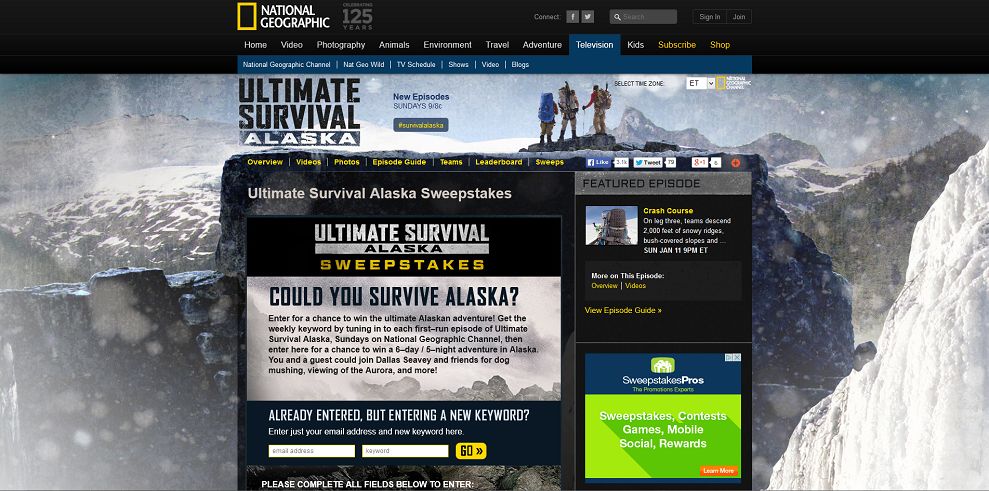 Could you survive Alaska? Watch new episodes of Ultimate Survival Alaska every Sunday starting at 9/8c on National Geographic Channel and look for the keyword that will be revealed during the show. Then, enter online at natgeotv.com/WinAlaska for a chance to win the adventure of a lifetime in Alaska with Dallas Seavey!
You may enter once per week using the new weekly keyword so be sure to watch Ultimate Survival Alaska each each Sunday (9/8c from 01/04/2015 through 02/08/2015 and 10/9c from 02/15/2015 through 03/29/2015) to increase your chances of winning.
Ultimate Survival Alaska Sweepstakes Keywords
Missed a keyword during the broadcast of the show? Don't worry, you can find them all just below!
January 4: COMPETITION
January 11: CAVE
January 18: RAPIDS
January 25: PORCUPINE
February 1: n/a
February 8: INTENSITY
February 15: RAFT
February 22: BEAR
March 1: MOUNTAIN
March 8: ALTITUDE
March 15: PORTAGE
March 22: FINALE
Sweepstakes Grand Prize Trip
The grand prize, valued at over $12,000, consists of a six (6) day / five (5) night trip to Alaska with Ultimate Survival Alaska's "Team Endurance" member Dallas Seavey and friends from the Ultimate Survival Alaska show. Trip includes airfare, hotel accommodations, $2,000 spending money and guided activities during the trip.
Sweepstakes Facts
Runs from January 4, 2015 to March 31, 2015. Open to legal residents of the United States, Alaska, and the District of Columbia, who are 21 years of age or older.
[Updated on January 12, 2015 to include the Ultimate Survival Alaska Sweepstakes keyword for Sunday, January 11, 2015.]
Tags: #survivalalaska, code word, natgeotv.com/WinAlaska, National Geographic Sweepstakes, watch to win
Leave a Comment