Mike And Mike Winning Word: Road To The CFP Sweepstakes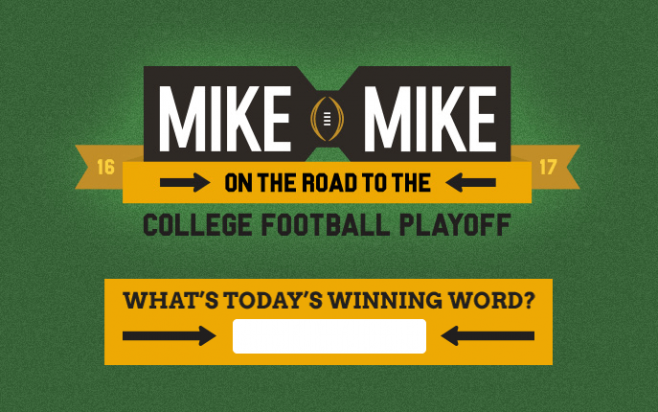 Want to enter the Mike And Mike Road To The CFP Sweepstakes but can't listen to ESPN Radio's Mike & Mike or you simply missed the Mike And Mike Winning Word of the day today? It's not a problem when you have SweepstakesLovers!
Every weekday through November 15th, we will listen to the show for you and add the winning word of the day here. Come back each day between 6:00 A.M. ET and 10:00 A.M. ET copy today's word. The winning word is usually announced at 7:20 and 9:20AM ET.
Then, enter it online at MikesRoadToTheCFP.com before 1:00 P.M. ET each day to be entered into the Sweepstakes for that day.
Entry Form | Official Rules | How To Enter?
A List Of Each Mike And Mike Winning Word For The Road To The CFP Sweepstakes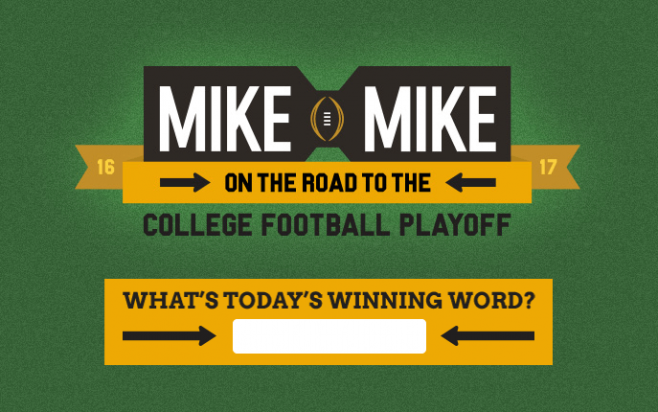 Wondering what's today's winning word? The answer is right below!
October 26, 2016: BELIEVE
October 27, 2016: TIED
October 28, 2016: CHICAGO
October 31, 2016: COMEBACK
November 1, 2016: TRADE
November 2, 2016: SEVEN
November 3, 2016: CHAMPIONS
November 4, 2016: FRIDAY
November 7, 2016: PETTY
November 8, 2016: VOTE
November 9, 2016: OBVIOUS
November 10, 2016: CONFUSING
November 11, 2016: WINLESS
November 14, 2016: CRAZY
November 15, 2016: FINALE
For complete details, including Official Rules, visit mikesroadtothecfp.com.
Tags: Mike And Mike Sweepstakes 2016, winning word
Comments (2 Messages)
Leave a Comment