KFP3AwesomeAdventure.com – Kung Fu Panda 3 Awesome Adventure Promotion
Did you find a Kung Fu Panda 3 Code on a specially marked package of your favorite MOM Brands or Post cereals recently? Enter this code at KFP3AwesomeAdventure.com now because it might be your ticket to an Awesome Adventure!
What Is The Kung Fu Panda 3 Awesome Adventure
MOM Brands, Post Foods, and Dreamworks are all teaming up to bring you Kung Fu Panda 3 Awesome Adventure, a promotion where KFP3 fans can participate daily through May 31, 2016 for a chance to win a 7-night Royal Caribbean International cruise for a family of four or free MOM Brands Cereal for a year.
Plus, each time you enter a code from a participating MOM Brands or Post cereal, you'll get a chance at Kung Fu Panda Swag Bags and movie tickets, instantly.
The Promotion, which is open only to legal residents of the fifty (50) United States and the District of Columbia who are at least thirteen (13) years old at the time of entry, will be held from 12:00pm ET on Monday, December 14, 2015 to 11:59:59pm ET on Tuesday, May 31, 2016.
How To Enter KFP3AwesomeAdventure.com
The first thing to do is to register. Head to KFP3AwesomeAdventure.com during the Promotion Period and start your adventure by entering your email address. Fill out the registration form as instructed and submit to earn your first entry into the Sweepstakes for a chance to win the Grand Prize Cruise.
Editor's Advice: Did you know there are more ways to win? Complete the following actions to earn Bonus Sweepstakes Entries.
Trivia Game: Play the Trivia Game and earn a bonus Sweepstakes Entry (first play only).
Share The Promotion: Tweet or post on Facebook and earn a bonus Sweepstakes Entry for each friend who registers for the Promotion. (up to 5 friends)
Play The Instant Win Game With Codes
Once you entered the Sweepstakes, you'll be offered the opportunity to play the Instant Win Game by entering a package code that you may obtain from any participating cereal products. You may also use the free code "PoPowerCrunch" to play without making a purchase.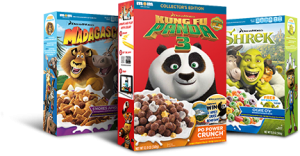 Each code, including the free "PoPowerCrunch" code, can be entered only once per day. No more than one (1) Game Play per day will be accepted.
Win An Awesome Adventure
One (1) Grand Prize Winner will receive a 7-night Royal Caribbean Cruise featuring theDreamWorks Experience, awarded in the form of Royal Caribbean Cruise certificates, and up to $4,000 in cash towards travel expenses.
Four other Sweepstakes Winners will get a year supply of MOM Brands cereal, awarded in free product coupons.
Plus, by playing the Instant Win Game, you could instantly win one of the following two (2) prizes:
A Kung Fu Panda Swag Bag (100 prizes available to be won)
Four (4) movie tickets to see Kung Fu Panda 3 (300 prizes available to be won)
Tags: Awesome Adventure Giveaway, kfp3awesomeadventure.com, Kung Fu Panda 3 Sweepstakes
Leave a Comment