AMC's The Walking Dead Dead Carpet Sweepstakes – amc.com/DeadCarpet (Code Words Included)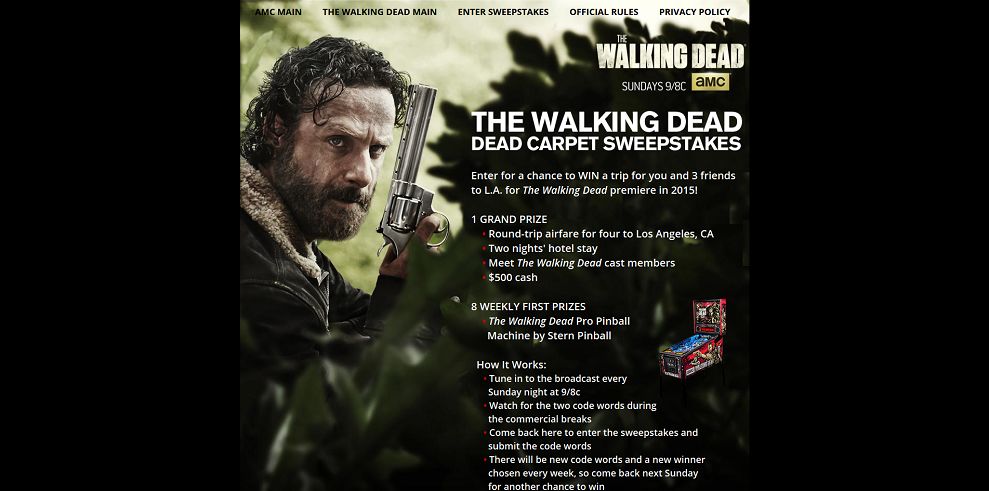 Tune in to The Walking Dead every Sunday night until December 1, 2014 and watch for two (2) code words revealed during commercial breaks. Then, enter the AMC's The Walking Dead Dead Carpet Sweepstakes at amc.com/DeadCarpet for a chance to win a trip to L.A. for The Walking Dead premiere in 2015!
To enter, simply visit the site mentioned above and follow the instructions to complete the entry form including the two (2) code words.
SEE ALSO: AMC's The Walking Dead Sleep With The Dead Sweepstakes
Dead Carpet Sweepstakes Code Words
Watch tonight's episode or come back here later to get the code words.
Oct. 12, 2014 : Walkers, Approaching
Oct. 19, 2014 : Zombie, Kill
Oct. 26, 2014 : Stick, Together
Nov. 2, 2014 : Immediate, Threat
Nov. 9, 2014 : No, Sanctuary
Nov. 17, 2014: Stay, Calm
Nov. 23, 2014: Keep, Walking
Nov. 30, 2014: Fight, Survive
Grand Prize
One (1) lucky The Walking Dead fan will enjoy a trip to Los Angeles to attend The Walking Dead Season 6 premiere screening and party valued at $4,000.
Weekly Prizes
One winner will be randomly selected each week to receive a The Walking Dead Pro Pinball Machine.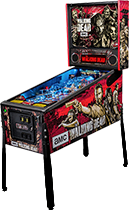 Entry Periods
The sweepstakes, which consists of eight (8) individual Entry Periods, begins during the Season 5 Premiere of The Walking Dead and will end at 5:59:59 am ET on December 1, 2014.
Each entry period coincides with a new episode of The Walking Dead as detailed below.
Entry Period #1 : 10/12/14 [Ended]
Entry Period #2 : 10/19/14 [Ended]
Entry Period #3 : 10/26/14 [Ended]
Entry Period #4 : 11/02/14 [Ended]
Entry Period #5 : 11/09/14 [Ended]
Entry Period #6 : 11/16/14 [Ended]
Entry Period #7 : 11/23/14 [Ended]
Entry Period #8 : 11/30/14 [Ended]
For each entry period, you will be able to enter from 9:00:01 pm ET on the applicable day to 5:59:59 am ET the next day.
Limit
Limited to one (1) entry, per person, regardless of email address used, per Entry Period.
Eligibility
Want to try your luck ? In order to enter and win, you must be a legal resident of one of the fifty (50) United States and the District of Columbia (excluding Puerto Rico, Guam, the U.S. Virgin Islands and other United States territories), or Canada (excluding Quebec), who is twenty-one (21) years of age or older as of the date of entry and who have access to the internet and AMC Channel prior to learning of this Sweepstakes.
Tags: amc.com/DeadCarpet, AMC's The Walking Dead Dead Carpet Sweepstakes, code words, deadcarpet.amctv.com
Leave a Comment