Power Rangers You-Tell-Us Sweepstakes (Bandai.com/PowerRangers)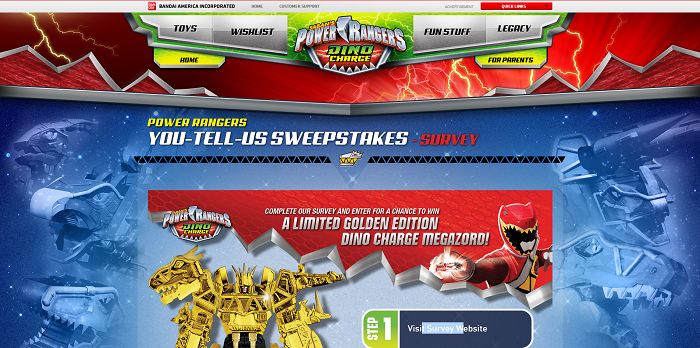 Have you ever dreamed of having the powerful Dino Charge Megazord on your side when evil attacks? How about a Golden one? That's right, a Golden Dino Charge Megazord! Bandai is giving away 20 Power Rangers Limited Gold Edition Dino Charge Megazord toys in the You-Tell-Us Sweepstakes and YOU could be a winner!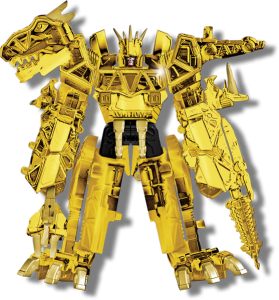 For your chance to win, all you have to do is complete the 4 following easy steps:
Step #1: Visit Bandai.com/PowerRangers and click on the Promotional Banner to access the Sweepstakes page.
Step #2: Create a free account as instructed, including the sixteen (16) character promotion code printed inside specially marked packages of Power Rangers Dino Charge toys.
Step #3: Take the ten (10) question survey.
Step #4: Register for the Sweepstakes by providing your first name, age, email address, entrant's parent's email address
You can earn up to three (3) Sweepstakes Entries throughout the Promotion Period, beginning on October 5, 2015 and ending on March 31, 2016, so return and take the survey again for more chances to win!
The Power Rangers You-Tell-Us Sweepstakes is offered and open only to legal residents of the United States who are at least four (4) years old at the start of the Promotional Period. Please note that a parent or legal guardian must enter on behalf of a child who is under the age of thirteen (13).
Tags: bandai.com/powerrangers/survey, Power Rangers Sweepstakes, Power Rangers You-Tell-Us Sweepstakes
Leave a Comment