TheTalk.com Top Chen List Giveaway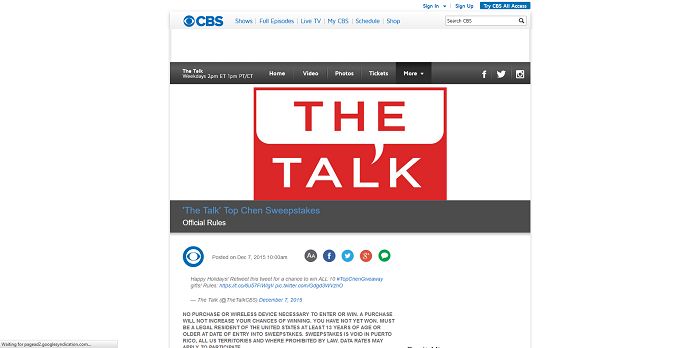 Yesterday, during The Talk, everybody in studio audience got everything on the Top Chen List! In total, the audience returned home with more than $1 million worth of products. And now, it's your chance to get the items from the Top Chen List! Oh, yes, you are! For your chance to win the items featured on the Top Chen List at home, go to the TheTalk.com or read on.
Retweet To Win Top Chen List
Starting on December 7, follow @TheTalkCBS and look for the daily #TopChenGiveaway promotional tweet. Not sure what to look for? To help you get started, we included the ones that was posted yesterday below:
Happy Holidays! Retweet this tweet for a chance to win ALL 10 #TopChenGiveaway gifts! Rules: https://t.co/6u57FlWlgV pic.twitter.com/Gdgd3WVzhO

— The Talk (@TheTalkCBS) December 7, 2015
Once you spotted the tweet, retweet it with the hashtag "TopChenSweeps" to receive one (1) Entry into the Sweepstakes. A new tweet will be posted daily so keep watching and retweeting every day until December 13 for more chances to win!
One lucky The Talk fan will win all Top Chen gifts including the following items:
one (1) Google Nexus 5x
one (1) Google Chromecast
one (1) Heys Luggage Gift Voucher
one (1) Kiehl's Product Package
one (1) 2 night Stay, with Spa Service Gift Certificate, at the Nemacolin Woodlands Resort in Pennsylvania
one (1) Ninja Coffee Bar & Ninja Blender Set
one (1) Nutri Ninja 8- Piece Extractor Blender Set with Auto-iQTMc
one (1) FINEX 10″ Grill & Sear 2-Piece Set
one (1) Omaha Steaks All Wrapped Up Freezer Loader
one (1) Pearls of Joy Necklace
one (1) Pebble Smart-watch
one (1) Philips Avance Pasta maker
one (1) SWASH Garment Care
The Talk Top Chen Giveaway is offered and open only to persons who meet the following eligibility requirements:
Be a registered user of the Twitter Service,
Must follow @thetalkcbs on Twitter,
Be a legal resident of any of the United States,
Be at least 13 years of age or older at the date of entry.
Tags: The Talk Giveaway, Top Chen Giveaway
Comments (17 Messages)
Leave a Comment