eBay Level Up Challenge Sweepstakes – PlayeBayGame.com : Earn points. Complete challenges. Win big prizes.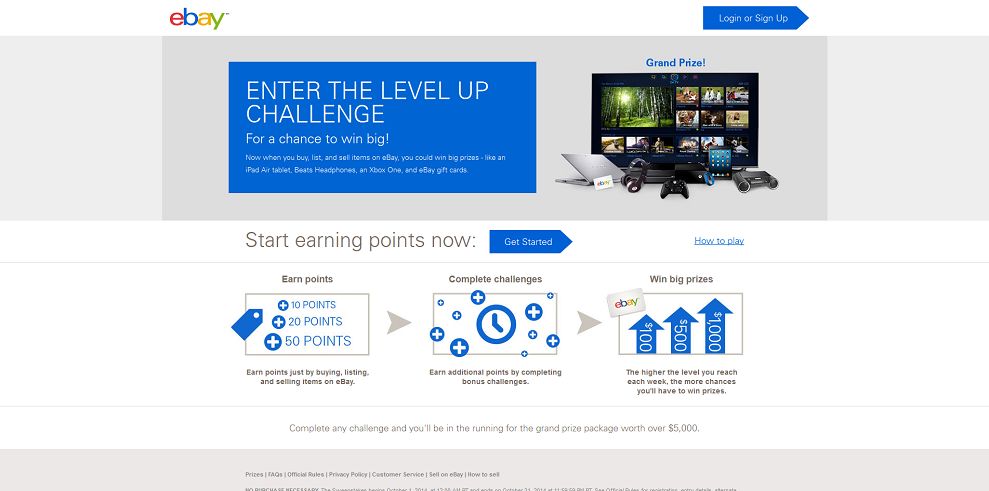 Ready to level up ? Buying and selling items on eBay is easy. And now when you do, you could win great prizes too!
Enter The Sweepstakes
Simply visit PlayeBayGame.com and login using your eBay account. Don't have an account yet ? Register for free at http://reg.ebay.com/reg/PartialReg?ru=http%3A%2F%2Fwww.ebay.com%2F
Alternatively, you may enter by hand-writing your complete name (no initials), eBay user ID, valid e-mail address, street address (P.O. Boxes not accepted), city, state, ZIP code, telephone number, and date of birth (MM/DD/YYYY) on a 3½"x5" card and mail it with sufficient postage to:
eBay Challenge Sweepstakes
P.O. Box 251328
West Bloomfield, MI 48325
A Mail-In Entry will earn you one (1) entry into each applicable Prize Level drawing and one-thousand (1,000) entries into the Grand Prize Drawing.
Here's How It Works

Each week you'll be eligible to win the Level 1 prize. But why not level up to play for more valuable prizes? Earn more points by completing challenges and level up for your chance to win more valuable prizes.
Start Earning Points
Time to earn some points ! the more challenges you complete, the higher the prize level you could reach.
Earn points by performing the following activites :
List an item : 5 points
Sell an item : 10 points
Buy an item : 10 points
List an item in Cell Phones & Smartphones (Entry Period 1 only) : 20 points
Buy an item over $50 (Entry Period 2 only) : 20
List an item in iPads, Tablets, & eBook Readers (Entry Period 3 only) : 20 points
Set up goal in Goal Tracker (Entry Period 4 only) : 20 points
Answer a trivia question : 3 points
Watch a video : 5 points
Invite a friend to participate in the Sweepstakes (friend must accept invitation and register for the Sweepstakes using the link during the Sweepstakes Period) : 5 points
Entry Limit
Limit of one (1) entry per Prize Level per Entry Period and one-thousand (1,000) entries into the Grand Prize Drawing, regardless of the method of entry used.
Entry Periods
The Sweepstakes starts on October 1, 2014, ends on October 31, 2014 and consists of four (4) entry periods each beginning at at 12:00:00 AM PT and ending at 11:59:59 PM PT during the following dates.
Entry Period #1 : October 1, 2014 to October 10, 2014.
Entry Period #2 : October 11, 2014 to October 17, 2014.
Entry Period #3 : October 18, 2014 to October 24, 2014.
Entry Period #4 : October 25, 2014 to October 31, 2014.
Eligibility Requirements
The Sweepstakes is offered only to:
legal residents of the 50 United States and the District of Columbia;
who are at least 18 years of age at time of entry;
who are physically located and reside in the United States or District of Columbia;
who are registered members of www.ebay.com at time of entry.
Grand Prizes
Two (2) Grand Prize Winners shall win a prize package consisting of :
a $1,000 eBay Gift Card,
one (1) Samsung 60-inch 3D Flat Screen TV,
one (1) Beats by Dr. Dre – Wireless On-Ear Headphones,
one (1) Apple iPad Air (32GB),
one (1) Xbox One,
one (1) Eton Solar Wireless Speaker set,
one (1) Fitbit Flex,
one (1) Sony Viao Laptop.
The ARV of each Grand Prize is $5,750.
Weekly Prizes
Week 1 Prize
Level 1 $100 eBay Gift Card
Level 2 Eton Solar Wireless Speakers
Level 3 $200 eBay Gift Card
Level 4 Apple iPad Mini (16GB)
Level 5 $500 eBay Gift Card
Week 2 Prize
Level 1 Fitbit Flex
Level 2 $200 eBay Gift Card
Level 3 Beats by Dr. Dre – Wireless


On-ear Headphones

Level 4 $500 eBay Gift Card
Level 5 Apple iPad Air tablet (32GB)
Week 3 Prize
Level 1 $100 eBay Gift Card
Level 2 Xbox One
Level 3 $300 eBay Gift Card
Level 4 Apple iPad Air tablet (32GB)
Level 5 $1,000 eBay Gift Card
Week 4 Prize
Level 1 Apple iPod Nano device
Level 2 $500 eBay Gift Card
Level 3 $1,000 eBay Gift Card
Level 4 Sony Vaio Laptop
Level 5 Samsung 60″ 3D Flat Screen TV
Tags: eBay Level Up Challenge Sweepstakes, playebaygame.com
Leave a Comment