Ruffles Home Court Advantage Promotion (RufflesHomeCourtAdvantage.com)
This basketball season, take the Ruffles Home Court Advantage at RufflesHomeCourtAdvantage.com. If your team win at home, you could win at home.
You could win hundreds of stunning prizes including Samsung TVs, JBL Cinema Soundbars, NBA Team branded recliners, beer keg fridges, NBA autographed jerseys, and more. Win every week!
Want to win your very own NBA Fan Cave? You could score the ultimate Ruffles Fan Cave Upgrade too.
Choose Your Team At RufflesHomeCourtAdvantage.com
Now through January 29, 2017, you may obtain a bag code with the purchase of any RUFFLES product. This 9-11 numeric code is located below the "guaranteed fresh" statement on the front of the RUFFLES brand bag.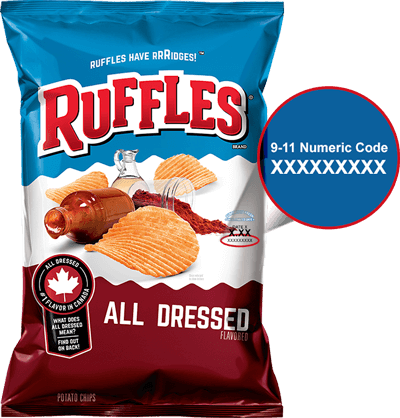 Alternatively, you may obtain a free code by sending a 3″ x 5″ card with your full name, address, city, state, zip code, date of birth, and email address to be received by January 24, 2017 to: Ruffles Home Court Advantage Code Request, PO Box 760031, Dept. 879-712, El Paso, TX 88576-0031.
Once you obtained a code, you may visit www.ruffleshomecourtadvantage.com to participate into the Ruffles Home Court Advantage Promotion. First, choose your NBA team among the team provided onscreen. Second, enter your bag code and select the retailer where you purchase your Ruffles chips. Finally, register for the Promotion as instructed to be entered.
If your NBA Team wins an home game corresponding to the Entry Period in which your Code was entered, you will receive one entry for each Code entered during that Entry Period into the corresponding random drawing for a chance to win a prize. Yes, it's that simple!
Entry Periods
09/27/16 – 10/09/16
10/10/16 – 10/16/16
10/17/16 – 10/23/16
10/24/16 – 10/30/16
10/31/16 – 11/06/16
11/07/16 – 11/13/16
11/14/16 – 11/20/16
11/21/16 – 11/27/16
11/28/16 – 12/04/16
12/05/16 – 12/11/16
12/12/16 – 12/18/16
12/19/16 – 12/25/16
12/26/16 – 01/01/17
01/02/17 – 01/08/17
01/09/17 – 01/15/17
01/16/17 – 01/22/17
01/23/17 – 01/29/17
Win At Home
Samsung 65" TV
Spalding Basketball goal branded with the Ruffles logo
Yeti Colster branded with the Ruffles logo
Authentic, signed NBA Basketball
JBL Cinema SB350 Sound Bar
NBA 2K17 Game compatible with Xbox One system consoles
Leather Recliner with embroidered NBA Team Logo
Ruffles Snack Hoodie
Ruffles Snack Hat
Ruffles-branded Pint Glasses (set of 4)
NBA Team Logo Fathead Decal
Beer Keg Fridge
$100.00 NBA Store e-Gift Card redeemable at store.nba.com
Ruffles Neon Sign
Ruffles-branded mini Spalding Basketball
Authentic, signed NBA Jersey
Cocktail Glasses branded with the Ruffles and NBA logos (set of 4)
Throw Blanket with NBA Team Logo
The total approximate retail value of all prizes is $92,063.10.
Ruffles Home Court Advantage Promotion
The Ruffles Home Court Advantage Promotion is open only to legal residents of any of the 50 U.S. states, the District of Columbia and Puerto Rico, who are 18 years of age or older at the time of participation.
Commences at 12:00:00 p.m. CT on September 26, 2016 and ends at 11:59:59 p.m. CT on January 29, 2017. Limited to a maximum of  1 Code entry per day per person.
For a list of winners, send a self-addressed, stamped envelope to be received by February 28, 2017 to: RUFFLES Home Court Advantage National Promotion Winner's List, 10 South 5th Street, 7th Floor, Dept. 879-712, Minneapolis, MN 55402.
For complete details, including Official Rules, visit www.ruffleshomecourtadvantage.com.
Tags: Ruffles
Leave a Comment