REESE'S Bring the Party to Your Playoffs Sweepstakes (reesesplayoffparty.com)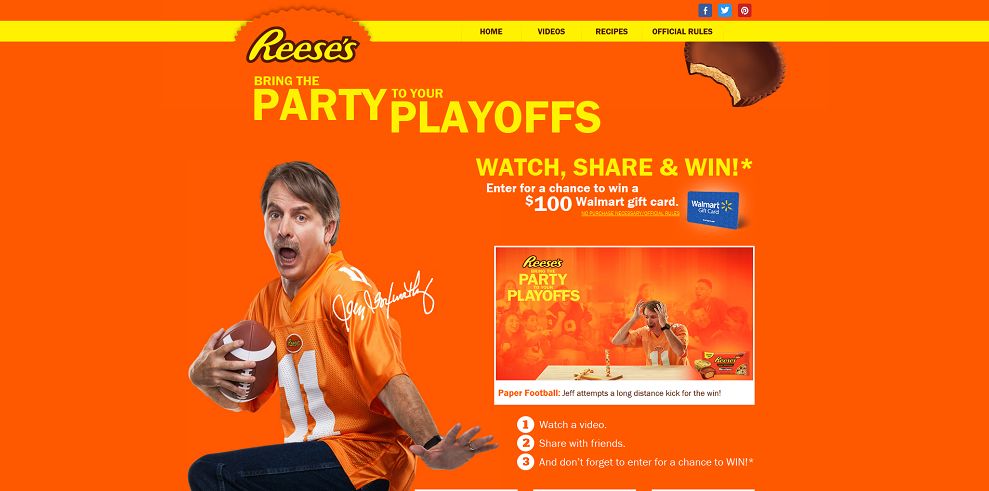 Want a chance to win a $100 Walmart gift card? Of course you do! And REESE's will give you not one but twenty nine (29) chances to win one in the Bring the Party to Your Playoffs Sweepstakes!
During the sweepstakes period, a total of twenty nine (29) prizes, one per day, will be awarded. Each prize consists of a $100 Walmart Gift Card.
Will you be a winner? There's only one way to find out!
Watch. Share. Win!
To enter, go to ReesesPlayoffParty.com and watch funny Jeff Foxworthy videos. Upon watching a video, you'll be invited to either share the video and/or register for a chance to win. Your entry must be completed and received by 11:59:59 p.m. EST to be included in that day's drawing. Your entry won't be carried to subsequent Daily Drawings so be sure to return every day for another chance to win.
Editor's advice: Watching and/or sharing a video is not required to enter so you may also skip these two steps and go directly to the sweepstakes entry form.
This sweepstakes, which is open only to legal residents of the fifty (50) United States and the District of Columbia, started at 12:00:00 p.m. EST on Monday, January 5, 2015 and will conclude at 11:59:59 p.m. EST on Monday, February 2, 2015. Must be eighteen (18) years of age or older at time of entry to participate.
Tags: REESE'S Sweepstakes, reesesplayoffparty.com
Leave a Comment