Casey's Summer Of Freedom Sweepstakes 2022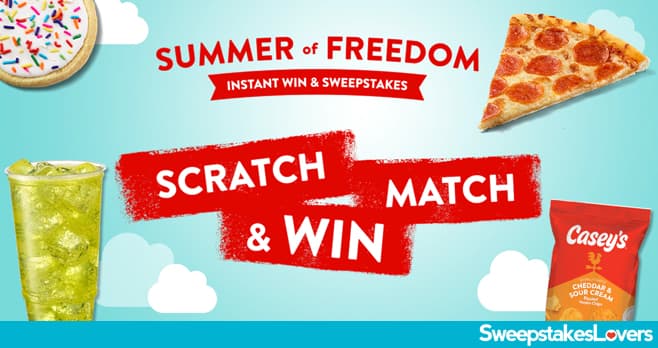 Casey's Summer Of Freedom Sweepstakes 2022 at caseys.com/summer is your chance to win instant prizes like a slice, breadsticks, Mtn Dew and more.
Eligibility : This Casey's Sweepstakes 2022 is open to residents of Arkansas, Illinois, Indiana, Iowa, Kansas, Kentucky, Michigan, Minnesota, Missouri, Nebraska, North Dakota, Ohio, Oklahoma, South Dakota, Tennessee, and Wisconsin, who are at least 18 (19 in Nebraska) years old at the time of entry.
Sweepstakes Period : The Summer Of Freedom Sweepstakes begins on May 4, 2022 and ends on September 6, 2022.
Enter At : www.caseys.com/summer
Limit : Each qualifying transaction or order placed is eligible to earn a sweepstakes entry.
Prizes :
A total of three hundred twenty-one (321) Drawing prizes will be awarded during the Sweepstakes Period.
a. WEEKLY DRAWING PRIZES: A total of eighteen (18) $1,200 gift cards representing "Free Fuel for Summer" will be awarded as Weekly Drawing Prizes.
b. MONTHLY DRAWING PRIZES: A total of four (4) Monthly Drawing Prizes will be awarded (one (1) per month). Each winner will be able to choose their prize from the following options:
i. Option 1 – Float Trip Excursion (Total approximate retail value ("ARV") $14,183.62) • One (1) 6-night / 7-day stay for winner and up to ten (10) guests at Meramec River Resort • Roundtrip Coach Airfare for ten (10) • Kayak, Canoe, and Raft Rentals o Eight (8) Single-Kayak Day Rentals o Five (5) Double-Kayak Day Rentals
o Two (2) Six Person Raft Rental • One (1) $2,500 AMEX Gift Card (for food, misc. travel expenses, etc. • Travel Gear for Ten (10) ? Ten (10) Yeti 26oz Tumblers ? Ten (10) Yeti 10oz Travel Mugs ? One (1) $1,000 REI digital gift card (for misc. clothing and gear for the trip) ii. Option 2 – Lake Week Excursion (Total ARV $16,975) • One (1) 6-night / 7-day stay for one (1) winner and up to five (5) guests at Big Cedar Lodge • One (1) Private Family Cabin • Roundtrip Coach Airfare for six (6) • One (1) Single Day (8-hour) Fishing Barge Rental • One (1) Lady Liberty Cruise for Six (6) • One (1) $2,500 AMEX Gift Card (for food, misc. travel expenses, etc.) iii. Option 3 – Ultimate Backyard BBQ (Total ARV $15,262.70) • One (1) Traeger Pro 780 • One (1) Blackstone Flat top 36? Culinary Starter Kit • One (1) Cuisinart 20-piece grill tool set • One (1) Blaze 20-inch 4.1 cubic ft. outdoor rated fridge • One (1) 8-seat patio dining set • Four (4) Weatherized Converted SONOS Smart Speakers • One (1) Corn Hole set • Butcher Box Gifts, including: o One (1) Seafood Box o One (1) Gameday Box o One (1) Ultimate Variety Box • One (1) $2,500 AMEX Gift Card (for misc. expenses for the ultimate backyard BBQ) iv. Option 4 – Backyard Adventures (Total ARV $19,810.13) • One (1) Canam Maverick Sport • One (1) Yeti Tundra 65 Hard Cooler • Four (4) Yeti 26 oz Ramblers w/ Chug Caps • Four (4) Bell Offroad Helmets
c. PARTNER DRAWING PRIZES: Partner Drawing Prizes will be awarded as follows:
i. Mtn Dew Partner Prizes: In the Mtn Dew Partner Drawings 1 through 10, in each drawing, five (5) Mtn Dew Summer Gear Packs (ARV: $250) will be awarded. Each Mtn Dew Summer Gear Pack includes:
• One (1) Floating Waterproof Speaker ARV $145
• One (1) Backpack Cooler ARV: $60
• One (1) Waterproof Summer Blanket ARV: $50
ii. Monster Partner Prizes. In the Monster Partner Drawings 1 through 18, one (1) Monster Energy Igloo Rolling Cooler (ARV: $150) and three (3) Monster Energy Snapbacks (ARV: $40) will be awarded, each to individual winners. In addition to these Weekly Monster Partner Prizes, the following Monthly Monster Prizes will be awarded:
• Month 1: One (1) Monster Energy Boombox Flair 8, ARV: $300
• Month 2: One (1) Monster Energy Portable DJ Turntable, ARV: $200
• Month 3: One (1) Java Monster Giant Tower Game, ARV: $200
• Month 4: One (1) Java Monster Giant Four in a Row Game, ARV: $215
Tags: Casey's Sweepstakes 2022
Comments (1 Message)
Leave a Comment