SunnyD ProCamps Sweepstakes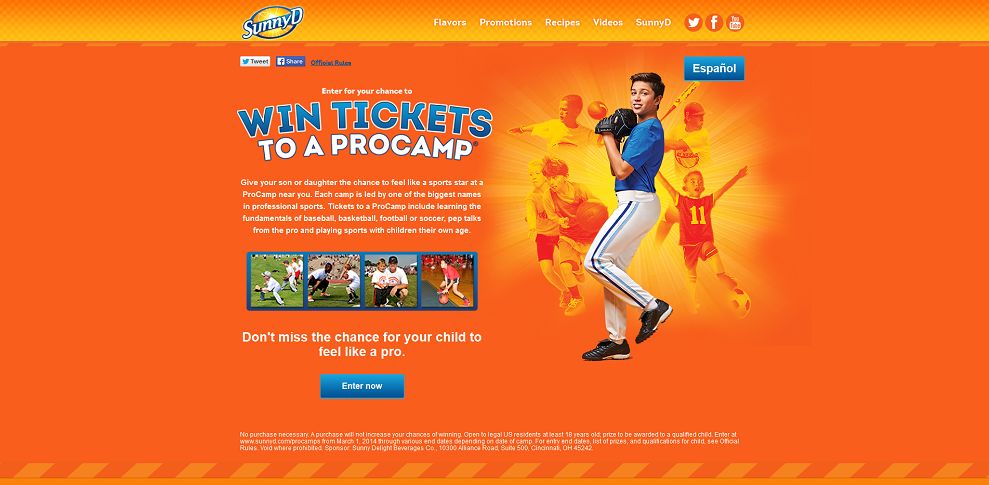 Eligibility : The SunnyD® ProCamps® Sweepstakes ("the Sweepstakes") is open only to legal residents of the U.S., who are eighteen (18) years of age or older as of date of entry.
Promotion Period : Beginning at 12:00:01 AM ET on March 1, 2014 and ending at 11:59:59 PM ET on the date listed below for each individual camp ("Sweepstakes Period").
Enter Online At : sunnyd.com/procamps
Limit : Limit one (1) entry per person/email address, per day, during the Entry Period regardless of participating city selected for entry.
Prize (s) :
A Sponsor-specified baseball, basketball, football, soccer, or hockey ProCamps experience for one (1) child. Number of prizes awarded and ProCamps age limit for each participating city are listed below.
The approximate retail value ("ARV") of the prizes is as follows: baseball camp: $99-199; basketball camp: $149-199; football camp: $99-149; field hockey camp: soccer camp: $99; $199; hockey camp: $499.
Participating City
Entry Period
Prize
Number of

Prizes Awarded

ProCamps Prize

Grade Level

Atlanta, GA
3/1-5/26
Football
12
1-8
Atlanta, GA
3/1-5/24
Football
2
1-8
Austin, TX
3/1-6/1
Football
2
1-8
Boston, MA
3/1-7/10
Baseball
12
1-8
Buffalo, NY
3/1-5/31
Football
12
1-8
Charlotte, NC
3/1-5/22
Football
12
1-8
Charlotte, NC
3/1-6/10
Basketball
12
1-12
Chicago, IL
3/1-7/2
Basketball
2
1-12
Chicago, IL
3/1-5/21
Football
12
1-8
Chicago, IL
3/1-6/30
Baseball
12
1-8
Cincinnati, OH
3/1-7/4
Baseball
12
1-8
Cincinnati, OH
3/1-6/28
Soccer
2
Girls 1-8
Cincinnati, OH
3/1-6/25
Football
2
1-8
Cincinnati, OH
3/1-5/12
Football
2
1-8
Columbus, OH
3/1-6/24
Football
12
1-8
Dallas, TX
3/1-4/26
Football
12
1-8
Dallas, TX
3/1-5/1
Football
12
1-8
Denver, CO
3/1-4/26
Football
12
1-8
Detroit, MI
3/1-6/16
Baseball
12
1-8
Fairfax, VA
3/1-7/26
Basketball
2
1-12
Green Bay, WI
3/1-6/28
Football
2
1-8
Hartford, CT
3/1-7/12
Basketball
2
1-12
Houston, TX
3/1-4/12
Football
12
1-8
Houston, TX
3/1-7/19
Basketball
12
1-12
Indianapolis, IN
3/1-5/1
Football
12
1-8
Jacksonville, FL
3/1-6/10
Football
12
1-8
Kansas City, KS
3/1-5/17
Football
12
1-8
Lexington, KY
3/1-7/14
Basketball
12
1-12
Los Angeles, CA
3/1-7/7
Baseball
12
1-8
Los Angeles, CA
3/1-6/2
Baseball
12
1-8
Massillon, OH
3/1-6/23
Football
2
1-8
Miami, FL
3/1-6/16
Football
12
1-8
Miami, FL
3/1-6/23
Football
12
1-8
Nashville, TN
3/1-TBD
Football
2
1-8
New Jersey
3/1-6/5
Baseball
12
1-8
New Jersey
3/1-5/10
Football
2
1-8
New Jersey
3/1-6/3
Football
2
1-8
New Orleans, LA
3/1-1/26
Basketball
2
1-12
New York
3/1-8/2
Hockey
2
1-8
Phoenix, AZ
3/1-4/19
Football
12
1-8
Pittsburgh, PA
3/1-5/24
Football
2
1-8
Pittsburgh, PA
3/1-6/9
Baseball
2
1-8
Pittsburgh, PA
3/1-5/26
Football
2
1-8
Sacramento, CA
3/1-6/10
Basketball
12
1-12
Salt Lake City, UT
3/1-6/19
Basketball
12
1-12
San Antonio, TX
3/1-6/26
Basketball
12
1-12
San Diego, CA
3/1-TBD
Football
12
1-8
Vallejo, CA
3/1-1/4
Baseball
2
1-8
Tags: SunnyD ProCamps Sweepstakes, sunnyd.com/procamps
Leave a Comment