Natty Gear Instant Win Game: Buy Natty For A Chance To Get Gear!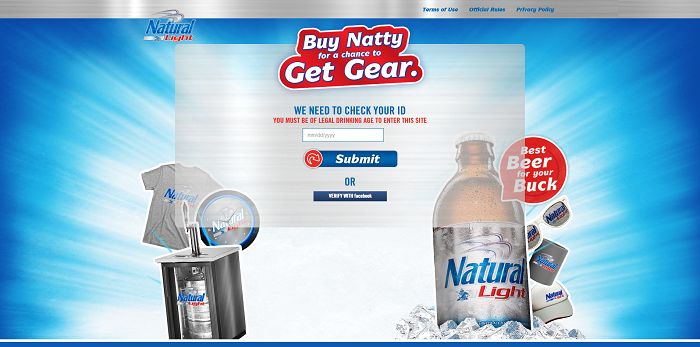 Natural Light, one of America's best-selling beer brands and Anheuser-Busch's first reduced-calorie light beer, wants to lighten up your summer with some Natty Gear!
Over $265,000.00 in prizes are available to be won including kegerators, neons, can fridges, clocks, hats, t-shirts, sunglasses and koozies! Best of all, you'll even get enough to share with your friends!
SEE ALSO: Corona Summer Sweepstakes
How To Obtain Natty Gear Instant Win Game Codes
For a chance to win, you'll need to obtain a code which can be found inside specially-marked packages of Natural Light beer or be requested by mail.
To request a code by mail, simply hand write your full name, complete mailing address, email address, and age on a 3″ x 5″ card and mail to: Natty Gear Instant-Win Game Code Request, Dept. 688-70016, PO Box 75144, El Paso, TX 88575-7144.
Play The Natty Gear Instant Win Game
Have a code? Go to NaturalLight.com during the Promotion Period and click on the promotional banner displayed onscreen to access the entry form. Enter your code and email address and submit to find out if you're an instant winner of some Natty Gear that you can keep for yourself and/or share with your friends!
The game started earlier this week and is set to end on July 31, 2015 so be sure to enter all your codes, limited to a maximum of one (1) code/play per day, by no later than 11:59:59 p.m. CDT on July 31, 2015 for your chance to win. Please note that each code may be used only once.
Participants must be residents of the United States, who are 21 years of age or older.
Instant Win Prizes
A total of 5,823 prizes will be awarded during the Promotion Period, as follow:
One (1) Natural Light kegerator and five (5) Natural-Light (100 prizes available)
One (1) Natural Light neon and five (5) Natural Light t-shirts (200 prizes available)
One (1) Natural Light can fridge and five (5) Natural Light t-shirts (33 prizes available)
One (1) Natural Light clock and five (5) Natural Light hats (324 prizes available)
One (1) Natural Light robe and five (5) pairs of Natural Light sunglasses (995 prizes available)
One (1) Natural Light clock and five (5) pairs of Natural Light sunglasses (796 prizes available)
One (1) Natural Light hat and five (5) Natural Light t-shirts (367 prizes available)
One (1) Natural Light hat and five (5) Natural Light koozies (3,008 prizes available)
Tags: Natural Light Beer Sweepstakes, sweepstakes code
Leave a Comment