Retro Renegade Sweepstakes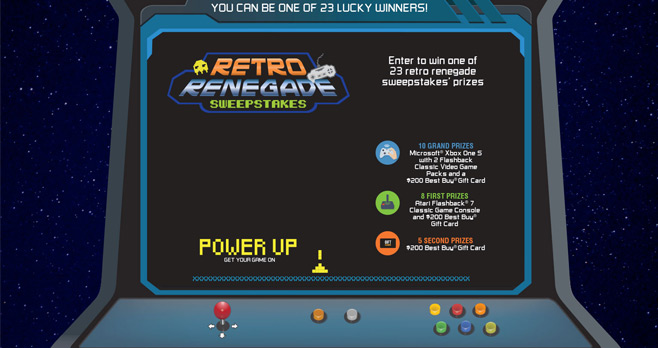 Sodexo invites you to enter the Retro Renegade Sweepstakes for a chance to win a Microsoft Xbox One S. Plus, when you enter at retrorenegadesweepstakes.com, you could score an Atari Flashback 7 Classic Game Console or a $200 Best Buy Gift Card.
Links
Sweepstakes Entry Form
Official Rules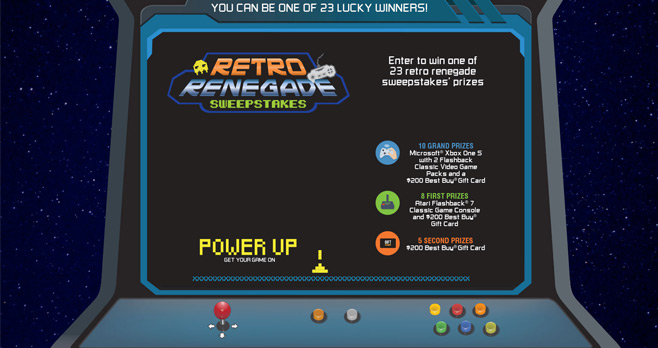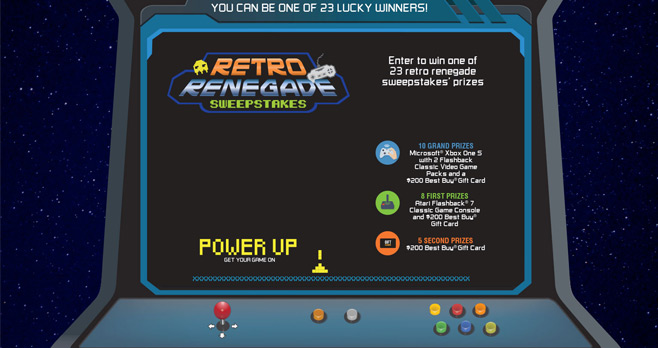 Who Can Enter

Retro Renegade Sweepstakes is open only to residents of the 50 United States and the District of Columbia, who are 18 years of age of older and enrolled in good standing at a post-secondary school with Sodexo-managed university dining at the time of entry.
When To Enter

Beginning at 10:00:00 AM ET on August 14, 2017 through 10:00:00 PM (ET) on September 25, 2017.
How To Enter
Log on to www.retrorenegadesweepstakes.com and follow the on-screen instructions to complete the on-line entry form. Limit one Sweepstakes Entry per person.
How Sweepstakes Winners Are Chosen

Potential Prize winners will be selected in a random drawing held on or about 10/3/17 from among all eligible entries received. Potential winners will be notified by email and/or phone.
What Are The Sweepstakes Prizes
Ten (10) Grand Prize: one (1) Microsoft Xbox One S with two (2) Sponsor-specified Flashback Classic Video Game packs and one (1) $200 Best Buy Gift Card.
Eight (8) First Prizes: one (1) Atari Flashback 7 classic game console and one (1) $200 Best Buy Gift Card.
Five (5) Second Prizes: one (1) $200 Best Buy Gift Card.
Who Are The Winners
For the names of the winners, available 10/23/17 send a separate, self-addressed, stamped (#10) envelope to: Sodexo "Retro Renegade" Sweepstakes Win List Request, 10000 Highway 55, Minneapolis, MN 55441, to be received by 10/13/17.
Tags: retrorenegadesweepstakes.com
Leave a Comment