Discovery.com/AmericanLegacy – Discovery Harley And The Davidsons American Legacy Sweepstakes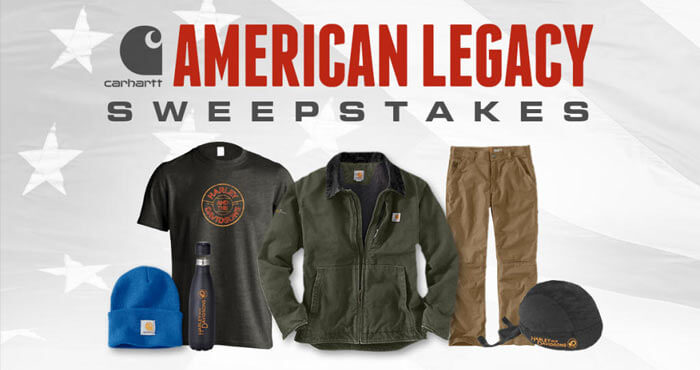 The Discovery American Legacy Sweepstakes at Discovery.com/AmericanLegacy is another Sweepstakes celebrating "Harley And The Davidsons", the new Discovery Channel Original premiering on Monday, September 5th.
This time, Discovery has teamed up with premium clothing company Carhartt to offer a few fans the chance to win some awesome gear. During the 3-night event, three lucky winners will each receive a prize pack filled with Carhartt gear and Harley And The Davidsons items.
Don't miss your chance to get your hands on this Harley and the Davidsons-themed prize pack is valued at $35 and enter today at Discovery.com/AmericanLegacy!
Enter Now At Discovery.com/AmericanLegacy
In order to participate into the Discovery Harley And The Davidsons American Legacy Sweepstakes, you must visit the Promotion Website at Discovery.com/AmericanLegacy during the Sweepstakes Period. Then, you may fill out the registration form as instructed. Upon submitting the form, you will automatically be entered into the Grand Prize Drawing for that day.
Be sure to return daily and enter again for more chances to win. Grand Prize Drawing will be held on September 5, September 6, and September 7.
More About The Discovery Harley And The Davidsons American Legacy Sweepstakes
Participation into the Harley and the Davidsons American Legacy Sweepstakes is open to individuals who are 18 years of age or older and who are legal U.S. residents at time of entry.
You may submit your entries between September 1 and September 7, 2016 to be eligible.
Maximum of one entry per participant per day throughout the Promotion Period.
This Sweepstakes is sponsored by Discovery Communications and administrated by Promotion Mechanics.
Online Entry Form | Official Rules
What do you think? Leave your comment below!
Tags: Discovery Harley And The Davidsons American Legacy Sweepstakes, Discovery.com/AmericanLegacy
Leave a Comment