Zillow Pay My Mortgage, Please Sweepstakes: Win $25,000 of mortgage freedom!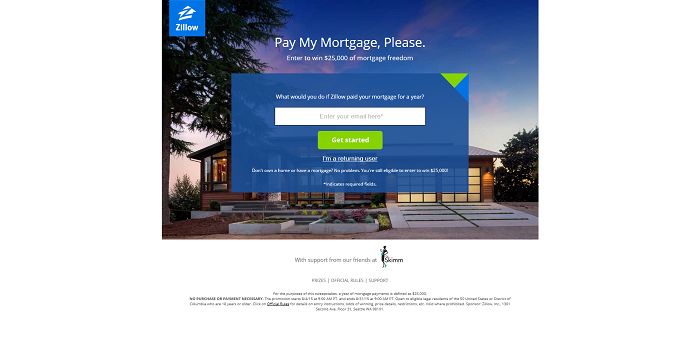 Earlier this week, we published a round about HGTV Home Giveaways that will help you win your own home. Winning a house is a dream come true but what if you already own a house?
Zillow launched the Pay My Mortgage, Please Sweepstakes where one lucky winner will score $25,000 of mortgage freedom!
You could win $25,000 toward mortgage freedom! Enter now for the chance to cash in big: http://t.co/UHgx6jQNwq pic.twitter.com/00vQPH564g

— Zillow (@zillow) August 5, 2015
All this month, no matter if you own a home or not, head to zillowmortgagesweepstakes.com and register to be entered into the Sweepstakes for a chance to win $25,000! The grand prize, awarded in the form of a check, can be used towards a year of mortgage freedom or any other expenses you might have in mind.
Upon registering, you'll be offered the chance to earn additional entries by completing the following actions:
Download the Zillow Mortgage app (available on the App Store for Apple devices and on the Google Play Store for Android devices) to earn four (4) additional entries.
Follow @Zillow on Twitter to earn two (2) additional entries.
Each entrants is limited to a maximum of ten (10) total entries during the entire Promotion Period, as detailed below:
Registration (4 entries)
Download the Zillow App (4 entries)
Follow @Zillow on Twitter (2 entries)
All entries must be completed and received no lather than 9 a.m. PT on August 31, 2015 to be eligible for the grand prize drawing that will be held at the end of the Promotion.
If you are a legal resident of any of the 50 United States or District of Columbia, and are eighteen (18) years of age or older (or the age of majority in entrant's state of residence), you are eligible to enter and win the Zillow Pay My Mortgage, Please Sweepstakes. Please note that you are eligible even if you don't own a home or have a mortgage.
Tags: Zillow Sweepstakes, zillowmortgagesweepstakes.com
Leave a Comment