Recipe.com/SweepsGrocery – Recipe.com $2,500 Grocery Sweepstakes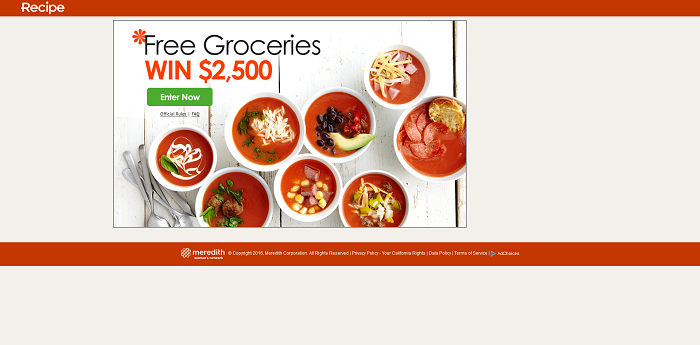 The cook in you certainly like to have a look at recipe websites like Recipe.com from time to time. But finding great dinner ideas is not all, you'll have to buy vegetables, fruits, meat, and other ingredients to prepare a delicious meal. Unfortunately, grocery is not free.
This is where Meredith Corporation, the media and marketing company behind Recipe.com, RachaelRayMag.com and EatingWell.com, can help with their Grocery Sweepstakes. Up for grabs, $2,500 to use towards your grocery bills.
Enter At Recipe.com/SweepsGrocery
To enter the $2,500 Grocery Sweepstakes, get started by visiting one of the follow four websites:
www.recipe.com/sweepsgrocery
www.rachaelraymag.com/sweepsgrocery
www.bhg.com/sweepsgrocery
www.eatingwell.com/sweepsgrocery
Next, click the "ENTER NOW" button and register by providing all information requested in the entry form. Complete your registration by submitting your entry form to receive one entry into the sweepstakes for that day.
You may earn up to four entries per day during the sweepstakes period by entering once per day on each website mentioned above. You have until 11:59 pm ET on March 31, 2016 to participate.
The grand prize winner will receive a check in the amount of $2,500 which can be used to purchase groceries.
Only legal residents of the fifty (50) United States and the District of Columbia who are at least eighteen (18) years old at the time of entry are eligible to enter and win this sweepstakes.
Tags: Recipe.com Sweepstakes, recipe.com/sweepsgrocery
Leave a Comment