quickenloansbracket.com – Quicken Loans Billion Dollar Bracket Challenge with Yahoo Sports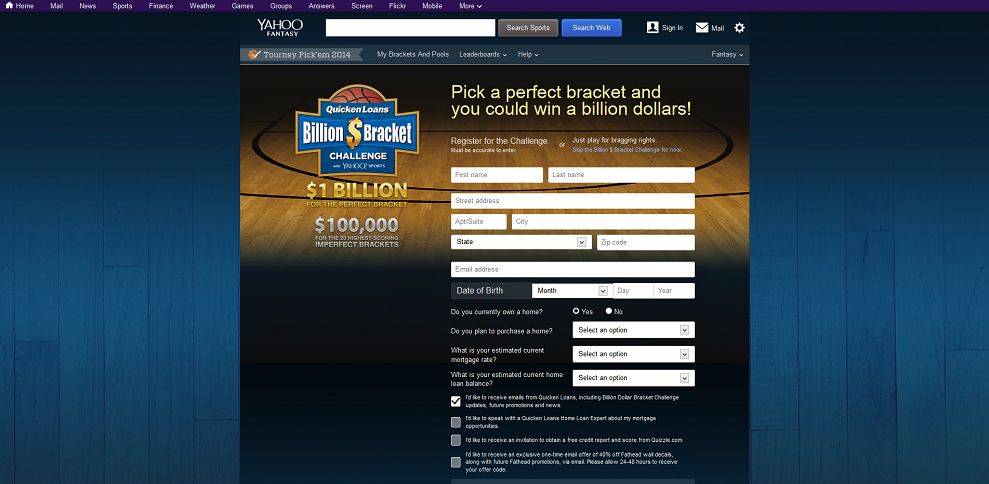 Eligibility : Except where prohibited by law, the Quicken Loans Billion Dollar Bracket Challenge with Yahoo Sports ("Challenge") is open only to legal residents of the 50 United States and the District of Columbia who: (a) are 18 years of age or older as of the time of entry and located within the 50 United States and the District of Columbia at the time of Entry (including United States military personnel or contractors entering from within a U.S. military installation); (b) as of January 1, 2014 and continuing through the entire Entry Window, a mobile (or landline) telephone owner under a continuing contract with a service provider for telephone service; (c) that has Internet access prior to the start of the Entry Window and (d) have a valid and working email address during the Entry Window.
Promotion Period :  The "Entry Window" for the Challenge opens ("Start Date") at 12:01 a.m. U.S. Eastern Standard Time ("EST") on March 3, 2014. At that time, you may complete the "Registration Process" and begin creating your Challenge Entry Bracket (defined below) if you wish, but you will not be able to populate your Challenge Entry Bracket with your picks for the Tournament (your "Picks") until after the Tournament seedings have been announced on Sunday, March 16, 2014 at approximately 6:30 p.m. US Eastern Daylight Time ("EDT") (the "Seeding Announcement"). The period between the Seeding Announcement and the end of the "Entry Window" is referred to in these Official Rules as the "Bracket Submission Period." The Entry Window will close at 1:00 a.m. EDT on Thursday, March 20, 2014. CHALLENGE ENTRY BRACKETS WILL ONLY BE ACCEPTED IN THE CHALLENGE FROM THE FIRST FIFTEEN MILLION (15,000,000) ENTRANTS WHO COMPLETE THE REGISTRATION PROCESS (AS DETERMINED BY YAHOO).
Enter Online At : quickenloansbracket.com
Limit : LIMIT OF A MAXIMUM OF ONE CHALLENGE ENTRY BRACKET (ONE ENTRY) PER PERSON IN THIS CHALLENGE. ONE PERSON PER YAHOO ID.
Prize (s) :
Grand Prize: The grand prize ("Grand Prize") will consist of one billion dollars ($1,000,000,000) USD, payable over the course of forty (40) years in forty (40) equal annual installments of $25 million ("Annual Payment Option"). The Grand Prize Winner has the option, in the Grand Prize Winner's sole discretion, to elect to receive a one-time payment of $500 million ("One-Time Payment Option") instead of the 40 equal annual installments of $25 million. THE GRAND PRIZE WILL NOT BE AWARDED IF NO ELIGIBLE ENTRANT SUBMITS A PERFECT BRACKET.
First Prize: The twenty (20) First Prize Winners will each receive one hundred thousand dollars ($100,000) ("First Prize"). The First Prize will be delivered to the First Prize Winners in the form of a check.
Tags: Quicken Loans Billion Dollar Bracket Challenge with Yahoo Sports, quickenloansbracket.com
Comments (1 Message)
Leave a Comment