Ellentube's Penguin of Madagascar Contest (ellentv.com/penguins) : Learn the Dance. Upload It. Win $10,000!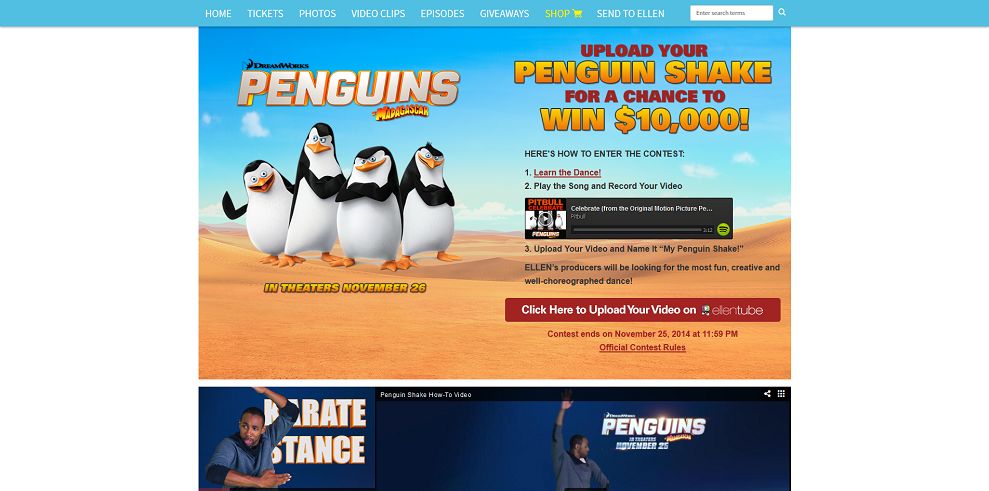 Do you know the Penguin Shake? ELLEN's producers are looking for the most fun, creative and well-choreographed dance so learn it and record yourself doing the dance while streaming the song "Celebrate" (From Penguins of Madagascar) for a chance to win $10,000!
You have until November 25, 2014 at 11:59 PM to show your moves so start doing the Penguin Shake now!
Upload Your Penguin Shake To Win
The first thing you need to do before you enter this contest is to learn the dance. Watch tWitch shows you how to do the Penguin Shake below.
Next, record a video of yourself doing the Penguin Shake on the song Celebrate (from the Original Motion Picture Penguins of Madagascar) by Pitbull. Finally, visit ellentv.com/penguins to upload your video on elletube and name it "My Penguin Shake!".
Remember that you will be limited to one (1) upload/entry throughout the Contest Period so make the best video you can.
Judging Criteria
Take a look at the following judging criteria to improve your chances of doing the best dance.
33.3% on creativity,
33.3% on choreography,
33.3% on the level of fun related to the theme of the Contest
Contest Period
You must record and upload your Penguin Shake video no later than 11:59:59 p.m. EST on Tuesday, November 25, 2014 to be eligible.
Eligibility / Contestants
The Ellentube's Penguin of Madagascar Contest is open to legal residents of and physically residing in one of the 50 United States or the District of Columbia or Canada who are eighteen (18) years of age or older. Void in Quebec, Puerto Rico, Guam, American Samoa, United States territories, possessions, and protectorates, foreign based United States military installations and wherever restricted or prohibited by law.
Tags: #PenguinShake, Ellen Sweepstakes, ellentv.com/penguins
Leave a Comment