NissanUSA.com/KeepSummerRolling – Nissan USA Keep Summer Rolling Service Sweepstakes 2016

Nissan USA Keep Summer Rolling
The 9th Annual Nissan Keep Summer Rolling Service Sweepstakes is back! Beginning today, Nissan owners are invited to enter the Keep Summer Rolling Sweepstakes 2016 online at NissanUSA.com/KeepSummerRolling for a chance to drive home 1 of 3 brand new Nissan vehicles. Also, play for a chance to win instant prizes of Security+Plus Prepaid Maintenance Plans!
Will you be among the Nissan Keep Summer Rolling Sweepstakes winners? Enter your PIN or VIN now to find out!
Enter Your PIN Or Your VIN At NissanUSA.com/KeepSummerRolling
Entering is easy! Visit NissanUSA.com/KeepSummerRolling or KeepSummerRolling.NissanUSA.com daily between August 1, 2016 and September 30, 2016. Then, register for the promotion by completing the registration process as instructed. As part of the registration, either enter your VIN to register or the PIN found in the direct mail invitation you received.
Furthermore, if you received a Registration Email from Nissan North America, you can simply click on the link within the Registration Email. You will go directly to a page that confirms you have received a entry into the Sweepstakes.
Need Help Finding Your PIN Or VIN?
Your Personal Identification Number (PIN) can be found on the Nissan Keep Summer Rolling Service Sweepstakes direct mail invitation, as displayed below.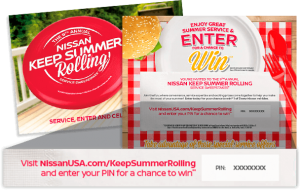 Your Vehicle Identification Number (VIN) can be found on the vehicle or on your Repair Order, as displayed below.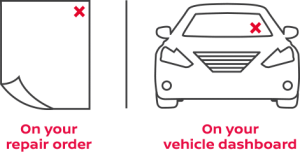 Vin 1 of 3 New Nissan Vehicles
Each entry will result in a chance to win your choice of one of the following three Nissan vehicles:
a 2017 Nissan Altima sedan
a 2017 Nissan Pathfinder crossover utility vehicle
a 2017 Nissan Rogue sport utility vehicle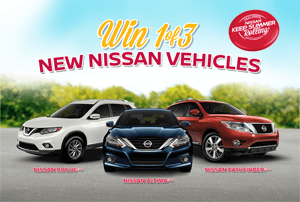 Also, each Grand Prize winner will receive a Security+Plus Prepaid Maintenance Plan valued at $450.
More About The Nissan USA Keep Summer Rolling Service Sweepstakes 2016
The 9th Annual Nissan Keep Summer Rolling Service Sweepstakes is open only to legal residents of the 50 U.S. and D.C. who are at least 18 years old.
Additionally, participants must own or be currently leasing a Nissan or Datsun automobile and have a valid U.S. driver's license and automobile insurance to enter.
Entries are accepted during the Promotion Period beginning on August 1, 2016 at 12:00:01 a.m. ET and ending at 11:59:59 p.m. ET on September 30, 2016.
A Sweepstakes random drawing will be conducted on or about October 31, 2016 from all eligible Sweepstakes Entries received.
The Sweepstakes is sponsored by Nissan North America and administrated by The Marketing Store Worldwide.
For complete details, including Official Rules, visit www.NissanUSA.com/KeepSummerRolling by clicking here.
Tags: #NissanSummerContest, 9th Annual Nissan Keep Summer Rolling Service Sweepstakes, Nissan Keep Summer Rolling Sweepstakes, NissanUSA.com/ KeepSummerRolling
Comments (4 Messages)
Leave a Comment