Under the Dome Sweepstakes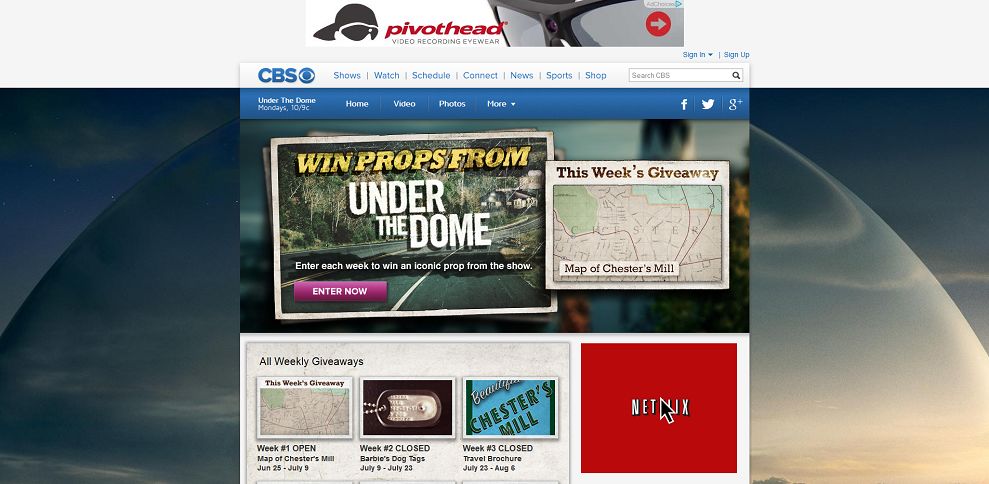 Eligibility : This Sweepstakes is offered and open to persons who are: (a) Registered Users; (b) legal residents of the United States; and (c) at least 18 years old or age of majority, whichever is older in their state of residence, at the date of entry in this Sweepstakes.
Promotion Period : The Sweepstakes begins on June 25, 2013 at 12:00:00 PM PT and ends at 11:59:59 AM PT on October 1, 2013 (the 'Promotion Period').
Enter At : cbs.com/shows/under-the-dome/sweepstakes
Limit : Limit one entry per person per Weekly Entry Period.
Prize (s) :
Weekly Prizes (the 'Prize(s)') Each Prize consists of an autographed copy of the Stephen King's book 'The Dome' and a prop from the CBS Show 'Under the Dome' (the "how'). The schedule of Prizes to be awarded in connection with the different Weekly Entry Periods is as follows:
Weekly Entry Period 1- Map of Chester's Mill Launch (June 25 – July 9) and an autographed copy of the Stephen King Book, 'Under the Dome' approximate retail value ('ARV') of prize is Two Hundred Dollars ($US200.00)
Weekly Entry Period 2: Barbie's Dog Tags (July 9 – 23) and an autographed copy of the Stephen King Book, 'Under the Dome' approximate retail value ARV of prize is Two Hundred Dollars ($US200.00)
Weekly Entry Period 3 – Travel Brochure July 23-Aug 6) and an autographed copy of the Stephen King Book, 'Under the Dome' approximate retail value ARV of prize is Two Hundred Dollars ($US200.00)
Weekly Entry Period 4 – Shumway's ID (Aug6-20th) and an autographed copy of the Stephen King Book, 'Under the Dome' approximate retail value ARV of prize is Two Hundred Dollars ($US200.00)
Weekly Entry Period 5 – The Propane Bill (Aug20 -Sept3) and an autographed copy of the Stephen King Book, 'Under the Dome' approximate retail value ARV of prize is Two Hundred Dollars ($US200.00)
Weekly Entry Period 6- Sweet Briar Rose Menu (Sept3-Sept17) and an autographed copy of the Stephen King Book, 'Under the Dome' approximate retail value ARV of prize is Two Hundred Dollars ($US200.00)
Weekly Entry Period 7- Duke's Hat (Sept 17-Oct 1) and an autographed copy of the Stephen King Book, 'Under the Dome' approximate retail value ARV of prize is Two Hundred Dollars ($US200.00
Tags: Under the Dome Sweepstakes
Comments (2 Messages)
Leave a Comment