WhiteCastleSweeps.com – White Castle X-Men: Apocalypse Sweepstakes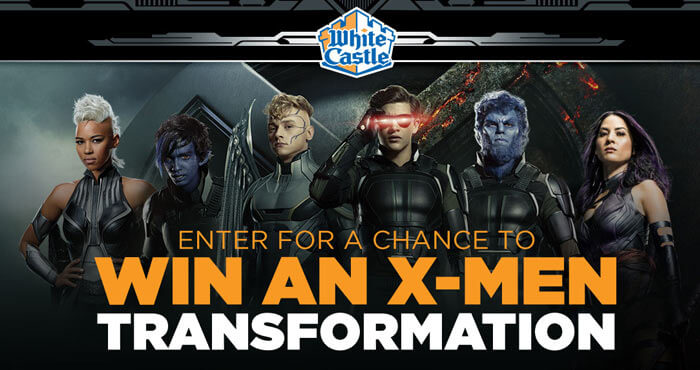 In honor of X-Men: Apocalypse, White Castle recently introduced the new ultra spicy X-Menu and to celebrate, you are invited to enter the X-Men: Apocalypse Sweepstakes. Get your game piece in-Castle with a medium or large soft drink or from your local retailer in a specially marked White Castle 6-pack. Enter your X-Gene codes online at WhiteCastleSweeps.com for the ultimate chance to win.
Your game piece code could win a 3-night trip to NYC for an exclusive X-MEN: Apocalypse makeover and professional photo shoot with special effects artists. In addition, you could instantly win thousands of other X-Men and White Castle prizes.
Obtain X-Gene Codes
In order to participate in the White Castle X-Men: Apocalypse Sweepstakes, you will need to obtain X-Gene Codes. These game codes can be obtained in-restaurant or at retailers by purchasing specially marked products. Some prizes require Restaurant only Codes, Retailer only Codes or both codes.
Use White Castle Promo Code "XMEN" and get $5 off X-Case or any 30 sliders. Offer valid only online or in the App.
Restaurant Codes
Restaurant Codes may be obtained by purchasing a specially-marked medium or large soft drink at any participating White Castle restaurant. You will receive a game piece that includes a code to enter the Sweepstakes. The Restaurant Code Collection Period starts at 12:00 a.m. ET on August 15, 2016 and ends at 11:59 p.m. ET on October 31, 2016.
Retailer Codes
Retailer Codes can be found on specially marked 6-pack cheeseburger or hamburger boxes purchased at participating retailers. Each box comes with a game piece containing the code needed to participate. The Retailer Code Collection Period commences at 12:00 a.m. ET on August 15, 2016 and ends at 11:59 p.m. ET on December 14, 2016.
Enter Now At WhiteCastleSweeps.com
Once you obtained an X-Gene Code, you may visit www.whitecastlesweeps.com to participate. During the Promotion Period, connect with Facebook or register by filling out the registration form as directed. Then, submit your game piece code. You will automatically be entered into the Sweepstakes and find out if you're an instant winner for the applicable day. You may enter up to 2 unique X-Gene codes for more chances to win.
Win An X-Men Transformation
The Grand Prize consists of a trip for two to New York City, NY including the opportunity for the winner to be transformed into their favorite X-Men: Apocalypse character by a special effects artist. The trip package includes airfare, hotel accommodations for 3 nights and a professional photographs during the special effects session.
Instant Win Game Prizes
First Prize: $100 White Castle gift card.
Second Prize: X-Men: Apocalypse laser keyboard and USB.
Third Prize: $25 White Castle gift card.
Fourth Prize: A crave case of original sliders.
Fifth Prize: X-Men: Apocalypse hat.
Sixth Prize: X-Men: Apocalypse notebook.
Seventh Prize: X-Men: Apocalypse poster.
Eighth Prize: A 10 sack of original sliders.
Ninth Prize: White Castle mug.
Tenth Prize: A $5 off coupon towards the purchase of any White Castle 6 pack in retail outlets.
Eleventh Prize: $5 White Castle promo card that can be used for any purchase at White Castle restaurant.
Twelfth Prize: White Castle 95th glass.
Thirteenth Prize: $1 off any 6-pack of White Castle cheeseburgers or hamburgers.
More About The White Castle X-Men: Apocalypse Sweepstakes
The White Castle X-Men: Apocalypse Sweepstakes is open only to legal residents of the 50 United States (including D.C.), who are 18 years old and older at the time of entry.
The Promotion runs from August 25, 2016 through December 31, 2016.
A participant may receive a maximum of two Sweepstakes Entries and two Game Plays per day during the Promotion Period, regardless of method of obtaining Code or playing.
The potential Sweepstakes winner will be randomly selected from all eligible entries on or around January 3, 2017.
The approximate retail value of all prizes available to be won is $40,610.
A complete list of winners is available online at http://bit.ly/256AHNa.
This Sweepstakes is sponsored by White Castle Management and administrated by HelloWorld.
Online Entry Form | Official Rules
Tags: White Castle X-Men: Apocalypse Sweepstakes, whitecastlesweeps.com
Comments (1 Message)
Leave a Comment