Chateau Ste. Michelle 50th Anniversary Golden Cork Sweepstakes (SteMichelle50th.com)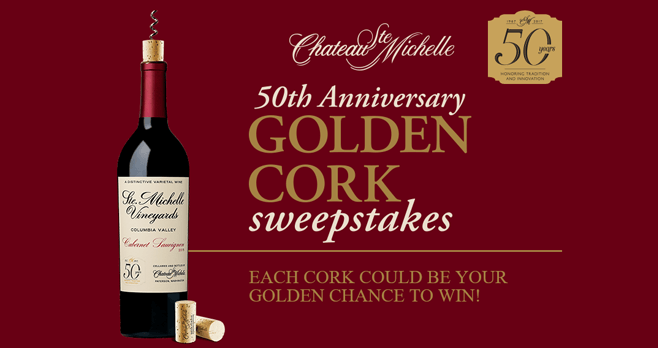 Chateau Ste. Michelle is celebrating its 50th Anniversary with the Golden Cork Sweepstakes beginning on March 31, 2017 at stemichelle50th.com. There's a chance to win in every Chateau Ste. Michelle Special Bottling of the 2015 Columbia Valley Cabernet Sauvignon.
Chateau Ste. Michelle will be giving away 50 prizes, including trips to visit Chateau Ste. Michelle in Woodinville, WA, wine packages, food packages, and more. Over $25,000 in prizes are available to be won.
To enter, purchase a Chateau Ste. Michelle Columbia Valley Cabernet Sauvignon Special Bottling (750ml size only) 2015 Vintage between March 31st and September 30th and look for a code on the golden cork. Then, visit stemichelle50th.com to enter your code to receive one entry into the Sweepstakes. Plus, receive one additional entry each day you logs in to the website and enters a new Code. Want more chances to win? You may obtain bonus entries by participating in activities provided on the website.
Sweepstakes Entry Form | Sweepstakes Official Rules
Chateau Ste. Michelle 50th Anniversary Golden Cork Sweepstakes (SteMichelle50th.com)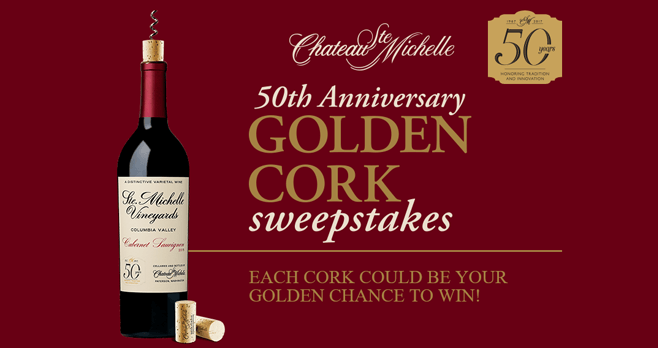 Eligibility: The Chateau Ste. Michelle 50th Anniversary Golden Cork Sweepstakes is offered only to legal residents of the 50 United States and the District of Columbia who are at least 21 years of age at the time of entry.
Sweepstakes Period: Begins on March 31, 2017 at 12:00 PM (noon) ET and ends on September 30, 2017 at 11:59:59 PM ET.
Entry Periods: The Sweepstakes Period includes 23 entry periods and one grand prize entry period as set forth in the chart below:
Between 3/31/17 and 4/29/17
Between 4/30/17 and 5/06/17
Between 5/07/17 and 5/13/17
Between 5/14/17 and 5/20/17
Between 5/21/17 and 5/27/17
Between 5/28/17 and 6/03/17
Between 6/04/17 and 6/10/17
Between 6/11/17 and 6/17/17
Between 6/18/17 and 6/24/17
Between 6/25/17 and 7/01/17
Between 7/02/17 and 7/08/17
Between 7/09/17 and 7/15/17
Between 7/16/17 and 7/22/17
Between 7/23/17 and 7/29/17
Between 7/30/17 and 8/5/17
Between 8/06/17 and 8/12/17
Between 8/13/17 and 8/19/17
Between 8/20/17 and 8/26/17
Between 8/27/17 and 9/02/17
Between 9/3/17 and 9/9/17
Between 9/10/17 and 9/16/17
Between 9/17/17 and 9/23/17
Between 9/24/17 and 9/30/17
Limit: Regardless of the method, or combination of methods used to enter the Sweepstakes, an entrant is limited to receiving no more than 195 entries during the entire Sweepstakes Period.
Random Drawing:  Administrator will select the potential winners from among all eligible entries received during the applicable Entry Periods. There will be 2 potential winners from each Entry Period. There will be 4 separate drawings in the grand prize Entry Period, one per region.
Grand Prize (4, 1 per Region): A trip for 2 to Chateau St. Michelle Woodinville, Washington. Trip includes round-trip coach class air transportation, 2 nights hotel accommodations, ground transportation, and 2 reserved seating tickets to winner's choice of any Chateau St. Michelle winery concert from the 2018 line-up. The ARV of each Grand Prize is $3,000.
Entry Period Prizes:
Wine Prize Package (2 winners for each Entry Period 1-6): A wine package which includes a set of 12 Riedel wine glasses, a decanter, a wine bottle and glass caddy, quilted stemware storage cases, a geo bottle stopper set, and a CSM branded corkscrew. The ARV of each Wine Prize Package is $318.
Food Prize Package (2 winners for each Entry Period 7-12): A food package which includes a Chef in the Vineyard Cookbook (by John Sarich), a Fran's chocolates box, a Cheesemonger's Table from Jasper Hills Farms, a marble wine cooler, a cheese board and copper knives, an aerator/decanter, and a CSM branded picnic bag. The ARV of each Food Prize Package
is $308.
Travel Prize Package (2 winners for each Entry Period 13-18): A travel package which includes a $100 Airbnb gift card, a crossbody bag, a Kindle, a Frans Chocolates Box (20 piece assortment), an airplane travel pillow, a sleep mask, and a CSM branded rolling cooler bag. The ARV of each Travel Prize Package is $309.
Active+Wellness Prize Package (2 winners for each Entry Period 19-23): An active+wellness package which includes a rewind soy wax candle, a $125 REI gift card, a gym bag, a Swiss Army wine key, a rugged portable charger, a Calily Aromatherapy Essential Oil Set, 6 bottles, 10ml each(Lavender, Tea Tree, Eucalyptus, Lemongrass, Sweet Orange, Peppermint), a diffuser, and a CSM branded growler/water bottle. The ARV of each Active+Wellness Prize Package is $297.
Total ARV: The total ARV of all prizes is $26,190.
Winner's List: For a winner list, interested individuals should mail a self-addressed stamped business envelope to: Winners List, – The Chateau Ste. Michelle 50th Anniversary Golden Cork Sweepstakes, P.O. Box 251328, West Bloomfield, MI 48325. Winner List requests must be received no later than November 30, 2017.
Sponsor: Ste. Michelle Wine Estates Ltd., 14111 NE 145th Street, Woodinville, WA 98072.
Administrator: Prize Logic, LLC, 25200 Telegraph Road, Suite 405, Southfield, MI 48033.
For complete details, including Official Rules, visit http://stemichelle50th.com/.
Tags: Chateau Ste. Michelle Sweepstakes 2017, Sweepstakes Expiring September 2017
Comments (1 Message)
Leave a Comment