Radio Disney Niall Horan Flicker Sessions Tour Sweepstakes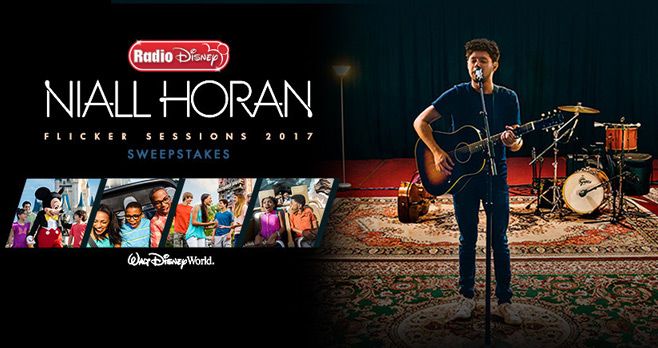 Radio Disney is sending one lucky Niall Horan fan on a trip to Walt Disney World Resort in Florida to attend a concert during his Flicker Sessions Tour. Want to win? Enter the Sweepstakes online or via the Radio Disney App by October 5th.
Links
Sweepstakes Entry Form
Official Rules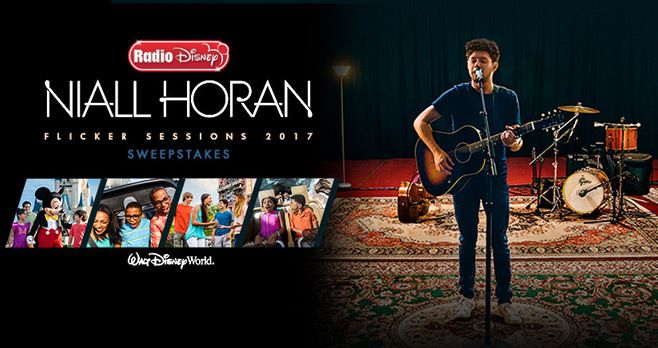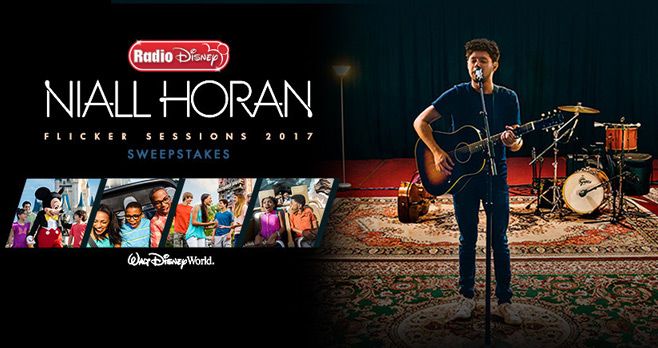 Who Can Enter
The Radio Disney Niall Horan Flicker Sessions Tour Sweepstakes is open to anyone 16 years of age or younger who is a legal resident of, and physically located within, the 50 United States, the District of Columbia.
When To Enter
You may participate during the period beginning at 3:00 am PT on September 16, 2017 and ending at 3:00 pm (PT) on October 5, 2017.
How To Enter
During the Entry Period, the Sweepstakes may be entered online by a registered Disney.com member. A Member may enter by going directly to radio.disney.com and clicking on the "Enter" button. You will be asked to log in with the Member/user name or email address and password that was set up when you registered. Once you have logged in and entered you will get one entry into the Sweepstakes.
You may also enter online using the Radio Disney App for iPhone, iPad and iPod Touch (iOS 7.0 or later) as well as Android mobile devices.
Regardless of method of Entry and whether a person has more than one Address/telephone number or more than one person use the same Address/telephone number, only one Online Entry/App Entry per entrant per Day is permitted (a maximum of 20 Online/App Entries, per entrant during the Entry Period).
How Sweepstakes Winners Are Chosen
On or about October 6, 2017, one potential Sweepstakes Winner will be selected at random from all eligible Entries received. Sweepstakes Winner must meet all eligibility requirements. The potential Sweepstakes Winner will be notified by phone or email on or about October 6, 2017.
What Are The Sweepstakes Prizes
The Sweepstakes Winner will win a 6-day / 5-night trip for Sweepstakes Winner, their Parent and up to 2 guests to Orlando, Florida to see Niall Horan perform at the House of Blues at Disney Springs at the Walt Disney World Resort.
Who Are The Winners
For name of the Sweepstakes Winner (after October 16, 2017 but before December 16, 2017), send a self addressed, stamped #10 envelope to: Niall Horan Flicker Sessions at Walt Disney World Resort Sweepstakes c/o Radio Disney Marketing, 500 S. Buena Vista. St. Burbank, CA 91521.
Tags: Radio Disney Sweepstakes 2017
Comments (1 Message)
Leave a Comment