MasterCard #PricelessSurprises Sweepstakes : Each MasterCard purchase is a chance to win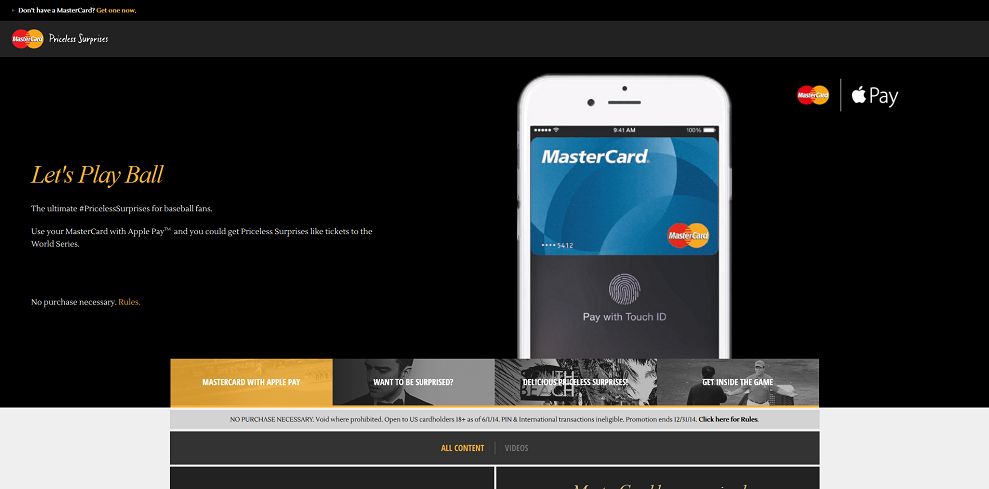 MasterCard is a long time proud sponsor of MLB. And now, baseball fans who use their MasterCard with Apple Pay are enjoying priceless surprises, even at the World Series. From tickets to meeting a baseball legend.
Automatically receive (1) entry into the MasterCard #PricelessSurprises Sweepstakes for each MasterCard purchase made between June 1st and December 31, 2014 or enter the sweepstakes by mail when you hand print your name, complete mailing address, telephone number, date of birth, the first 6 digits of your MasterCard, & the words "MasterCard Priceless® Surprises Sweepstakes" on a plain 3" x 5" piece of paper & mail it in a sealed, stamped & hand printed #10 envelope to: MasterCard Priceless® Surprises Sweepstakes, P.O. Box 15074, Bridgeport, CT 06673-5074.
Prizing
Seven grand prize winners will each have to opportunity to select the trip of their choice among six trip options ranging from a trip to attend the 57th Annual GRAMMY Awards to a trip to a 2014 or 2015 MLB World Series game. Twenty one other winners will each be awarded a $1,000 MasterCard Prepaid Card.
Eligibility
The sweepstakes is open to MasterCard cardholders whose account was opened by a MasterCard customer financial institution before 6/1/14 & who are legal permanent US residents (including D.C.), 21 years of age or older before 6/1/14. Void in Guam, Puerto Rico & where prohibited.
Tags: MasterCard #PricelessSurprises Sweepstakes, pricelesssurprises.com
Leave a Comment