Here's How To Win The Lays Passport To Flavor (Bag Codes)
Passport To Flavor
Now that the Lays Summer Moments Sweepstakes is over, it's time to move on. Get ready because the Lays Passport To Flavor has landed and is bringing an all-new Promotion in it's luggage.
Lay's recently introduced four global flavors in retail stores nationwide. The flavors include Chinese Szechuan Chicken, Indian Tikka Masala, Greek Tzatziki, and Brazilian Picanha. To celebrate culture and travel, the Lay's brand is giving a few lucky fans the chance to discover the places that inspired these international flavors during the Passport To Flavor Promotion. This is your chance to win exclusive travel experiences across the globe. That is if you can get your hands on the rare Passport Stamps!
Just like other past Lay's Promotions, you will need bag codes to participate in this Sweepstakes too. Read on to find out where to find these unique codes.
Where To Find Lays Bag Codes
Beginning in mid-July, specially marked bags of Lay's potato chips will be available for distribution at retailers nationwide. Specially-marked participating products includes the all-new four popular international flavors stateside but also classics flavors like Wavy Original, Barbeque, Jalapeno and more.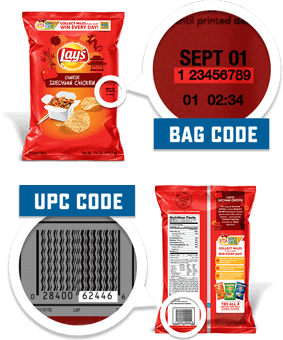 Unique bag codes can be found below the "Guaranteed Fresh" statement on the front of each bag. The UPC located on the back of the same bag is also required. Together, they are forming the "Combination Code".  Both numbers are needed to enter the Promotion.
Alternatively, you can receive a combination code, without making a purchase, by mailing a 3″ x 5″ card containing your contact information to: Lay's Passport to Flavor Free Combination Code Request, PO Box 760006, Dept. 880-764, El Paso, TX 88576-0006.
Collect Miles At Lays.com
Each Combination Code is assigned miles for use in the Sweepstakes portion of the Promotion. The number of miles depends on the associated Lay's bag and range from 100 to 400 miles. In order to collect your miles, you need to enter a Passport To Flavor bag code and UPC at Lays.com during the Promotion Period.
The first thing to do is have your passport ready. Register for the Promotion at Lays.com between July 18 and October 16 to get started. You will automatically receive 2 Passport Stamps for use in the Collect and Win portion of the Promotion.
The second thing to do is to enter your UPC and bag code. You can do this by filling out the appropriate fields on the promotional website. Your Account will be immediately credited with the corresponding number of miles.
Miles can be used to enter Prize Drawings throughout the Promotion Period. Also, you can decide to bank your miles and save them to use at a later time during the Promotion Period for a chance to win a prize you'll love.
How To Earn More Miles
Regardless of method used to obtain a combination code, you can input up to 10 Combination Codes per day throughout the Promotion Period. This mean that you'll need to purchase more bags of Lay's potato chips or request other free codes. Additionally, you can earn 100 miles each time you share the Promotion on Facebook or Twitter using the hashtags #FlavorMiles and #Sponsored. However, there is a limit of 10 bonus miles per day per social channel.
Editor's Advice: Ask your family and friends to keep their empty bags for you if they don't participate into the Promotion. This way, you can earn additional miles at no cost by using their combination codes.
A List Of Sweepstakes Prizes
Round-the-World Trip
Trip to Rio de Janiero, Brazil
Trip to Beijing, China
Trip to Hong Kong, China
Trip to São Paulo, Brazil
Trip to Delhi, India
Trip to Goa, India
Trip to Athens, Greece
Trip to Grecian Islands, Greece
Trip to Charleston, SC
Trip to Washington D.C.
Trip to Chicago, IL
Trip to New Orleans, LA
Trip to New York City, NY
Trip to Seattle, WA
Trip to Austin, TX
Trip to San Francisco, CA
Trip to Napa Valley, CA
Trip to Miami, FL
Trip to Oahu, HI
Trip to Los Angeles, CA
International Plane Ticket
Domestic Plane Ticket
iPad
Luggage Set
$400 Marriott Gift Card
Flavor of Brazil Cooking Set
Flavor of China Cooking Set
Flavor of Greece Cooking Set
Flavor of India Cooking Set
Headphones
Kindle
$250 Gift Card
Travel Kit
Hello Fresh Meal Delivery
$100 iTunes Gift Card
Gogo WiFi Credits
Collect Rare Passport Stamps And Win
By entering a combination code, you account will also be credited with a passport stamp. There are 4 passport stamps to collect per prize, including 1 rare Passport Stamp for each Country, for a total of 16 unique stamps.
The one and only way to get the winning passport stamp is to be the first participant to enter a Combination Code at or after the randomly generated winning time. Moreover, you must have already collected the other 3 unique Passport Stamps for that Country. You must successfully collect all four unique Passport Stamps in order to win the prize.
What Are The Rare Passport Stamps?
Trip to China:
Common Stamps: Sky Lantern, Dragon, Bamboo, Temple of Confucius.
Rare Passport Stamp:
Trip to Brazil:
Common Stamps: Bird, Soccer Ball, Palm Tree, Inti.
Rare Passport Stamp:
Trip to Greece:
Common Stamps: Pegasus, Dove, Papyrus, Parthenon.
Rare Passport Stamp:
Trip to India:
Common Stamps: Indian Lotus, Elephant, Symbol, Taj Mahal.
Rare Passport Stamp:
A List Of All Collect And Win Prizes
Trip to Brazil
Trip to China
Trip to India
Trip to Greece
More About The Lays Passport To Flavor Sweepstakes
The Promotion is open only to legal residents of the 50 U.S. states, D.C. and Puerto Rico, who are 18 years of age or older at the time of participation. Begins at 12:00:00 p.m. CT on August 1, 2016 and ends at 11:59:59 p.m. CT on October 16, 2016. Up to 10 Combination Codes per day per person. Total approximate retail value of all prizes is up to $375,268. Limit one Collect and Win Prize per person/household. Limit one Sweepstakes Prize per person/household. This Promotion is sponsored by Frito-Lay, Inc.
For complete details, including Official Rules, visit www.lays.com.
Tags: Lays Passport To Flavor Sweepstakes, www.lays.com
Comments (2 Messages)
Leave a Comment