LandOFrost.com/Storks – Land O Frost Storks Sweepstakes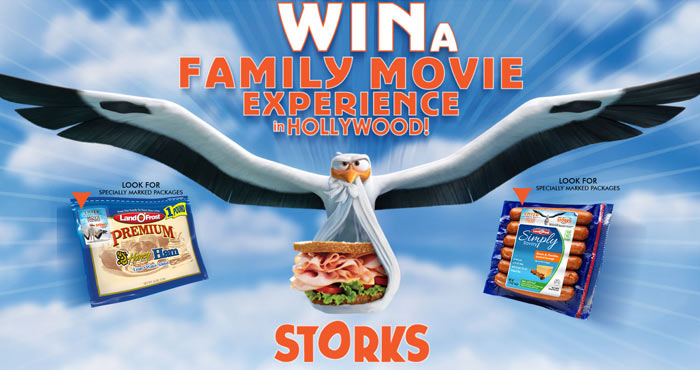 Found a game piece with a special code inside a specially-marked package of Land O'Frost? Great! You could win a family movie experience in Hollywood during the Land O Frost Storks Sweepstakes! Just enter your game code at LandOFrost.com/Storks now through November 5th for a chance to win.
If you don't have a promotion code already, look for one of 11,072,000 game pieces will be available for distribution between August 28, 2016 and October 17, 2016. Each game piece contain a Storks code and is inserted in specially-marked packages of Land O'Frost Premium and Simply Savory products.
Each code you enter at LandOFrost.com/Storks is a new chance to instantly win from hundreds of prizes including tickets to see Storks and Storks themed merchandise.
Enter Your Game Code At LandOFrost.com/Storks
Ready to enter your game code? Visit www.landofrost.com/storks by November 5th then, click "ENTER NOW" to get started. First, input the code found on your game piece. Second, fill out the registration form. You are required to provide contact information such as your full name, complete mailing address, email, and phone number. Finally, click the "Submit" button to complete your entry. As a result, you will instantly find out if you are a winner.
Get A Free Game Piece
Need more game pieces? Did you know you can request a free game piece via mail-in? Simply send a Self-Addressed Stamped Envelope to "Land O'Frost Storks Game Piece Request," Land O'Frost Consumer Affairs:, 10109 Columbia Ave, Munster, IN 46321. Your request must be postmarked by October 17, 2016 and received by October 24, 2016.
Instant Win Prizes
The Grand Prize consists of a trip for a family of four to Hollywood, CA for a "Storks Experience". The trip package includes airfare, hotel accommodations, ground transportation, a Warner Bros. VIP Studio Tour, Stork-themed merchandise, tickets to a theme park, attendance at a TV show taping, and more.
Up to 700 other winners will receive either a pair of tickets to see Storks or a Storks-themed Drawstring Bag containing a variety of Storks themed merchandise.
More About The Land O Frost Storks Sweepstakes
Participation into the Sweepstakes is offered and open only to legal residents of the 50 United States and the District of Columbia who are 18 years of age or older at the time of entry.
Codes may be entered during the Promotion Period commencing at 12:00:01 a.m. Eastern Time on August 28, 2016 and ending at 11:59:59 p.m. ET on November 5, 2016.
A code may only be used once during the entire Promotion Period.
The odds of winning the Grand Prize are 1 in 11,072,000.
The odds of winning an e-Movie Cash Movie Passes are 1 in 22,144.
The odds of winning a Storks-themed Backpack Prize are 1 in 55,360.
The odds of winning any prize are 1 in 15,794.
Approximate retail value of all available prizes is $40,600.
This Sweepstakes is sponsored by Land O'Frost.
For complete details, including Official Rules, visit www.LandOFrost.com/Storks here.
Tags: Land O Frost Storks Sweepstakes, LandOFrost.com/Storks
Leave a Comment