HYDRIVE Energy's Fuel Your Mission Sweepstakes: Win a Trip to Washington D.C. for the Ultimate Spy Experience!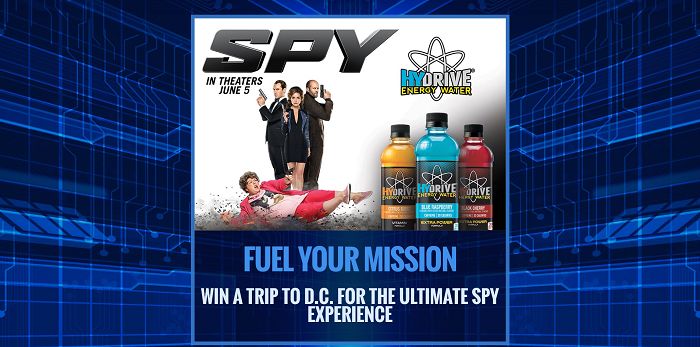 HYDRIVE Energy Water and 20th Century Fox are partnering up to promote and celebrate the upcoming comedy movie "SPY", starring Melissa McCarthy and Jason Statham, through the HYDRIVE Energy's Fuel Your Mission Sweepstakes! One movie lover will win a trip to Washington, D.C. for the Ultimate Spy Experience!
Here's what HYDRIVE Energy Water had to say about the sweepstakes on Twitter:
We've teamed up w/ @SpytheMovie to giveaway the Ultimate Spy Experience in Washington D.C.! More info & enter at http://t.co/cnmivG5htj

— Hydrive Energy Water (@HYDRIVE) May 5, 2015
HYDRIVE Energy Water could send you to Washington, D.C. for a four (4) day, three (3) night stay where you and your guest will have the opportunity to enjoy an exclusive half-day private spy tour of Washington D.C. with a former intelligence officer! Plus, you'll get full day admission to the International Spy Museum, the only public museum in the United States solely dedicated to espionage, where you'll experience interactive missions including command center briefing, decrypt audio conversations, penetrate a high security compound and evade capture and locate a secret weapon! The trip, valued at $3,500, includes round trip coach-class airfare, luxury hotel accommodations for three nights, and more!
How To Win The Ultimate Spy Experience
HYDRIVE Energy's Fuel Your Mission Sweepstakes is open only to legal residents of the 50 United States and the District of Columbia, who are 18 years or older at the time of entry so make sure you're eligible to enter and win before you get started.
During the Sweepstakes Period, which will run from May 4 to June 30, 2015, go to HYDRIVEenergy.com/spy and fill out the entry form by providing all requested information as directed then submit to be entered for a chance to win. No more than one (1) entry per entrant will be accepted during the entire Sweepstakes Period.
Good luck!
More About SPY
Susan Cooper (Melissa McCarthy) is an unassuming, deskbound CIA analyst, and the unsung hero behind the Agency's most dangerous missions. But when her partner (Jude Law) falls off the grid and another top agent (Jason Statham) is compromised, she volunteers to go deep undercover to infiltrate the world of a deadly arms dealer, and prevent a global disaster.
Director: Paul Feig
Written by: Paul Feig
Producers: Peter Chernin, Jenno Topping, Paul Feig, Jessie Henderson
Cast: Melissa McCarthy (Susan Cooper), Jason Statham, Rose Byrne, Bobby Cannavale, Allison Janney, Curtis "50 Cent" Jackson, Miranda Hart, and Jude La.
In Theaters June 5th, 2015.
Watch the official trailer below:
Tags: HYDRIVE Energy Sweepstakes, hydriveenergy.com/spy
Leave a Comment