Hub Network's Super Summer Saturday Giveaway : Watch The Hub's Saturday television programming, call the 800 Number and you could win !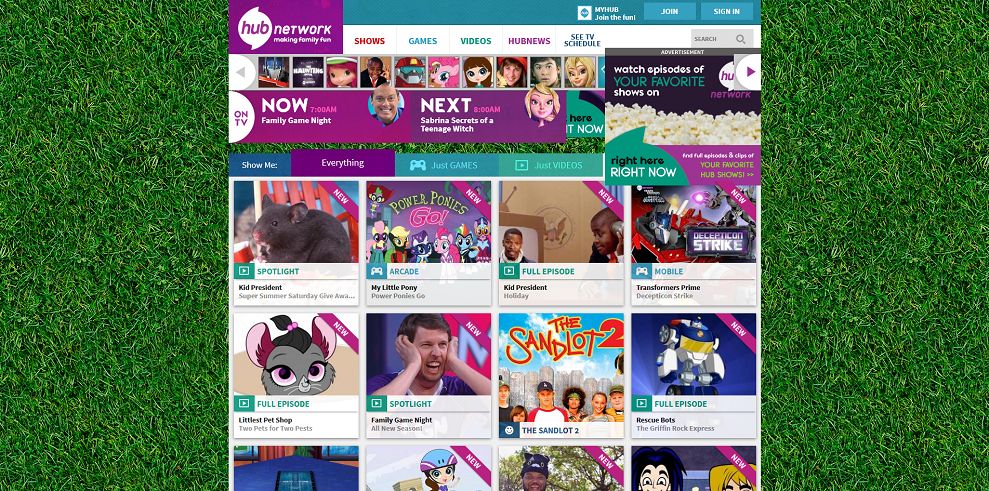 Eligibility : Entrant must be six (6) years of age and older and a legal resident of one (1) of the fifty (50) United States and the District of Columbia. Entrant must also reside in a household that, as of July 4, 2014, subscribes to cable/satellite/IPTV service that includes the Hub Network.
Promotion Period : The giveaway will take place on each of three (3) Saturdays: July 19, 2014, July 26, 2014, and August 2, 2014 between 12:00:00 p.m. Eastern Time and 7:30:00 p.m. ET.
Here is how to enter :  First, you will need to watch The Hub's Saturday television programming (tv schedule can be found here : http://www.hubnetwork.com/tv-schedule) on any of the Sweepstakes Days as mentioned above.
To enter the Sweepstakes, you must call the 800 Number that will appear on-screen as part of one (1) or more promotional breaks during the applicable television program or movie airing at that time. The 800 Number will begin accepting calls from viewers immediately each time the 800 Number is broadcast.
Prizes :
Entry
Period

Entry Period
Time Frame:

Prize Available to be Won:

ARV:

1

7/19/14: 12:00:00p ET–12:29:59p ET

Ice Cream Maker w/ Kit

$150

2

7/19/14: 12:30:00p ET–12:59:59p ET

Snow Cone Maker

$62

3

7/19/14: 1:00:00p ET–1:29:59p ET

Video Game Console

$489

4

7/19/14: 1:30:00p ET–1:59:59p ET

Blu-ray Player

$128

5

7/19/14: 2:00:00p ET–2:29:59p ET

40" Flatscreen TV

$458

6

7/19/14: 2:30:00p ET–2:59:59p ET

Movie Popcorn Cart

$161

7

7/19/14: 3:00:00p ET–3:29:59p ET

Bounce House (estimated size: 13.7' wide x 16.7' deep x 7.1' high)

$600

8

7/19/14: 3:30:00p ET–3:59:59p ET

Tablet Computer

$329

9

7/19/14: 4:00:00p ET–4:29:59p ET

One (1) Tandem Bicycle and two (2) helmets

$400

10

7/19/14: 4:30:00p ET–4:59:59p ET

Ping Pong Table (estimated size: 108" long x 60" wide x 30" high)

$1099

11

7/19/14: 5:00:00p ET–5:29:59p ET

Tablet Computer

$329

12

7/19/14: 5:30:00p ET–5:59:59p ET

Digital Video Camera

$300

13

7/19/14: 6:00:00p ET–6:29:59p ET

Telescope (estimated size: 38" long x 35" wide x 53" high)

$171

14

7/19/14: 6:30:00p ET–6:59:59p ET

Tablet Computer

$329

15

7/19/14; 7:00:00p ET–7:30:00p ET

Backyard Home Theater System (Includes inflatable movie screen, air blower, twist in stakes, 2800 lumen projector, two (2) 8" outdoor speakers, DVD player, audio mixer, complete set of AV cables, and a heavy duty carrying case – estimated size: 166" diagonal x 84" high x 144" wide)

$2,449

16

7/26/14: 12:00:00p ET–12:29:59p ET

Tablet Computer

$329

17

7/26/14: 12:30:00p ET–12:59:59p ET

40" Flatscreen TV

$458

18

7/26/14: 1:00:00p ET–1:29:59p ET

Tablet Computer

$329

19

7/26/14: 1:30:00p ET–1:59:59p ET

Telescope (estimated size: 38" long x 35" wide x 53" high)

$171

20

7/26/14: 2:00:00p ET–2:29:59p ET

Laptop Computer

$249

21

7/26/14: 2:30:00p ET–2:59:59p ET

40" Flatscreen TV

$458

22

7/26/14: 3:00:00p ET–3:29:59p ET

Movie Popcorn Cart

$161

23

7/26/14: 3:30:00p ET–3:59:59p ET

Tablet Computer

$329

24

7/26/14: 4:00p ET–4:29:59p ET

Trampoline (estimated size: 120" long x 120" wide x 96" high)

$240

25

7/26/14: 4:30:00p ET–4:59:59p ET

Bounce House (estimated size: 13.7' wide x 16.7' deep x 7.1' high)

$600

26

7/26/14: 5:00:00p ET–5:29:59p ET

Outdoor Grill (estimated sixe: 63" high x 52" high x 32" deep)

$619

27

7/26/14: 5:30:00p ET–5:59:59p ET

Tablet Computer

$329

28

7/26/14: 6:00:00p ET–6:29:59p ET

Inline Skates & Safety Equip. (Single pair w/ one (1) helmet, one (1) pair of elbow pads and one (1) pair of knee pads)

$200

29

7/26/14: 6:30:00p ET–6:59:59p ET

Air Hockey Table (estimated size: 90" long x 48" wide x 31" high)

$930

30

7/26/14: 7:00:00p ET–7:30:00p ET

Tree House Resort Vacation

$5,000

31

8/2/14: 12:00:00p ET–12:29:59p ET

Ice Cream Maker

$49

32

8/2/14: 12:30:00p ET–12:59:59p ET

Trampoline (estimated size: 120" long x 120" wide x 96" high)

$240

33

8/2/14: 1:00:00p ET–1:29:59p ET

Digital Video Camera

$300

34

8/2/14: 1:30:00p ET–1:59:59p ET

Video Game Console

$489

35

8/2/14: 2:00:00p ET–2:29:59p ET

40" Flat Screen TV

$458

36

8/2/14: 2:30:00p ET–2:59:59p ET

One (1) Tandem Bicycle and two (2) helmets

$400

37

8/2/14: 3:00:00p ET–3:29:59p ET

Inline Skates & Safety Equip. (Single pair w/ one (1) helmet, one (1) pair of elbow pads and one (1) pair of knee pads)

$200

38

8/2/14: 3:30:00p ET–3:59:59p ET

Blu Ray player

$128

39

8/2/14: 4:00:00p ET–4:29:59p ET

One (1) Skateboard & Safety Equipment (one (1) helmet, one (1) pair of elbow pads and one (1) pair of knee pads)

$250

40

8/2/14: 4:30:00p ET–4:59:59p ET

Movie Popcorn Cart

$161

41

8/2/14: 5:00:00p ET–5:29:29p ET

Tablet Computer

$329

42

8/2/14: 5:30:00p ET–5:59:59p ET

Outdoor Grill (estimated sixe: 63" high x 52" high x 32" deep)

$619

43

8/2/14: 6:00:00p ET–6:29:59p ET

Tablet Computer

$329

44

8/2/14: 6:30:00p ET–6:59:59p ET

40" Flat Screen TV

$489

45

8/2/14: 7:00p ET–7:30:00p ET

Family Trip to Washington D.C.

$5,000
Tags: Hub Network's Super Summer Saturday Giveaway, hubnetwork.com/summersweeps, summerwatchandwin.com
Leave a Comment