Glu Mobile Meet Kim Sweepstakes: Meet Kim Kardashian in San Francisco, CA!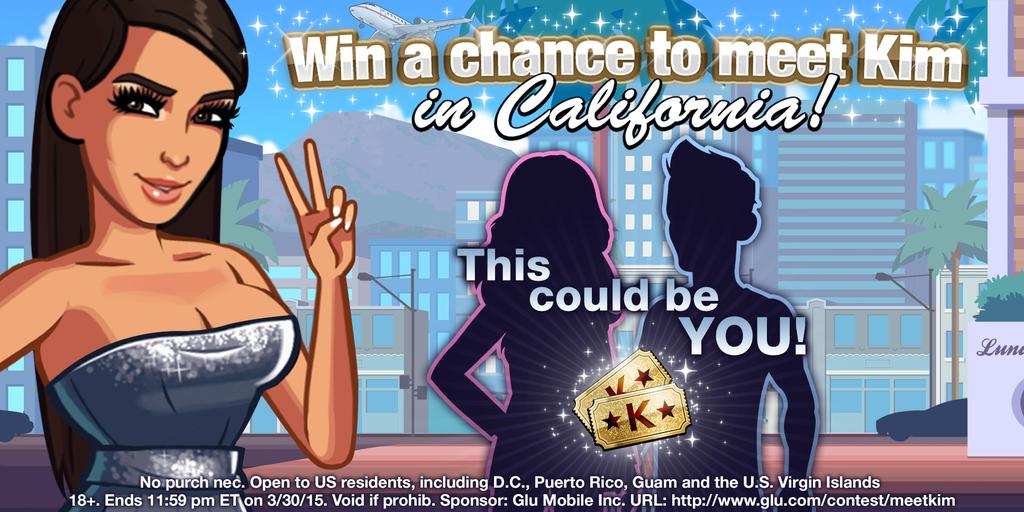 Have you played Kim Kardashian: Hollywood, a game where you can create your own aspiring celebrity and rise to fame and fortune, from Glu Mobile yet? Now is the time because you could win a chance to meet Kim in California, just by playing her game!
So excited! Ucan now play the #KimKardashianGame for a chance to meet me in person http://t.co/XniYNyxw4n #LoveMyFans pic.twitter.com/vOKMQz2XbU

— Kim Kardashian West (@KimKardashian) March 23, 2015
Five lucky winners who played the game to be entered into the Glu Mobile Meet Kim Sweepstakes will get the chance to meet-and-greet with Kim Kardashian West in San Francisco, California! Each grand prize, worth over $2,000, includes airfare and hotel accommodations for two (2) nights plus admission to the meet-and-greet event with Kim Kardashian West!
Play Kim Kardashian: Hollywood To Win
Over the weekend, download and play the Kim Kardashian: Hollywood mobile app (from the App Store for Apple devices, the Google Play Store for Android devices or the Amazon AppStore for Android). Complete as many eligible projects for a five (5) "Star" score as you can to receive "K-Tickets"/Entries into the Sweepstakes. Each completed eligible projects will result in one (1) K-Tickets/Entry, up to a maximum of 7,000 K-Tickets/Entries during the entire Sweepstakes Period. You'll also be required to complete and submit the entry form as instructed via the game/app.
You may also enter the Sweepstakes without playing the game. Simply hand print your full name, age, mailing address, phone number, and e-mail address on a 3″ x 5" index card and mail it in an envelope with proper postage to the Sweepstakes Administrator: MEET KIM SWEEPSTAKES, 606 Post Road East #693, Westport, CT 06880. You may submit up to 7,000 index cards and earn a maximum of 7,000 entries into the Sweepstakes.
You have until 11:59pm ET on March 30, 2015 to earn as many K-Tickets/Entries as you can and for those who are entering via mail, all index cards must be received by Sponsor by March 30, 2015 at 11:59 pm ET to be eligible.
Eligibility
The Glu Mobile Meet Kim Sweepstakes is open only to legal residents of the 50 United States including the District of Columbia, Puerto Rico, Guam and the U.S. Virgin Islands. Must be eighteen (18) years of age or older as of the time of entry.
More About Kim Kardashian: Hollywood
Description: Join KIM KARDASHIAN on a red carpet adventure in Kim Kardashian: Hollywood! Create your own aspiring celebrity and rise to fame and fortune!
Features:
CREATE YOUR OWN STAR and customize your look with hundreds of style options, including Kim Kardashian's personal picks!
STAR in a huge interactive adventure as you encounter other celebs, dedicated fans, persistent paparazzi… and even hang out with Kim herself!
RULE THE RED CARPET as an A-list movie actor, cover model, fashion designer and more – what you do is up to you!
TAKE OVER L.A. in a virtual world complete with exclusive clubs, upscale boutiques, and luxury homes! Travel to New York City and Miami!
DATE AND DUMP CELEBS at the best parties and hottest clubs! Flirt and become the next huge celebrity power-couple!
BRING YOUR FRIENDS ALONG FOR THE RIDE using Game Center and Facebook – help each other rise to fame, compare styles, send gifts, and see who can be the biggest star!
Tags: #KimKardashianGame, Kim Kardashian Sweepstakes
Leave a Comment