CMT Music Awards Havertys Sweepstakes 2017 (HavertysVIP.com)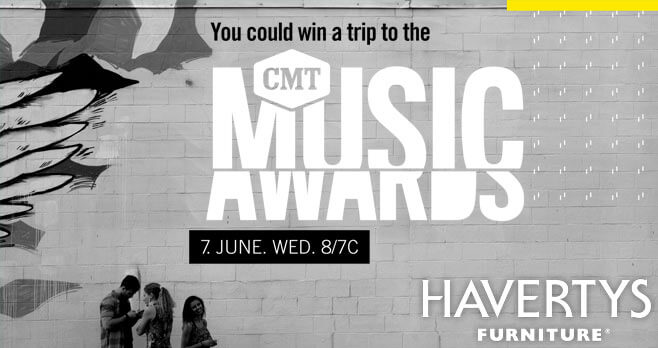 Havertys wants to send you and a friend to the 2017 CMT Music Awards, the only entirely fan-voted award show that recognizes country's best video and musical achievements, that will be held on June 7, 2017 in Nashville, TN!
Grand Prize includes round-trip airfare, hotel accommodations at The Hutton Hotel, tickets to the 2017 CMT Music Awards, and more!
Here's How To Enter
Now through May 16th, visit havertysvip.com and complete the online entry form as instructed by providing the following personal information:
First Name
Last Name
Phone Number
Email Address
Birthdate
Mailing Address
City
State
ZIP Code
Once completed, click the "Submit Entry" button to be entered into the Sweepstakes. No more than one entry per entrant will be accepted during the entire Sweepstakes Period.
More About This Havertys Sweepstakes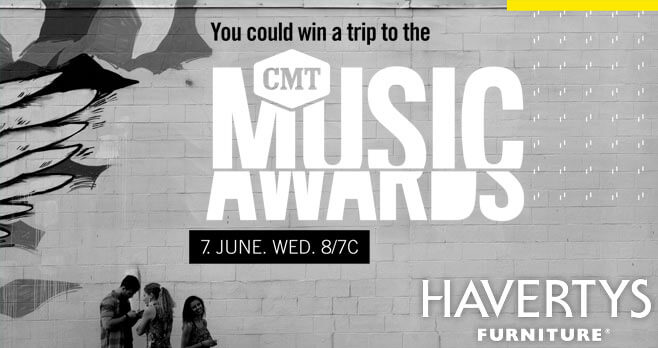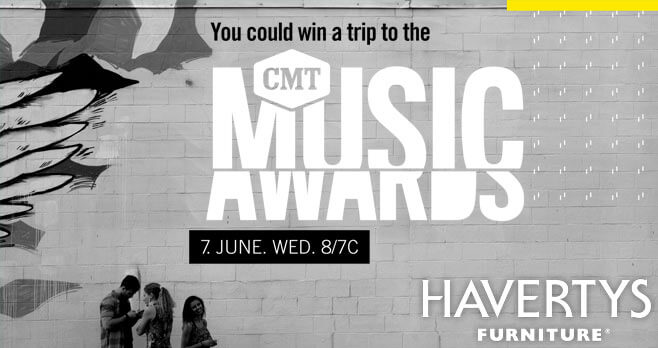 The 2017 CMT Music Awards Havertys Sweepstakes is open to individuals who are 21 years of age or older and are legal residents of the following participating designated market areas at the time of entry : Atlanta, GA; Augusta, GA; Austin, TX; Baltimore, MD; Baton Rouge, LA; Birmingham, AL; Charleston, SC; Charlotte, NC; Charlottesville, VA; Cincinnati, OH; Columbia, SC; Columbus, GA; Columbus, OH; Dallas/Ft. Worth, TX; Florence/Myrtle Beach, SC; Ft Myers/Naples, FL; Ft. Smith-Rogers, AR; Greensboro/Winston-Salem, NC; Greenville/Sparta/Asheville, SC; Huntsville/Decatur, AL; Indianapolis, IN; Jacksonville, FL; Knoxville, TN; Lexington, KY; Little Rock, AR; Louisville, KY; Lubbock, TX; Macon, GA; Memphis, TN; Miami/Ft. Lauderdale, FL; Mobile, AL/Pensacola, FL; Monroe, LA/El Dorado, AR; Montgomery, AL; Norfolk; VA; Orlando/Dayton Beach, FL; Raleigh/Durham, NC; Richmond, VA; San Antonio, TX; Savannah, GA; Shreveport, LA/Texarkana, TX; Springfield, MO; Tallahassee, FL; Tampa/St. Pete, FL; Waco/Temple, TX; Washington, D.C.; West Palm Beach, FL; Wichita/Hutchins, KS; Wilmington, NC.
Sweepstakes will be held from 12:00 a.m. ET on May 1, 2017 through 11:59 p.m. ET on May 16, 2017. Limit one entry per person per email address and per household for the entire Sweepstakes Period.
On or about May 18, 2017, a random drawing will be conducted from among all eligible entries received to award the prize. The approximate retail value of the Grand Prize Package is $4,990.00.
For the name of winner (available after June 12, 2017) mail a hand-written request and a self-addressed, stamped envelope to: National Cable Communications, Attn: NCC Promotions, 405 Lexington Avenue, 6th Floor, NY, NY 10174, for receipt by July 8, 2017.
This sweepstakes is sponsored and is being administered by National Cable Communications, 405 Lexington Avenue, 6th Floor, New York, NY 10174.
For complete details, see the Official Rules.
Tags: Havertys Sweepstakes, havertysvip.com, Sweepstakes Expiring May 2017
Leave a Comment