BBM To Win Sweepstakes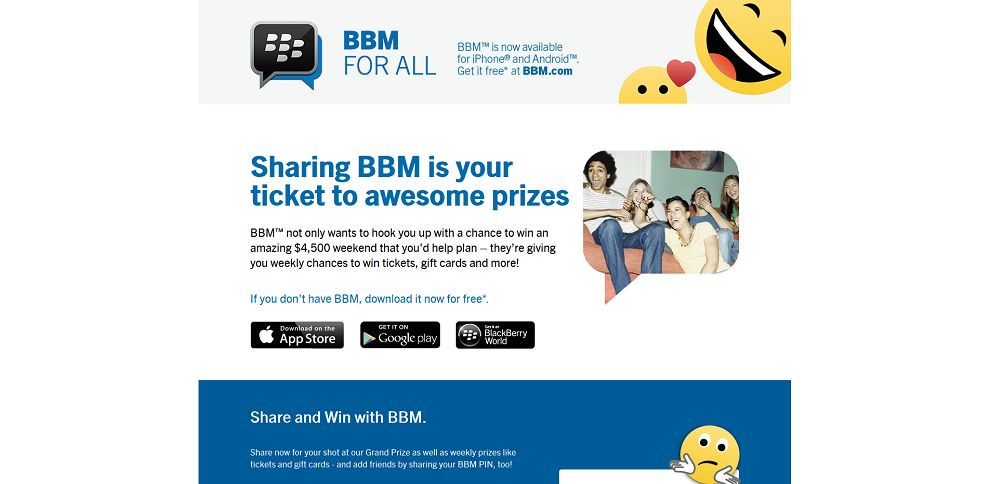 Eligibility : Entrant must be a legal resident of U.S. or Canada (excluding Quebec) thirteen (13) years of age or older at the time of entry.
Promotion Period :
Enter At : bbm2win.com
Limit : Maximum of three (3) entries per person during the Sweepstakes Period.
Prize (s) :
Entrants will have the chance to win one (1) Grand Prize or one (1) of twenty-one (21) Weekly Prizes in random drawings.
Grand Prize: Weekend Getaway.
One (1) winner will be awarded a Weekend Getaway Trip Package (the "Trip Package") for two (2) people to the winner's choice of one of the following locations (the "Trip Package Location"): New York City, Miami, Los Angeles or Toronto, Canada. Weekend Getaway Prize includes: round trip air travel (coach class) for winner and one (1) guest from a major airport nearest the winner's home address and two (2) nights' standard hotel accommodations in a hotel selected by Sponsor (double occupancy). A travel specialist will assist the winner in designing the weekend getaway. Approximate retail value ("ARV") of prize not to exceed $4,500.
Weekly Prizes:
Drawing on December 19, 2013: Total 2 winners
• One (1) winner of one (1) Starbucks® Gift Card (approximate retail value $15)
• One (1) winner of one (1) sporting apparel (approximate retail value $100)
Drawing on December 23, 2013: Total 3 winners
• Three (3) winners of two (2) tickets to watch Toronto play against Detroit on January 1st 2014. Prize includes tickets/entrance to game only, and does not include transportation, lodging or any other expenses not expressly listed herein (approximate retail value $600)
Drawing on: December 27, 2013): Total 3 winners
• One (1) winner of two (2) tickets to a professional hockey, basketball or football hometown game, in a location as close as possible to the winner's city/town of residence. Prize includes tickets/entrance to game only, and does not include transportation, lodging or any other expenses not expressly stated herein (approximate retail value $300). Prizing availability will be subject to approval by Partner companies.
• One (1) winner of one (1) restaurant gift card to TGI Fridays® or Milestones® depending on winner's location – US or Canada (approximate retail value $50) • One (1) winner of one (1) sporting apparel (approximate retail value $100)
Drawing on January 3, 2014: Total 3 winners
• One (1) winner of two (2) tickets to a professional hockey, basketball or football hometown game in a location as close as possible to the winner's city/town of residence. Prize includes tickets/entrance to game only, and does not include transportation, lodging or any other expenses not expressly stated herein (approximate retail value $300).Prizing availability will be subject to approval by Partner companies.
• One (1) winner of one (1) Starbucks Gift Card (approximate retail value $15)
• One (1) winner of one (1) Visa pre-paid gift card (approximate retail value $25)
Drawing on January 9, 2014: Total 2 winners
• One (1) winner of movie tickets for two (2) people and concession vouchers worth $_20__ (approximate retail value $40)
• One (1) winner of one (1) Starbucks Gift Card (approximate retail value $15)
Drawing on January 16, 2014: Total 3 winners
• One (1) winner of movie tickets for a month (approximate retail value $50)
• One (1) winner of one (1) restaurant gift card to TGI Fridays or Milestones depending on winner's location – US or Canada (approximate retail value $50)
• One (1) winner of one (1) Visa pre-paid gift card (approximate retail value $25)
Drawing on January 23, 2014 : Total 2 winners
• One (1) winner of movie tickets for two (2) people and concession vouchers worth $20 (approximate retail value $40)
• One (1) winner of one (1) Starbucks Gift Card (approximate retail value $15)
Drawing on January 30, 2014: Total 3 winners
• One (1) winner of one (1) Visa pre-paid gift card (approximate retail value $25)
• One (1) winner of movie tickets for a month (approximate retail value $50)
• One (1) winner of one (1) restaurant gift card to TGI Fridays or Milestones depending on winner's location – US or Canada (approximate retail value $50)
Tags: BBM To Win Sweepstakes, bbm2win.com
Leave a Comment