BAND-AID Brand Stuck On Me Sing-Along Contest: Are You The Next Jingle star?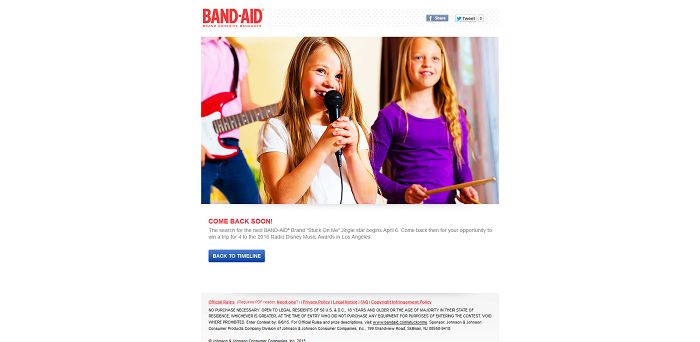 This year's Radio Disney Music Awards will take place on April 25, 2015 at the Nokia Theatre L.A. in Los Angeles, California, but America's #1 bandage brand Band-Aid is already thinking ahead to the 2016 Radio Disney Music Awards!
Starting Monday, April 6th, you and your family could win a trip to Los Angeles for a chance to experience the 2016 Radio Disney Music Awards VIP-style! The trip, valued at $10,000, includes round trip coach-class airfare, hotel accommodations for four (4) nights, a hair and make-up session for the entire family, a Hollywood movie stars tour, VIP tickets to the show and $1,000 spending money!
But it's just the beginning! Band-Aid will also send one (1) first prize winner and her/his guest to New York, NY (airfare and hotel accommodations included) to visit the Sony Wonder Tech Lab, the Museum of Modern Art, the Guggenheim Museum, the Flagship Disney Store in Times Square and more! First prize winner will also get tickets to a play/theater show and $700 spending money.
Think that's all? No! One (1) lucky second prize winner will get a signed guitar and finally, eight (8) finalists will each receive $150, awarded in the form of a Visa Gift CArd and a Radio Disney Music Awards CD!
Sing Band-Aid's "Stuck On Me" Jingle To Win!
During any of the four (4) Submission Phases (see below for dates), record a 45 second video of yourself and up to five (5) other people singing Band-Aid's "Stuck On Me" jingle. Then, visit bandaid.com/stuckonme to complete and submit the registration form as instructed. Upload your video as directed, write a short description/title of your video and submit to be automatically entered into the applicable Submission Phase. No more than one (1) Submission per contestant will be accepted during the entire Promotion Period.
Editor's Advices:
Your submission will roll over to any subsequent Submission Phase if you don't win so the sooner you submit your video, the more chances you have to win!
Submission will be judged based on Creativity/Originality, Personality/Energy, Quality of Submission and Fit to Contest Theme so have fun and make sure to submit the best video you can!
Important Dates
The Contest, which consists of four (4) Submission Phases (as detailed below), one (1) Judging Phase and one (1) Voting Phrase, will start at 12:00 a.m. ET on Monday, April 6, 2015 and will conclude at 11:59 p.m. ET on Saturday, June 27, 2015 .
Submission Phase #1: From April 6, 2015 through April 20, 2015
Submission Phase #2: From April 21, 2015 through May 6, 2015
Submission Phase #3: From May 7, 2015 through May 22, 2015
Submission Phase #4: From May 23, 2015 through June 6, 2015
The Judging Phase will be held from June 7, 2015 to June 12, 2015 while the Voting Phase will take place between June 13, 2015 and June 27, 2015. Winners will be announced on or around June 28, 2015.
Eligibility
Want to participate? You are eligible to enter the BAND-AID Brand Stuck On Me Sing-Along Contest only if you are a legal resident of any of the fifty (50) United States or the District of Columbia who is at least eighteen (18) years old or the age of majority in your state of residence, whichever is greater, at the time of entry and who did not purchase any equipment for the purposes of entering this Contest.
Tags: #RDMA, Band-Aid Contest, bandaid.com/stuckonme
Leave a Comment