Conan Pop Figure Sweepstakes 2018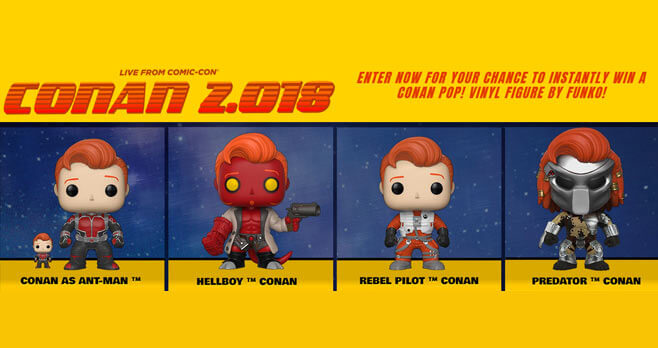 This week, the late-night talk show Conan is live from Comic-Con San Diego. Watch the show from Wednesday, July 18th through Sunday, July 22th and look for the Pop Conan Code that will be announced every night. Then, visit www.tbs.com/conan/pop to participate in the Conan Pop Figure Sweepstakes for a chance to win each Conan Pop! Vinyl Figure by Funko.
Sweepstakes Entry Form:
www.tbs.com/conan/pop
Sweepstakes Rules:
tbs.com/conan/pop/official-rules
What Is The Conan Pop Code?
In order to obtained the daily Conan Pop Code, you must watch the broadcast of Conan airing on TBS at 11 p.m. ET. But just in case you can't watch Conan this week, we will list the code word right here. There will be a new code for each day so come back every night between July 18 and July 22 to the latest code.
7/18/2018: Squadron Gimp
7/19/2018: Coco vs. Predator
7/21/2018: Shrinkage
7/22/2018:
How To Enter
Once you obtained the code, complete the following steps to enter the Conan Pop Figure Giveaway.
Go to www.tbs.com/conan/pop to access the Sweepstakes Entry Form.
Enter your email address to begin.
Next, fill out the registration form so you can be contacted if you win.
Finally, input the applicable Pop Conan Code to receive one Sweepstakes entry into the current Daily Entry Period.
More About The Conan Funko Pop Giveaway
Eligibility: The Conan Funko Pop Giveaway is open to legal residents of the 50 United States and District of Columbia who, at time of game play, are at least 18 years of age and who are TBS cable subscribers as of July 18, 2018.
Timing: The Promotion starts on July 18, 2018 at 11:00 PM ET and ends on July 23, 2018 at 10:59:59 PM ET.
Limit: An entrant may receive one Game Play per Game Period.
Tags: Conan Pop Figure Sweepstakes, Pop! Conan Code, TeamCoco.com/Pop
Comments (2 Messages)
Leave a Comment