Juicy Juice Race For Juicy Rewards Instant Win Game (JuicyJuiceGame.com)
Juicy Juice is promoting the new Disney/Pixar Cars 3 movie, in theaters this Summer, with the Race for Juicy Rewards Instant Win Game running from May 1, 2017 through October 31, 2017. To play this Juicy Juice Game, consumers must look for a code inside specially marked Juicy Juice products and enter their code online at JuicyJuiceGame.com for a chance to win.
Juicy Juice is giving away $987,005.00 in prizes including over 12,000 free child movie tickets, Mattel Disney/Pixar Cars 3 Revvin' Action Vehicles Assortments, free Juicy Juice products, and downloadable activity sheets.
Every pack is an instant winner. Register now to see what you've won!
Juicy Juice Game Code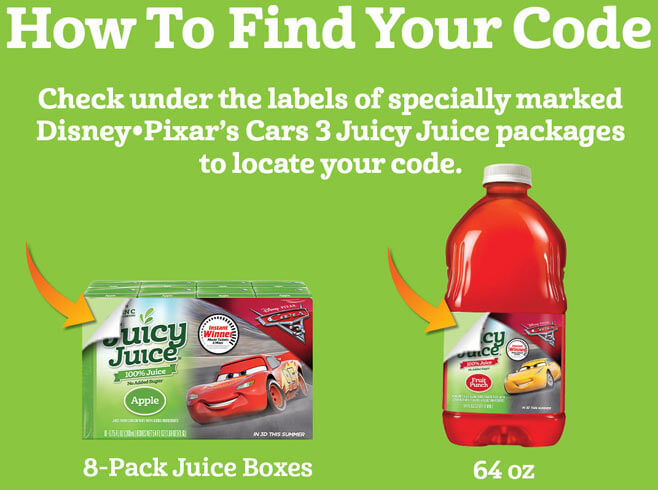 During the Game Period, consumers can obtain a Juicy Juice Game Code by purchasing any of the following specially marked participating products:
8 Pack of 6.75 oz. Juicy Juice juice boxes (available in 4 varieties)
 64 oz. Juicy Juice (available in 6 varieties)
Consumers must check under the labels of specially marked Disney/Pixar Cars 3 Juicy Juice packages to locate the code.
Alternatively, you may obtain a Code without a purchase, by sending a self-addressed stamped envelope to: Juicy Juice "Race for Juicy Rewards" Instant Win Game Code Request, P.O. Box 8007, Grand Rapids, MN 55745-8007.
Participants can also request a free game code, without making a purchase, from October 17, 2017 to October 31, 2017 using the alternate means of entry. Participants must first register by providing all requested information and a code will be instantly displayed on-screen. A maximum of 1 free game code request per day is permitted throughout the Promotion Period.
Entering At JuicyJuiceGame.com
To enter a game code, participants must go online to www.juicyjuicegame.com and complete the following 4 easy steps:
Click the "Enter Now" button to get started.
Provide the information that will be used for potential prize fulfillment purposes.
Enter the Game Code.
Click "Submit".
Once completed and submitted, the result will be displayed instantly and a participant can find out if he/she is an instant winner or not. Each code can only be used once so consumers must obtain new codes to earn new game plays. The instructions to claim a prize will also be displayed onscreen.
Instant Win Game Prizes
A total of 17,500,000 instant win game prizes will be randomly awarded during the Promotion Period, as follows.
First Prize (12,500): A child movie ticket to see Cars 3 or any other Disney movie at participating theaters in the U.S.
Second Prize (1,400): A Mattel Disney/Pixar Cars 3 Revvin' Action Vehicles Assortment.
Third Prize (1,000): A Juicy Juice Voucher which can be redeemed to receive one free Juicy Juice product.
Fourth Prize (17,485,100): A Juicy Juice branded downloadable activity sheet.
More About The Race For Juicy Rewards Instant Win Game
The Juicy Juice Race for Juicy Rewards Instant Win Game is open to legal residents of the fifty (50) United States and District of Columbia, 18 years of age or older (or the age of majority in their state of legal residence, whichever is older) as of May 1, 2017.
The Promotion Period begins at 12:00 p.m. ET on May 1, 2017 and ends at 04:59 p.m. ET on October 31, 2017. Each Participant may play the Game one time, per day, throughout the Promotion Period regardless of how they received a Code.
17,500,000 random, computer-generated winning times will be generated during the Promotion Period. The maximum total ARV of all prizes available to be awarded in this Promotion is $987,005.00.
Sponsored by Harvest Hill Beverage Company, 1 High Ridge Park, Stamford, CT 06905. Administrated by Black Diamond Media, Inc., 574 Heritage Road, Suite 201A, Southbury, CT 06488.
For complete details, see the Official Rules.
Tags: Cars 3 Sweepstakes, Juicy Juice Game, juicyjuicegame.com
Comments (3 Messages)
Leave a Comment