DEWnited States Promotion (DEWnited.com)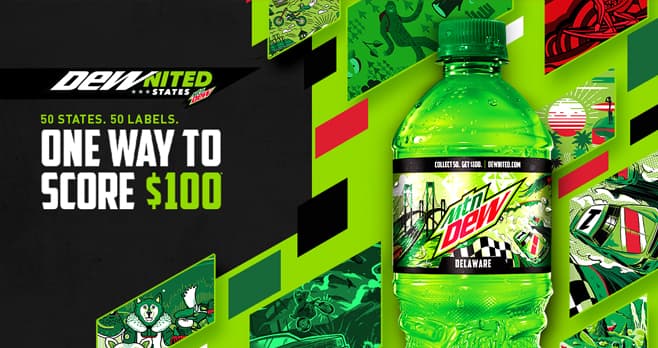 DEWnited States: Enter DEWnited States from Mountain Dew by finding all rare states and entering their codes from specially-marked bottles online at at DEWnited.com for a chance to win $100.
DEWnited States Promotion at dewnited.com is open to legal U.S. residents, 18 years or older at the time of registration.
The Sweepstakes begins June 3, 2019, at 12:00 p.m. ET and ends August 10, 2019 at 11:59 p.m. ET.
To enter the DEWnited States Promotion, buy all fifty (50) DEWnited individually-designed State bottles (one for each state) in either MTN DEW or DIET MTN DEW in the following package sizes: 20 oz, 16.9 oz, and 16.0 oz. Look for a unique ten (10)-character alphanumeric code underneath the green bottle caps of the specially-marked Labels. Log into your Account using your e-mail address and password and register, enter a Code, and take a "live" photo of your corresponding State label. Once you're signed in to the Website, click to enter the valid under the-cap code from the specially-marked bottles. Once you enter your Code, the Website will launch a desktop or mobile camera.  Place the bottle clearly in front of the camera. Once the picture has been approved, you will receive a success message, and that State's bottle will be added to your collection. Once you collect all 50 DEWnited States Labels and enter the corresponding Codes you will be eligible to receive a $100 Visa prepaid card.
Limit of twenty (20) Codes entries and Label uploads per Participant per day.
The grand prize consists of a $100 Visa prepaid card.
To enter the DEWnited States Promotion, visit www.dewnited.com and see Official Rules for details.
Tags: DEWnited States, dewnited.com
Comments (12 Messages)
Leave a Comment