The Peerless 125 Contest: Who Is Peerless To You?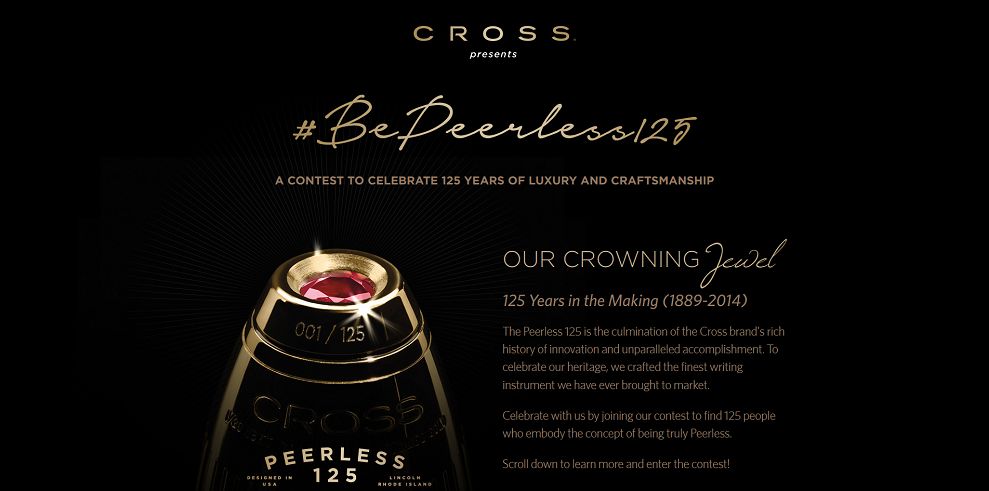 Cross, a major international manufacturer of fine writing instruments, timepieces, and personal accessories, is celebrating the 125th anniversary of the Peerless Collection with the Peerless 125 Contest and they are looking for Peerless people.
Peerless people can be mentors, philanthropists, parent, friends…  Cross is looking for those who mark on the world, those who are continuously giving and achieving greatness. Do you know someone like that? Nominate this person in your life and she/he could win a Cross Peerless 125 Limited Edition Fountain Pen, limited to 125 worldwide, valued at $3,900. A special prize for someone special.
Plus, 125 other Peerless persons will each receive a Peerless 125 Obsidian Black Lacquer Ballpoint Pen, each valued at $175!
Who Is Peerless To You?
Between January 20 and March 7, 2015, go to thepeerless.cross.com and follow the instructions to nominate someone in your life who is deserving of a great gift/recognition for being peerless. You'll need to provide her/his first and last name, a photo of your nominee and optionally, but highly recommended, a video of your nominee from YouTube or Vimeo. You can nominate only one nominee during the entire contest period and your entry must be submitted by no later than 11:59:59 PM ET on March 7, 2015 to be eligible.
Eligibility
The Peerless 125 Contest is open to legal residents of the fifty (50) United States and the District of Columbia who are 18 years of age and older. Must have a valid Facebook account as of the time of entry.
Nominees must be legal US residents who are at least 18 years of age or older as of the date of Nomination. Must be deserving of a great gift/recognition for: A) the good works they have done in any field of endeavor, and B) being peerless and making their mark on the world.
Tags: #BePeerless125, The Peerless 125 Contest
Leave a Comment