20 Fresh Sweepstakes You Need To Enter This Summer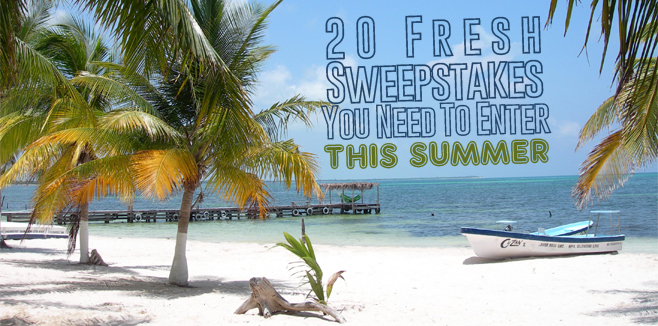 As far as I'm concerned, summer has already started! With so many Summer Sweepstakes already running and others coming up, I'm feeling like summer has already arrived, and it's going to be one of the best summer ever in terms of sweepstakes! Enjoy all those 2015 Summer Sweepstakes!
Lay's Summer Days Game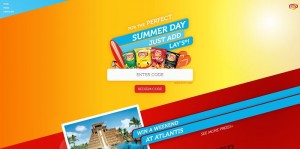 For the perfect Summer Day, just add Lay's! And be sure to look for the code printed of the back of any specially-marked bags of Lay's potato chips, you could win a weekend at Atlantis, Paradis Island, Bahamas or a convertible sports car! Plus, thousands of other summer prizes! Don't miss out!
Via: Summer.Lays.com
Source: Lay's
Banana Boat Great Big Family Reunion Sweepstakes
This summer, it's time to get your family together and that's why Banana Boat is giving you the chance to win a Great Big Family Reunion! One resort, up to fifty of your family members and a whole lot of sun cream!
Via: GreatBigFamilyReunion.com
Source: Banana Boat
Flavors Of Summer Sweepstakes
The world's largest take 'n' bake pizza chain, Papa Murphy's Pizza is giving away a $25,000 backyard makeover in the Flavors Of Summer Sweepstakes. All you have to do is tell them if you prefer our pizza in the oven or on the grill! Simple, isn't it?
Via: FlavorsOfSummerSweepstakes.com
Source: Papa Murphy's Pizza
PERDUE Yummer Summer Sweepstakes
Now through August 10th, step up your summer with a chance to win a backyard makeover valued at $10,000 from PERDUE, the #1 brand of fresh chicken in the Eastern US! Fill out the form, submit and cross your fingers!
Via: Perdue.com/Yummer-Summer
Source: Perdue
Skittles Awesomest Summer Party Sweepstakes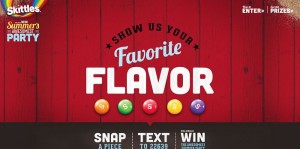 During the summer, send a text message including a picture of your favorite flavor of Skittles, Starburst, Life Savers Gummies or Juicy Fruit products and you could win an awesome party worth over $10,000! Plus, you could win over 3,000 Awesome Summer Party prizes including BBQ grills, Party prize packs and Fun prize packs!
Via: Summer.Skittles.com
Source: Skittles
iHeartRadio & Burnett's Vodka More Flavor Day Weekend Sweepstakes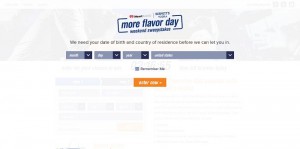 Take your shot at a chance to party at iHeartRadio & Burnett's Vodka's More Flavor Day Weekend at the House of Blues in the More Flavor Day Weekend Sweepstakes! Burnett's Vodka will send you to Myrtle Beach during the Labor Day weekend to attend a private performance by Brett Eldredge!
Via: MoreFlavorDayWeekend.com
Source: Burnett's Vodka
King's Hawaiian Sweetest Summer Ever Instant-Win Game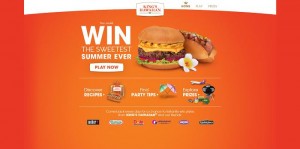 Aloha! Would you like to have the sweetest summer ever? Play this King's Hawaiian Instant-Win Game and you could win sweet summer prizes like Weber Grills, Dole Sunglasses, Nathan's Famous Baseball Hat and Beef Franks or the grand prize of a trip for two (2) to Hawaii!
Via: SweetestSummerEver.com
Source: King's Hawaiian
Utz Get Snacking, Start Packing Giveaway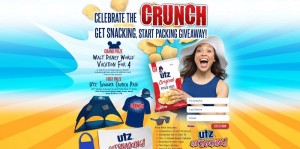 Utz Snacks invites potato chips lovers to celebrate the crunch by giving away a Walt Disney World Vacation for 4 and Summer Crunch Prize Packs all summer long in the Get Snacking, Start Packing Giveaway!
Via: GetUtz.com/Summer2015
Source: Utz Snacks
World Market's Summer Getaway Sweepstakes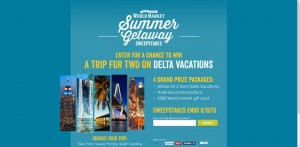 For some of us, summer means taking vacation far away from home. By entering the World Market Summer Getaway Sweepstakes, you could win a summer getaway on Delta Vacations and best of all, you get to choose the destination among one of the following locations: New York, Hawaii, Florida, South Carolina and New Orleans. Which one will you choose?
Via: WorldMarketSweepstakes.com
Source: Cost Plus World Market
Kraft For The Love Of Summer Promotion
This summer, Kraft has you covered with delicious recipes, customized playlists and the For The Love Of Summer Promotion! Because summer isn't complete without a concert, Kraft is giving you the chance to win four fly away trips to the Live Nation concerts of your choice! Pick between today's hottest artists like Lady Antebellum, Prince Royce, and more – the choice is entirely yours!
Via: ForTheLoveOfSummer.com
Source: Kraft
HERSHEY'S 2015 Summer S'mores Grilling Instant-Win Game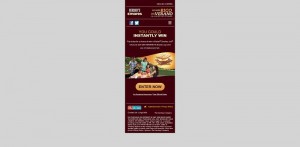 Hershey's S'mores are probably the sweetest part of summer, don't you think? In order to help you prepare the best S'mores ever, Hershey's is giving away not 1 but 470 Hershey's S'mores Prize Packs each consisting of a Weber Smokey Joe Charcoal Grill and an extension fork. Play daily through September 14, 2015 for your chance to win one instantly!
Via: VeranoHersheys.com
Source: Hershey's
Sweet Summer Downloads Sweepstakes
From May 1 to July 31, 2015, get downloads of music, movies and games when you purchase two (2) Airheads or Mentos products plus, you could win the ultimate road trip, awarded in the form of a $400 Hertz rental car voucher, a $400 Hilton HHonors gift card, a $200 American Express gift card and more!
Via: Sweeter.HipRewards.com
Source: AirHeads/Mentos
Malibu Beach House Summer Sweepstakes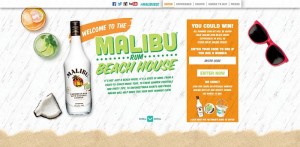 Malibu Rum wants to help make this summer the best summer ever. From trips and concert tickets to party-perfect essentials and beach kits, Malibu will award over 3,000 prizes in the Beach House Summer Sweepstakes! That's more than $44,000 worth of refreshing summer prizes! Look for codes on specially marked Malibu bottles and bucket drinks to get started.
Via: MalibuBestSummerEver.com
Source: Malibu
Coors Light Refresh Your Summer Sweepstakes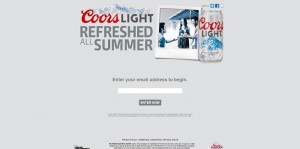 During the warmest season of the year, it's important to stay refreshed. Upload summer pics of yourself with Coors Light and you could get rewarded! And by rewards, I mean Coors Light Refresherators, Headphones, Activity and Sleep Trackers, Digital Cameras, Gift Cards and Music Downloads! Did I mentioned Coors Light will award over 10,000 of these prizes? Pic, post and get in on the rewards!
Via: CoorsLightSummer.com
Source: Coors Light
Corona Summer Sweepstakes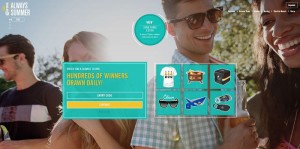 Want to win a piece of Corona Summer? Enter the codes found in specially marked packs of Corona Extra and Corona Light to earn entries into the Corona Summer Sweepstakes. Hundreds of winners will be randomly selected daily! Are you the next winner?
Via: CoronaSummer.com
Source: Corona
Cinemark and Universal's 100 Days Of Summer Sweepstakes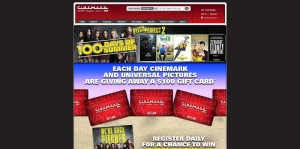 During the hot season, some will prefer to stay inside enjoying the cold temperature of movie theatres. To please summer blockbuster fans, Cinemark and Universal Pictures are teaming up to bring you the 100 Days Of Summer Sweepstakes where you could win a $100 Cinemark gift card daily.
Via: cinemark.com/contest-100-days-of-summer
Source: Cinemark
MIKE AND IKE Summer Concert Series Sweepstakes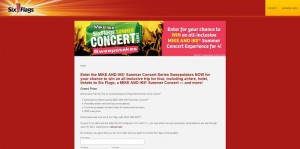 Six Flags park will be hosting MIKE AND IKE Summer Concerts during the 2015 operating season and here's your chance to win an all-inclusive MIKE AND IKE Summer Concert Experience for four, including airfare, hotel, tickets to Six Flags!
Via: http://content.sixflags.com/news/entersweepstakes.aspx?c=miscssweeps15
Source: SixFlags
Avocados From Mexico Summer Grilling Sweepstakes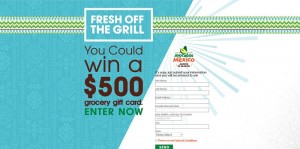 Hola Summer! Avocados are available year round but summer is probably the best season to eat them. Enter the Summer Grilling Sweepstakes presented by Avocados From Mexico for a chance to win a $500 grocery gift card to throw the Ultimate Mexican Fiesta!
Via: AvoFan.com
Source: Avocados From Mexico
Pringles Summer Music Instant Win Game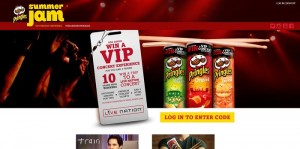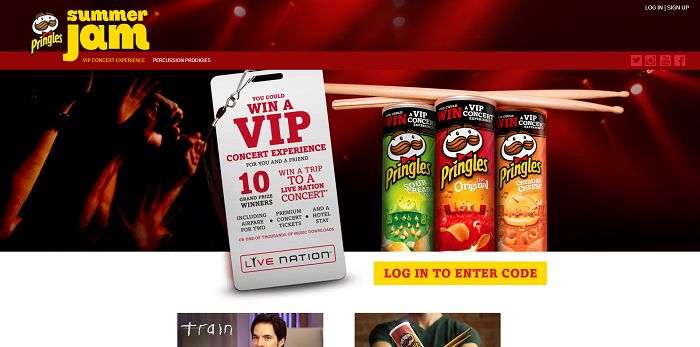 Win a VIP Live Nation Concert Experience! You and a friend will be sent on a flyway trip to a Live Nation Concert in the United States including airfare, hotel accommodations, premium concert tickets and more! You could also win one of thousands of music downloads just for entering the code found under the seal of specially marked cans of Pringles.
Via: Pringles.com/Music
Source: Pringles
Woodbridge Summer Block Party Sweepstakes
Enter the Woodbridge Summer Block Party Sweepstakes for your chance to win your own Summer Block Party valued at $5,000! Winner will also receive a prize package of block party essentials, including: fifty (50) plastic wine glasses, two (2) folding chairs, one (1) cooler, one (1) chilling bucket, ten (10) corkpulls, packaged food snacks, twelve (12) containers of mustard, twelve (12) bottles of barbeque sauce, and coupons to purchase fifteen (15) packages of hot dogs.
Via: wine.social/woodbridge-block-party
Source: Woodbrige Wines
Tags: CoorsLightSummer.com, FlavorsOfSummerSweepstakes.com, GreatBigFamilyReunion.com, malibubestsummerever.com, MoreFlavorDayWeekend.com, Pringles.com/Music, roundup, Summer Sweepstakes 2015, SweetestSummerEver.com, worldmarketsweepstakes.com
Comments (1 Message)
Leave a Comment