10 Exciting Sweepstakes Every Movie Lover Will Want To Win
Here's a list of the ten most exciting sweepstakes every movie lover will want to win!
Fandango's We Love Movies Summer Sweepstakes
This Sweepstakes, presented by Fandango, might be your chance to win a year of movie tickets! Yes, movie tickets for an entire year! That's four (4) tickets per month for twelve (12) months so you can see all upcoming movies! Enter only once by either purchasing tickets online via Fandango.com (or the Fandango App) or by submitting the entry form available online at Fandango.com.
Via: fandango.com/sweepstakes/welovemovies
Source: Fandango
Fandango Terminator: Genisys Sweepstakes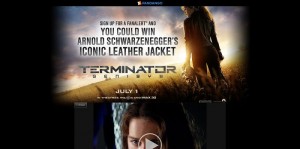 Terminator: Genisys will hit theaters on July 1st and by signing up for a Fan Alert at Fandango.com, you could win Arnold Schwarzenegger's iconic leather jacket! Not a replica but the real prop leather jacket worn by Arnold Schwarzenegger in Terminator Genisys, an awesome piece for Terminator fans and collectors! There's one only up for grabs so hurry up and enter before May 19, 2015 for your chance to win!
Via: fandango.com/sweepstakes/terminatorgenysis
Source: Fandango
Fandango's Hot Pursuit Sweepstakes
Have you seen Reese Witherspoon-Sofia Vergara comedy "Hot Pursuit"? If you're planning on seeing it soon, be sure to buy tickets at Fandango to be automatically entered in the Hot Pursuit Sweepstakes for a chance to see Miranda Lambert live at WeFest Country Music Festival taking place August 6-8, 2015 at the Soo Pass Ranch in Detroit Lakes, Minnesota!
Via: fandango.com/hotpursuit_180391/movieoverview?intcmp=IMA_HotPsweeps_offers
Source: Fandango
Minions Tic Tac Instant Win Game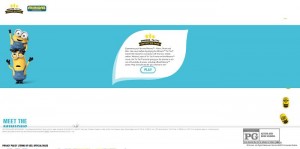 To celebrate the availability of the Limited Edition Tic Tac Minions, available nationwide beginning in late May, Tic Tac, the leading mint brand for over 40 years, invites you to play the Minions Tic Tac Instant Win Game for a chance to win 1 of 400 prizes, instantly! Tic Tac will randomly award over 4,000 instant win prizes including $50 American Express gift cards, inflatable Minions bowling sets, Minions umbrellas and Minions activity set!
Via: tictacusa.com
Source: Tic Tac
Fifty Shades Of Grey Sweepstakes
Why to go out when you can stay inside? The most talked about movie of the year is now available on Blu-Ray, DVD and Digital HD! Want to own it? Enter the Fifty Shades Of Grey Sweepstakes now through May 29, 2015 and you could win a Fifty Shades Of Grey prize pack plus $1,000, awarded in the form of an American Express Gift Card!
Via: FiftyShadesSweeps.com
Source: fiftyshadessweeps.com/enter/rules
Capture The Can Promotion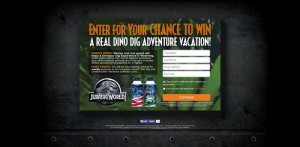 Watching the trailer for Jurassic World, one of the most anticipated movie of the year, will give you chills. But winning a real dino dig adventure will give you thrills! The grand prize winner and one guest will enjoy a Dinosaur Dig Experience in Wyoming, white water rafting trip, hot air balloon excursion, plus other outdoor adventures!
Via: Barbasol.com/JurassicWorld
Source: Barbasol
Hawaiian Getaway Sweepstakes
Just like in the upcoming romantic comedy "Aloha", starring Bradley Cooper, Emma Stone, Rachel McAdams, Bill Murray, John Krasinski and Danny McBride, one trip could change your life. And this trip might be to Oahu, Hawaii! Bravo will send one lucky winner and her/his guest on an Hawaiian Getaway including airfare and hotel accommodations at the Aston Waikiki Beach Hotel, a casual, contemporary hotel.
Via: BravoTV.com/AlohaMovie
Source: Bravo
M&M'S Brand 2015 Movie Game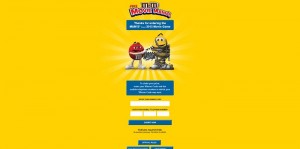 Looking forward for this summer's blockbusters? With over 30 highly anticipated movies opening in theaters this summer, including "Avengers: Age of Ultron", "Minions", "Jurassic World", "Terminator Genisys", "Inside Out" and "Ant-Man", I bet you do! But first, you'll have to purchase movie tickets, lots of movie tickets to see all those movies. M&M'S Brand, one of your favorite movie theater snacks, wants to help you spend less on movie tickets this summer by offering you a chance to win movie tickets and e-Movie Cash certificates in the M&M'S Brand 2015 Movie Game!
Via: movie.mms.com
Souce: M&M's
Just Born's MIKE AND IKE Win Movies For A Year Sweepstakes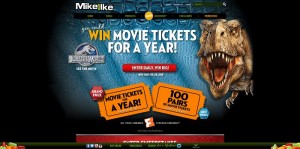 Here's another one offering you a chance to win movie tickets for a year! The Just Born's MIKE AND IKE Win Movies For A Year Sweepstakes started on April 1, 2015 and is scheduled to end on February 28, 2016 so you still have plenty of times to enter. Speaking on entering, you are allowed to participate once per day during the Promotion Period, which means you can earn up to 292 entries. One hundred first prize winners will each get a free pair of movie tickets. Note that all prizes are awarded in the form of Fandango Promotional codes.
Via: http://www.justborn.com/mike-and-ike/win-movie-tickets-sweepstakes
Source: Mike and Ike
Margaritaville Escape To Isla Nublar Jurassic World Sweepstakes
On June 12th, a lot of movie lovers will go to their local theater in order to see Jurassic World. However, a few will have the chance to attend the movie premiere in Hollywood, CA. That's the case of the Margaritaville Escape To Isla Nublar Jurassic World Sweepstakes Grand Prize winner! The winner and three guests will be sent to Hollywood, California where they will have the opportunity to attend the Jurassic World movie premiere taking place on or about June 10, 2015. The trip includes airfair and hotel accommodations for four (4), tickets to the premiere of Jurassic World and $1,000 spending money!
Via: margaritaville.com/jurassicworld
Source: Margaritaville
Tags: movie sweepstakes, roundup
Comments (7 Messages)
Leave a Comment