Sengled Pulse: JBL Bluetooth Speaker Bulb Giveaway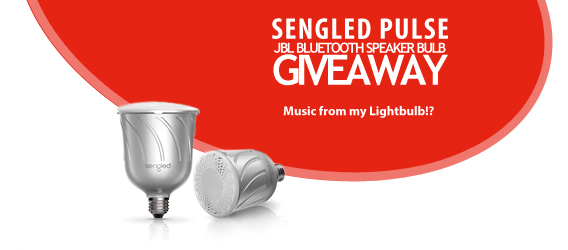 Sorry! The Sengled Pulse: JBL Bluetooth Speaker Bulb Giveaway has ended.
Are you a winner? If so, you'll receive an email on or around Friday, April 8, 2016, letting you know the good news.
Good luck!
It's time for a new giveaway! In March, we are teaming up with our friends at Sengled, a global innovator in LED lighting, to bring you the Sengled Pulse: JBL Bluetooth Speaker Bulb Giveaway, a promotion where you could win Pulse LED + Wireless Speakers.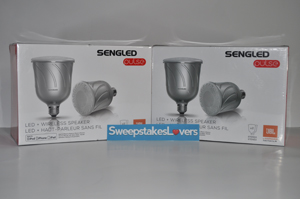 Pulse is a dimmable LED light and a powerful JBL Bluetooth speaker that you can control with your iOS or Android device. They can be placed in any room of your house as long as there's a light bulb socket in that room.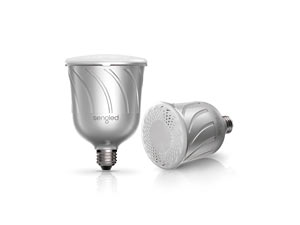 Features:
Easy to install, no wires, no remote control, no power adapter
Two dimmable BR30 downlight spearker bulbs, plug and play
Enjoy the energy saving from LED and high-quality JBL stereo audio system
Create up to 8 wireless speakers bulbs system
Compatible with most smartphones, tablets and computers that support Bluetooth technology
Sengled Pulse iOS/Android app provides greater functionality and control
Starting on March 1st, tell us where you would put your Pulse in the comment section below for a chance to win a Pulse Starter Kit, valued at $149.95, containing a Pulse Master bulb and a Pulse Satellite bulb. Plus, earn additional entries by connecting with Sengled on Facebook and Twitter.
Be sure to use the Rafflecopter widget below to complete your entry and good luck!
Pulse LED + Wireless Speakers Review
If someone had told me a few years ago that I could listen to music from light bulbs I wouldn't have believed them. That was until Sengled introduced Pulse, a downlight speaker bulb that allow you to wirelessly stream your favorite music through any Bluetooth enabled device. That's right! A light bulb that play music.
What's In The Box
When opening the box, you can find two dimmable LED light bulbs + wireless speakers – the Pulse bulbs. They look pretty much the same except that one is the Master Bulb and the other is a Satellite Bulb. You can also find a User Manual along with the Quick Start Guide and the Pulse Limited Written Express Warranty. These documents are also available for download at www.sengled.com in case you loose them.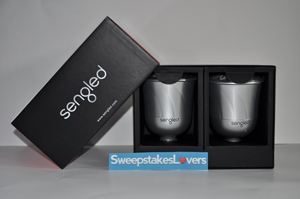 Design
The Pulse bulbs I received for this review are gray (Pewter) but they are also available in red (Candy Apple) and white (Pearl White) at no extra cost. The bulbs are larger than incandescent bulbs we usually use in our homes. The Pulse is 5.5″ (H) x 3.8″ (Dia.) while a standard incandescent bulb is around 4.1″ (H) x 2.2″ (Dia.). At this point, you can already figure out it won't fit everywhere.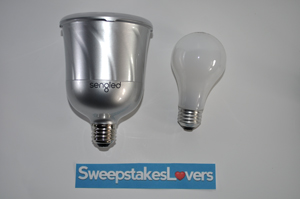 Even if they are that big, they still look amazing, thanks to the metallic paint finish and the shape of the bulb. They also feel less breakable than an incandescent bulb. But you won't want to let them fall on the ground just to see what could happen.
Connectivity
Ok so it's light bulb that produce sounds. But how does it works? The first thing to know is that the Master Bulb must be installed into an E26 light bulb socket to power it, just as any light bulb. This means there is no need for wires or power adapters and it's very easy to install.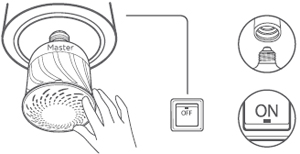 The Master Bulb connects with any smart device via Bluetooth while running the Pulse app (available on the App Store for Apple devices and on the Google Play Store for Android devices). The Master Bulb also controls the satellite bulb to produce stereo sound. Each Pulse Bluetooth speaker system can support up to 8 Pulse bulbs at one. This means one Master Bulb and up to 7 Satellite Bulbs. Please be aware that each Satellite must be placed within 100-115 feet of the Master. Once setup, you can control them all from your smart device and play your music synchronously.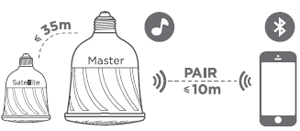 One of the downside of this concept is that the light switch must be turned on for the whole system to work. If the light switch is turned off, the bulb will not function at all. This means you'll always have to connect to the bulb via your smartphone or tablet to turn off/on the light when you need to, which is kind of annoying. And if someone walk in and hit the light switch to turn on/off the light, this will reset the system.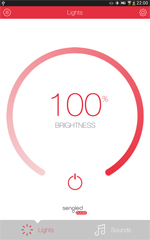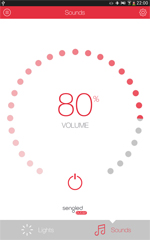 The Pulse app gives you full control of each bulb from the brightness of the light and speaker volume to stereo effect and preset settings.
Performance
Inside the bulb, you can find a 1.75″ full range high fidelity JBL Loudspeaker (13 Watts Max. @ 8ohm) that generate room-filling audio. Honestly, it sounds like portable wireless Bluetooth speakers at first and there's a clear lack of bass. But the sound become better as soon as you turn on at least Satellite. And trust me, that is impressive considering the fact that the sound is coming from light bulbs.
For those who would like to enhance the low frequencies of their Pulse sound system, a Subwoofer Adaptor that can be plugged into almost any subwoofer and that work seamlessly with the Pulse app is also available for purchase.
For this review, I tested the one Master + one Satellite only. I can only imagine how it could sounds with 7 more Satellites but I'm sure it's amazing.
Conclusion
The retail price for the Starter Kit is $149.99 (from $133.99 on Amazon.com) and each additional Satellite would cost you $69.99. Yes, that's expensive but when you think about it, you get a dimmable LED that is designed for 25,000 hours and that produce high-quality JBL sounds. You also get a system that is easy to setup, that can be hided in light fixtures and that doesn't require any wires, remote control or power adapter.
Pros:
As simple to install as an incandescent bulbs
High-quality JBL sound
Cons:
Won't fit in some light fixtures due to its size
Sengled Pulse: JBL Bluetooth Speaker Bulb Giveaway Official Rules
Eligibility: The Sengled Pulse: JBL Bluetooth Speaker Bulb Giveaway is open to legal residents of the fifty (50) United States and the District of Columbia who are 18 years of age or older at the time of entry. Void outside the 50 United States and the District of Columbia. Also void where prohibited or restricted by law, rule or regulation. All applicable federal, state and local laws and regulations apply.
Promotion Period: The Sengled Pulse: JBL Bluetooth Speaker Bulb Giveaway begins at 12:01:00 AM ET on Tuesday, March 1, 2016 and ends at 11:59:59 PM PT on Thursday, March 31, 2016.
How To Enter: During the Promotion Period, entrants must visit SweepstakesLovers.com and click the promotional banner to access the giveaway page. Entrants must follow the instructions to enter the Giveaway. Each entrant will be required to leave a comment by answering the question "Where would you put your Pulse?" to be entered into the Giveaway. Limit of one (1) entry per person using this method of entry during the entire Promotion Period.
Bonus Entries: Entrants can complete following actions to earn additional entries into the Giveaway:
Prizes: Two (2) Grand Prize Winners will each receive Pulse LED + Wireless Speakers (Starter Kit containing a Pulse Master bulb and a Pulse Satellite bulb). Approximate Retail Value of each prize is $149.95.
Winners: The potential winners will be selected through a random drawing on or around Friday, April 8, 2016. Winners will be notified via e-mail.
Sponsor: This giveaway is sponsored by Sengled. Follow Sengled on Facebook and Twitter.
Disclosure: Sengled provided me with PULSE free of charge for my review. I have not received any monitory compensation in return for the review. All opinions are 100% my own. Sengled is providing the prizes to the winners.
Tags: Sengled Pulse
Comments (91 Messages)