Irving Pump Up The Fun Summer Giveaway 2017
IrvingFun.com is the website you need to visit if you want to enter the Irving Pump Up The Fun Contest 2017, an annual promotion making fueling up at Irving gas stations fun and rewarding. Get your game ticket now through September 5,2017 when you fuel up then visit irvingfun.com to enter PIN online for a chance win Irving Oil gift cards, free gas for a year or up to $25,000 in cash.
Plus, collect Pump Up The Fun stickers on your collector card for a chance to win $100,000 in cash, a Ford F150 XLT, a Camping Trailer and more. If you are lucky enough, you may also win up to free gas for a year, instantly.
Over $5 million in prizes available to be won, all summer long. Are you ready to pump up the fun?
How To Enter PIN At IrvingFun.com
This summer, pick up your Pump Up The Fun game ticket by fueling up at any participating Irving Oil and Irving Big Stop locations. Some tickets may reveal a unique "PIN to Win" game code, an 8 digit alpha-numeric code needed to enter the Online Sweepstakes part of the Game.
All you have to do is participate by entering your PINs at IrvingFun.com by following the instructions for your chance to win $100 Irving Oil Gift Cards, Free Gas For A Year or up to $25,000 in cash.
Your game ticket will also reveal 3 stickers. Stickers can be used to play the "Collect to Win" part of the Irving Oil Pump Up The Fun Game. Use the stickers to match the image on the provided Collector Card to win amazing prizes.
A Collector Card is required to play the Collect To Win portion of the Game. The cards are available at any participating location during the Game Period or can be downloaded at IrvingFun.com.
Some game tickets may also reveal various Instant Win messages such as "You've Won! FREE GAS FOR A YEAR!". If your game ticket reveal one of these messages, you win the prize or discount stated in the message.
What Are The Collect To Win Prizes?
The Collect To Win Prizes are available when you collect all stickers, including the Irving Pump Up The Fun Summer rare stickers. The following Collect to Win Prizes are available to be won:
Prize
Number of Prizes
Available
Stickers
Rare Sticker
Odds of Receiving Rare Sticker
$100,000 Cash
1
SPRINGFIELD (300), GREENFIELD (301), FRANKLIN (302), BRIGHTON (303), MIDDLEBOROUGH (304), BELLINGHAM (305), NORWOOD (306)
1 sur 25 812 000
Ford 150 XLT
3
DEER LAKE (307), VICTORIA COVE (308), CLARKE'S BEACH (309), HAWKE'S BAY (310), PILLEY'S ISLAND (311), SUMMERFORD (312)
1 sur 8 604 000
Camping Trailer
3
BONAVENTURE (313), LÉVIS (314), MAGOG (315), PORT-CARTIER (316), RIVIÈRE-DU-LOUP (317), TROIS-RIVIÈRES (318)
1 sur 8 604 000
$5,000
10
BEARDSLEY (319), PETITCODIAC (320), SHEDIAC (321), ZEALAND (322), ST. ANDREWS (323), HAMPTON (324)
1 sur 2 581 200
FREE GAS For a Year
20
FAIR HAVEN (325), LONDONDERRY (326), ISLAND POND (327), BRETTON WOODS (328), HOOKSETT (329), SWANTON (330)
1 sur 1 290 600
GoPro HERO Session
150
KENSINGTON (331), HUNTER RIVER (332), CATALONE (333), GRANVILLE FERRY (334), MOUNT STEWART (335)
1 sur 172 080
Happy Camper Package
500
DEER ISLE (336), MILLINOCKET (337), WATERVILLE (338), BLUE HILL (339)
1 sur 51 624
$50.00 Irving Oil Gift Card
1 000
BEACON FALLS (340), CRANSTON (341), CHAPLIN (342), TORRINGTON (343)
1 sur 25 812
More About The Irving Pump Up The Fun Summer Giveaway 2017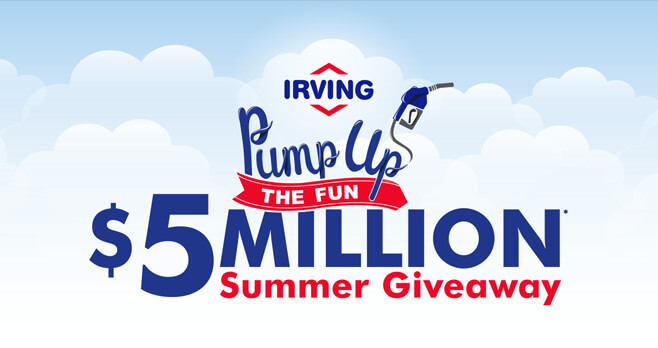 Participation into the Irving Pump Up The Fun Summer Giveaway 2017 is open to all legal residents of the Canadian provinces of ON, QC, NB, NS, PE, and NF and all legal residents of the USA states of CT, ME, MA, NH, NY, RI and VT who have reached the age of majority, as of Game Start Date, in the province or state in which they reside. (The age of majority is 19 years in NB, NS and NF in Canada; 18 years in all other provinces and states as noted above).
The Game runs from 12:00:01 a.m. ET on June 19, 2017 until 11:59:59 p.m. ET on September 5, 2017 or whenever Game ticket supplies are exhausted, whichever occurs first.
The names of the major prize winners are available through www.irvingfun.com (Atlantic Canada and USA), www.carburezauplasir.ca (Quebec) or by sending a self-addressed, stamped
envelope to "Pump Up The Fun, c/o P.O. Box 3009, M.I.P., Markham, ON L3R 6G4". USA residents send to 600 Main Street, #300, Tonawanda, NY 14151-0888. Residents of the State of Vermont do not need to include postage.
Total approximate retail value of all available prizes and discounts is $5,015,114.61.
Sponsored by Irving Oil Marketing, G.P., Saint John, New Brunswick (in Canada) / Irving Oil Marketing, Inc., Portsmouth, New Hampshire (in USA).
Administrated by WSP International Limited, Markham, ON, Canada.
For complete details, including Official Rules, visit www.irvingfun.com.
Tags: Irving Oil Sweepstakes, Irving Pump Up The Fun, IrvingFun.ca, irvingfun.com, Popular Sweepstakes 2017
Comments (41 Messages)
Leave a Comment
New Sweepstakes Added Today